Trainees Hostel
The Institute has created a Trainees' Hostel Facility, an elegant two storey building inaugurated during the Silver Jubilee Year, 2012. The hostel offers modest and 
limited
 number of VIP suites (two) and double bed rooms (four) furnished with state-of-the-art facilities and sea-front view to accommodate Institute's guests.
In addition to this, one two-bedded guest room is also available within the Office building of Institute for bonafide visitors for short stay not exceeding 7 days.
The facilities include:
·        
Air-conditioned rooms
·        
VIP suites (Two)
·        
Double bed rooms-double occupancy (Four)
·        
Dining Hall/Cafeteria
·        
Parking facility
·       
Lounge with LED TV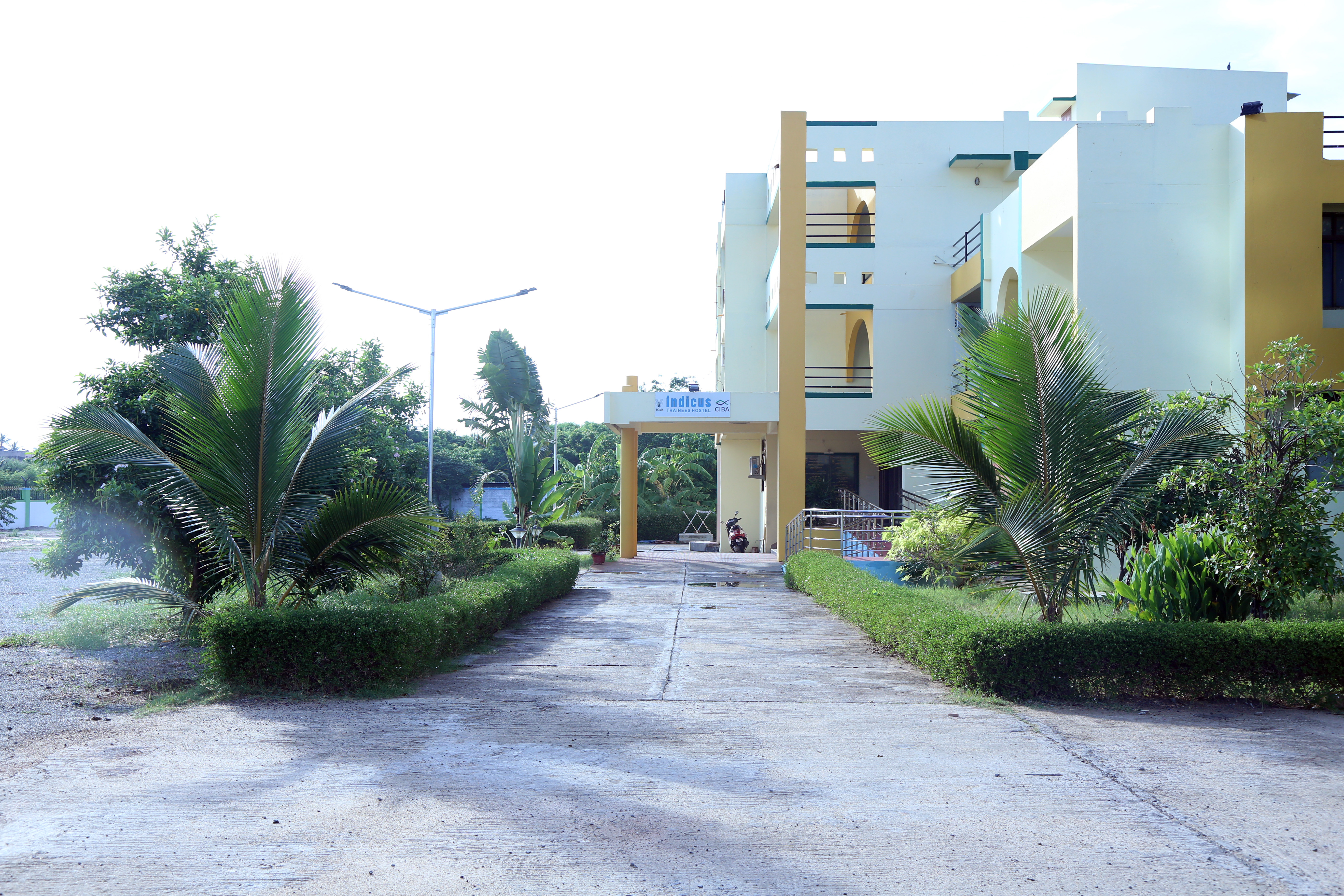 All VIP Suites are elegantly furnished and offer amenities like a separate drawing room, telephone facilities, LED television with dish facility, study table, water heating system, tea and coffee making facility, along with a pantry.
With pleasing interiors and amenities, the double bed room also offers the same type of furnishings for double occupancy.
Catering Services are not available at present in the Hostel. However, tea/coffee making facilities are provided in each of the room. Interested guests can avail the canteen facility at the Institute premises located 100 meters away for tea/coffee, breakfast and lunch.
Charges Applicable to CIBA Trainees' Hostel
Single bed per person per day charges AC, Non-AC Guest room
(Rates w.e.f: 1 st Sep, 2019)
Sl.   No.
Category
Purpose
A/C Bed room
VIP Suite (A/C)
Class 'A' cities
Class 'A' cities
1
Serving and retired employees of ICAR/SAUs
Official visit
500
700
Private  visit
200
300
2
Serving employees of State/Central Govt Autonomous Org. /PSUs
Official / Personal visit
600
800
3
Private visitors
NA
700
900
4
Foreign visitors (SAARC)
Official visit
2000
2500
5
Foreign visitors (Others)
Official visit
3000
3500
For booking please submit the given below form addressed to Director, CIBA, Chennai (Email: director.ciba@icar.gov.in Fax: 044-24610311)

For confirmation, contact: Er. R. Puthiyavan,  ACTO, Officer In-Charge, Trainees' Hostel
Phone: 044-24618817 (Ext. 305)
Trainees' Hostel Phone: 044-24618817 (Ext. 700
| | | |
| --- | --- | --- |
| From | Distance | Time |
| Chennai Airport | 17 km | 45 min |
| Chennai Egmore  Railway Station | 9 km | 40 min |
| Chennai Central Railway Station | 10 km | 45 min |
| Chennai Mofussil Bus Terminus (CMBT), Koyambedu | 20 km | 60 min |
| Adayar bus stand | 4 km | 15 min |
| Mandaveli Bus stand | 3 km | 10 min |
| Marina Beach | 6 km | 15 min |
| Santhome | 1 km | 5 min |