Improvement in Reproductive Performance of Tiger Shrimp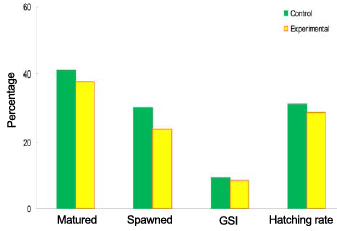 The research programme envisaged optimising the maturation protocol of tiger shrimpPenaeus monodon in captivity, and the major objectives were i) to develop a suitable maturation diet to replace fresh feed and ii) to standardize the artificial insemination procedure.
Experiments carried out during the last year revealed that 100% replacement of fresh diet did not result in successful spawning and maturation. Hence, an experiment was initiated with 50% replacement of fresh diet with an artificial moist diet.The control group was fed with fresh diet (clam meat 50%, squid 30% and polychaete 20%). Reproductive performance was measured over a period of 30 days. survival was high in both control and experimental  groups (≥85%).  Percentage  animals that  reached  final  maturity  were  almost  similar  in both the experimental and control groups  (control: 41%; experimental: 38%). Although mean fecundity was  significantly  higher  in  animals  that 
received the  control  diet (159000±3316)  compared  to  the experimental (140000±1354) (P<0.05), there was no significant difference in hatching rate between  the two treatments.This study confirms the feasibility of substituting 50% of the classical fresh feed regimen with artificial moist diet in P. monodon broodstock diet. Reproductive performance of tiger shrimp Penaeus monodon fed experimental artificial moist diet and control fresh diet.
Low hatching rate of wild and pond reared P.monodon is a recurring problem in commercial and experimental shrimp hatcheries, and it is attributed to the low mating success or poor spermatozoan quality in captivity. Artificial insemination is a widely accepted management strategy to circumvent low mating and poor hatching. During this year, the procedures for spermatophore extraction, time of extraction and methods of transplantation were standardized.Three different methods were tested for the extraction of spermatophores: i) mild electric shock ii) squeezing and iii) using forceps. All the three methods yielded successful results; extraction using forceps always provided viable spermatophores. The disadvantage of this method is the chances of damage to the reproductive tract and the possibility that the animals cannot be used for further studies. By electric shock, undamaged spermatophores were obtained, however, this procedure is cumbersome. By the squeezing method, undamaged and ready to use spermatophores could be obtained. However the success depends upon the moult stage of the animals. Based on the evaluation of various procedures, a combined method of squeezing and using forceps were found to be effective.
Experiments were conducted to evaluate two different approaches for transplantation of spermatophores. In the first case, the animals were acclimatized and the eyestalk was ablated unilaterally as and when the females moulted (within 8-10 hours) and transplantation of spermatheca was done with freshly extruded spermatophore. In the second treatment, animals were acclimatized and allowed to moult naturally and transplanted with spermatophore.Once females completed the post molt stages, they were unilaterally eye stalk ablated.  In the first treatment, although 66% of the artificially inseminated females attained maturity, no viable spawning was observed. In the second treatment, successful spawning and viable hatching was obtained in 100% the females. The failure of the first treatment could be due to the extended period between eyestalk ablation and maturation.