PROFILE
Finfish Culture Division (FCD) is contributing towards sustainable Brackishwater aquaculture development through its research, innovation and technology dissemination in India for the last three decades to uplift the farming community of diverse economic background. This division has scientists specialized in the field of captive fish breeding, larval rearing, live feed production, nursery rearing, pond farming, cage farming, ornamental fish breeding and seed rearing of commercially important brackishwater finfishes. The FCD has State-of-Art hatchery facility with RAS (Recirculatory aquaculture system) at Muttukadu Experimental Station (MES) for year-round seed production of seabass under the Indo-French collaborative project. The presence of seven 100 tonne capacity RCC tanks caters to the captive maintenance of broodstock fishes such as seabass, milkfish, grey mullet and Red snapper. Besides, the backyard earthen pond provides additional facility to maintain the ornamental broodstock fishes such as Spotted Scat, Moonfish, and Pearlspot. In, 1997 a breakthrough in captive breeding and seed production of Asian Seabass was achieved for the first time in the country and the technology has been transferred to Rajiv Gandhi Centre for Aquaculture (RGCA) through consultancy in the year 2000. The indoor facility for live feed culture such as microalgae and rotifer assist the year-round fish seed production cycle at MES. Research activities of the division have successfully closed the life cycle of Asian seabass (Lates calcarifer), Milkfish (Chanos chanos), Pearlspot (Etroplus suratensis), and Orange chromidae (Etroplus maculatus) in the past years and the technology is available for adoption by stakeholders. A unique, modular breeding system for Pearlspot (Etroplus suratensis) has been designed and standardized for stakeholders to uplift the livelihood status of farmers. The division has demonstrated nursery rearing, pre-grow out, and grow out culture of Asian seabass in different coastal states with the funding support of NFDB. Need-based training are being organized to impart technology of seed production, larval rearing of candidate finfish species to different stakeholders such as farmers, hatchery operators, technicians, academicians and entrepreneurs. Presently, new research activities on maturity induction and reproductive assessment of Grey Mullet (Mugil cephalus), Red Snapper (Lutjanus argentimaculates), and ornamental fish blue damsel (Pomacentrus caeruleus) are being carried out. The division envisages achieving diversification of candidate brackishwater finfish species to strive sustainability of brackishwater farming sector while augmenting the income of stakeholders.
PUBLICATIONS
SERVICES TO THE SECTOR
2000 – Consultancy was provided to RGCA (Rajiv Gandhi Center for Aquaculture, India) for setting up hatchery for Asian seabass seed production and larval rearing.

2014 - A MOU was signed with Aditya Fish hatcheries (AFH) for Knowledge partnership for Milk fish breeding and culture.

2017 - A MOU was signed with farmers (Shri Amalesh Chatterjee and Shri Saifulla Mandalfrom) from West Bengal to promote farming of Milkfish and Seabass

2017 - A MoU was signed with Mr. E. M. Senthil Kumar of Golden Eye under public-private partnership (PPP) mode for transfer of Seabass Seed Production Technology.
SCIENTISTS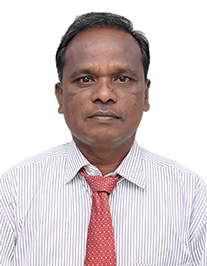 Dr. Dr.M.Kailasam
Principal Scientist & SIC, FCD
Email: kailu66@hotmail.com
Phone: +91 - 044-24618817 Ext-405
Dr. M. Makesh, Principal Scientist
Dr. K.P. Kumaraguru Vasagam, Principal Scientist 
Dr. T. Senthil Murugan, Principal Scientist
Dr. Gouranga Biswas, Scientist
Dr.Ms. Krishna Sukumaran, Senior Scientist
Dr.Prem Kumar,Scientist
Ms. Babita, Scientist
Shri Aritra Bera, Scientist
Smt M.U. Rekha, Scientist
Shri Tanveer Hussain, Scientist
Shri Dani Thomas, Scientist
Shri Pankaj Amrut Patil, Scientist
SALIENT ACHIEVEMENTS
Asian seabass
Lates calcarifer (Asian Seabass) is an important candidate species for brackishwater farming. Wider acceptability and premium price of Asian Seabass in the domestic market provide profitable venture option to the hatchery and farming entrepreneurs. CIBA achieved the first successful induced breeding, and seed production in landlocked systems during 1997. In the year of 2000, FCD has transferred the technology to RGCA to set up a hatchery. Since 2006, the division has a complete standardized package for year round seed production in hatchery. Standardized growout culture technology of Asian seabass was demonstrated at varous farms in 6 different states in country during 2009 – 2012. State of the Art hatchery facility of the division is producing Asian seabass juvenile for more than 20 years which could augment the growout farming area of Asian seabass to 2000 – 3000 ha in the country. Over the years, the division has conducted several brainstorming workshops, trainings, field demonstrations, farmers interaction meets etc. which could benefit around 5000 brackishwater farmers of different economic background in maritime states of India.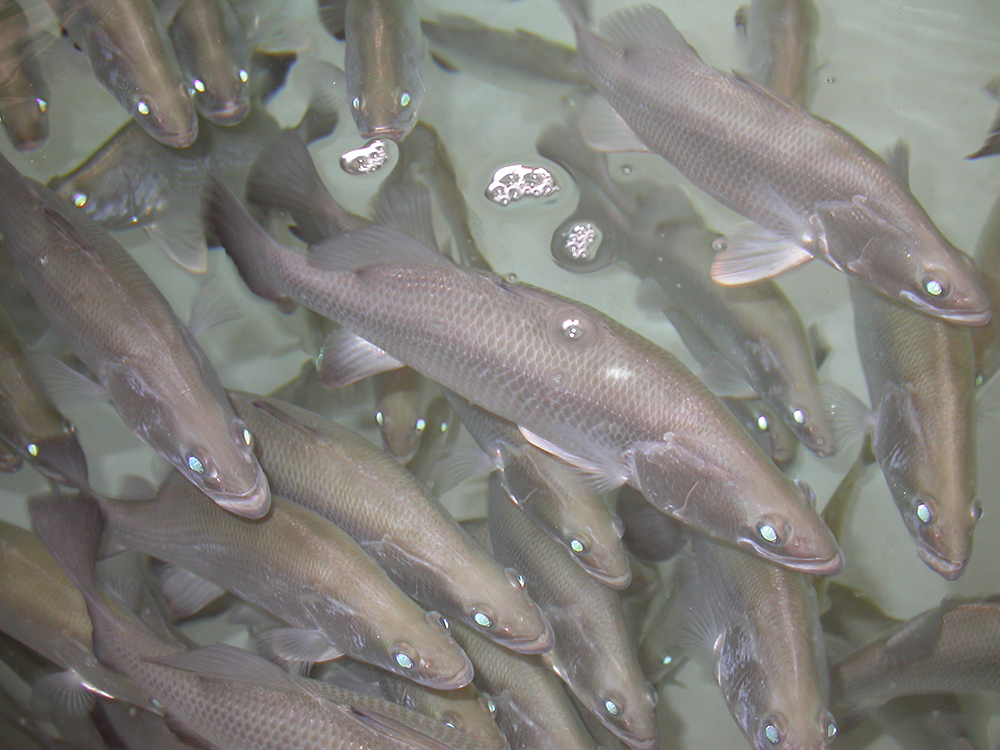 Milkfish
Chanos chanos (Milkfish) is a herbivore and fast growing fish which suits the need of risk-averse farming community. Milkfish is a long known species of Indian brackish water as well as South East Asian countries. The bony texture of meat quality and shiny look-alike appearance resulted it naming it as "Deccan Hilsa" in the domestic market of India. Research efforts of FCD paved the way for closing the life cycle in landlocked captive conditions in 2015, and since then every year continuous larval production is helping brackishwater farmers, SHG's and tribal farming community to achieve protein sufficiency at a low price. Hitherto, farmers in Odisha, West Bengal, Tamil Nadu, Kerala, Karnataka and Goa has adopted growout farming of Milkfish. The division has standardized induced maturation of adult fishes in short lifespan, induced spawning, larval production in indoor systems and culture in different rearing systems prevailing in Indian farming communities of different economic background.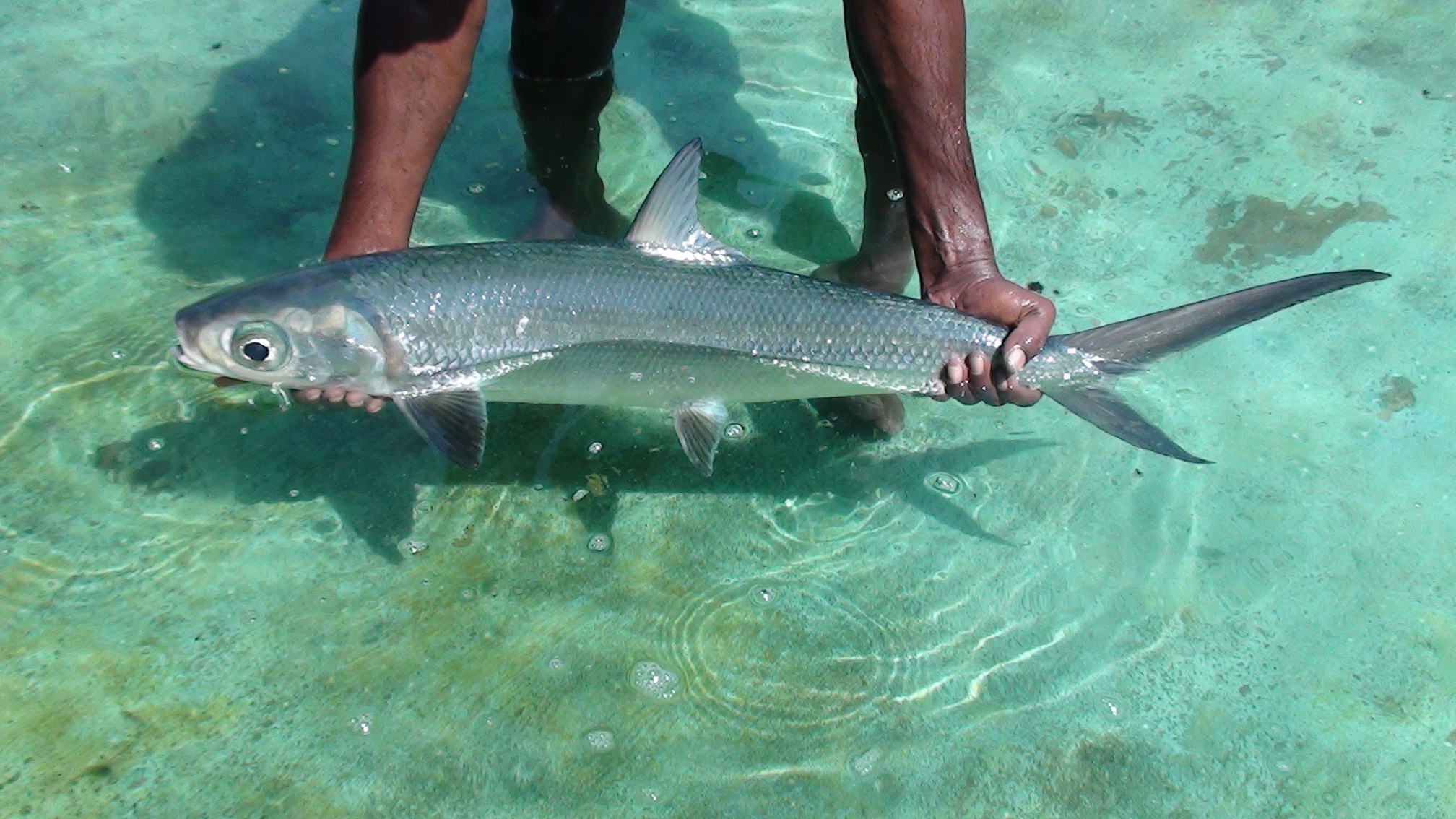 Pearlspot
Etroplus suratensis (Pearlspot) is an indigenous cichlid and esteemed as the state fish of Kerala, India. A local delicacy, herbivorous feeding habit and round the year juvenile production through parental care of pearlspot makes it a desired candidate species for diversification practices for brackishwater aquaculture. R&D efforts of division have a standardized complete package for low-cost seed production under RAS and innovative modular based units. Hapa based seed production of Pearlspot has been demonstrated in backwaters of Kerala, India to SHG's and Women beneficiaries. Besides, low-cost juvenile production technology is also ready to be transferred to stakeholders in different maritime states.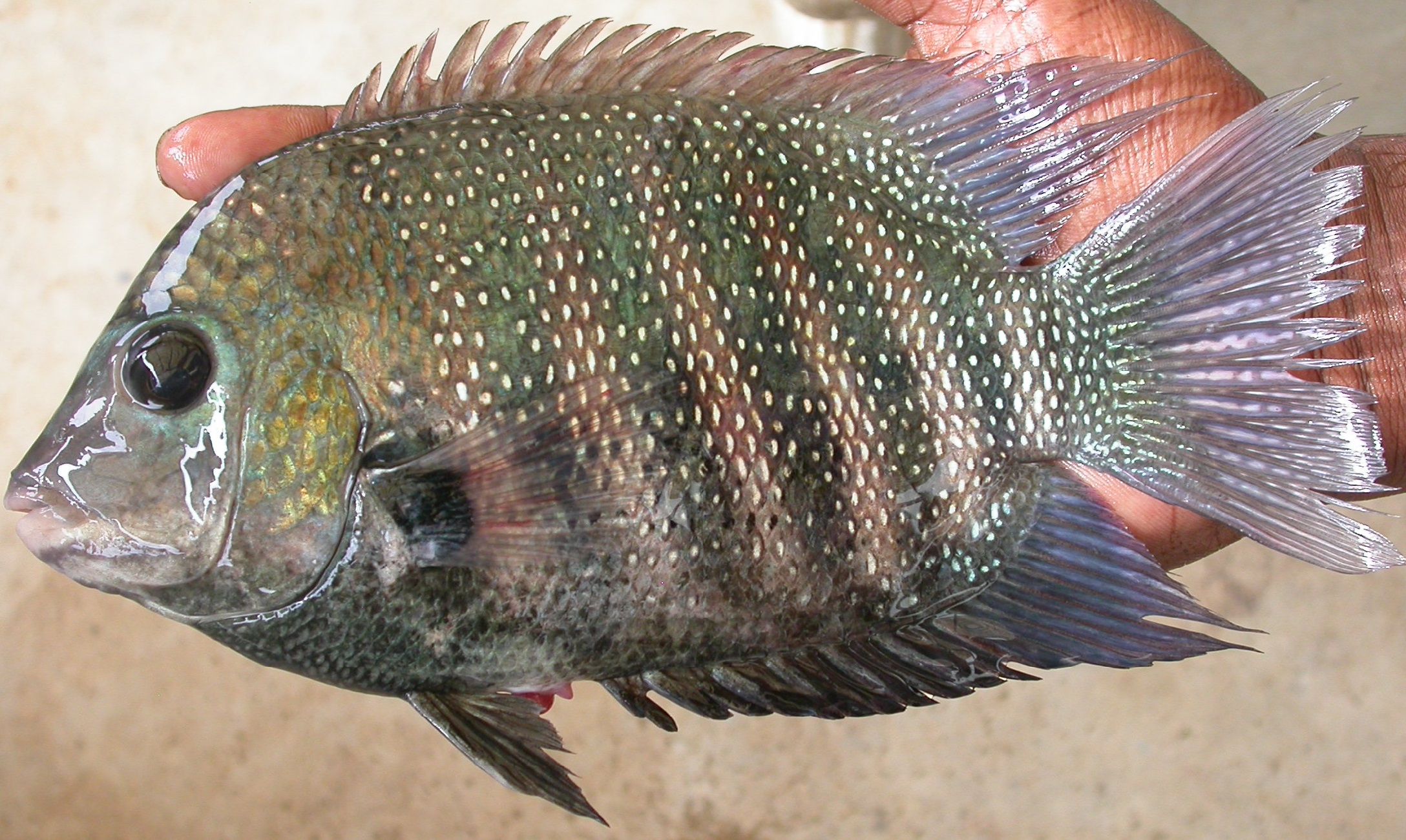 Grey Mullet
Mugil Cephalus (Grey Mullet) is a known worldwide delicacy fish. It is also a herbivore fish dwelling in brackishwater salinities. Finfish Culture Division has put continuous efforts since past decades to decipher the reproductive biology of this migratory fish along the coast of different maritime states in the country. Aggregated data has helped to strengthen the broodstock in captive conditions. Induced maturation and spawning has been achieved which promise the sustained juvenile production from hatchery facility of the division in the near future. Scientists of this division has standardized the low cost growout technology of Mullet in sundarban regions with special empahasis on polyculture and IMTA culture suystems.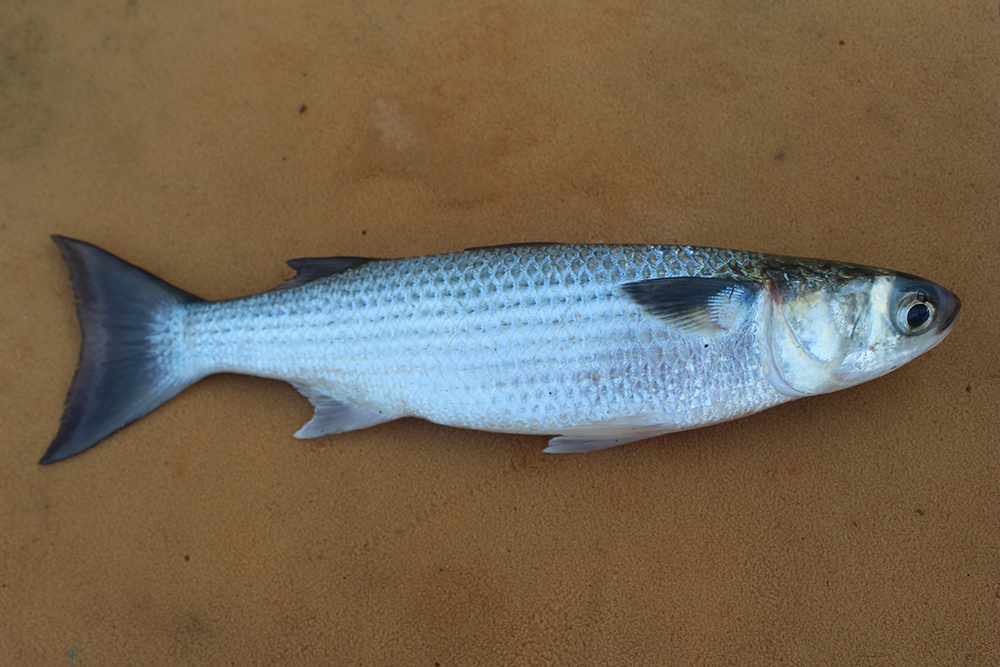 Long Whiskers Catfish
Mystus gulio (Long Whiskers Catfish) is a brackishwater fish of Indian waters and neighboring countries of the Indian ocean. It is an important Small indigenous fish (SIS) of low saline waters of Sunderban delta (W.B.) in India which is an important source of protein to a tribal and low-income group of this region. Scientists of this division at KRC developed a ready to transfer comprehensive package for mass scale juvenile production and low-cost farming technology which envisage transfiguring the livelihood status of women and a tribal group of Sunderbans region.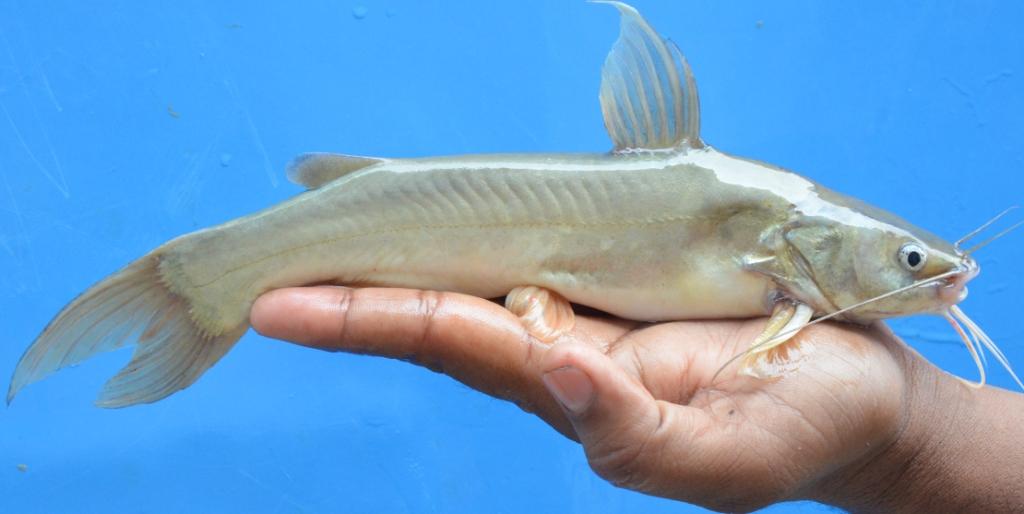 Ornamental portfolio
The ornamental bracket of CIBA desire to carve the niche for brackishwater species possessing attractive virtues to suit the international ornamental market. Widely occurred species in Indian brackish waters namely Spotted Scat, Silver Moony Fish, Blue Damsel and Orange Chromide are being strengthened for broodstock and induced spawning at the hatchery facility. A complete package of induced spawning for Spotted Scat and Orange chromide has been completed and is ready to be transferred to stakeholders. The division envisions to uplift women SHG's and economically backward fisher communities through the juvenile production of these candidate species.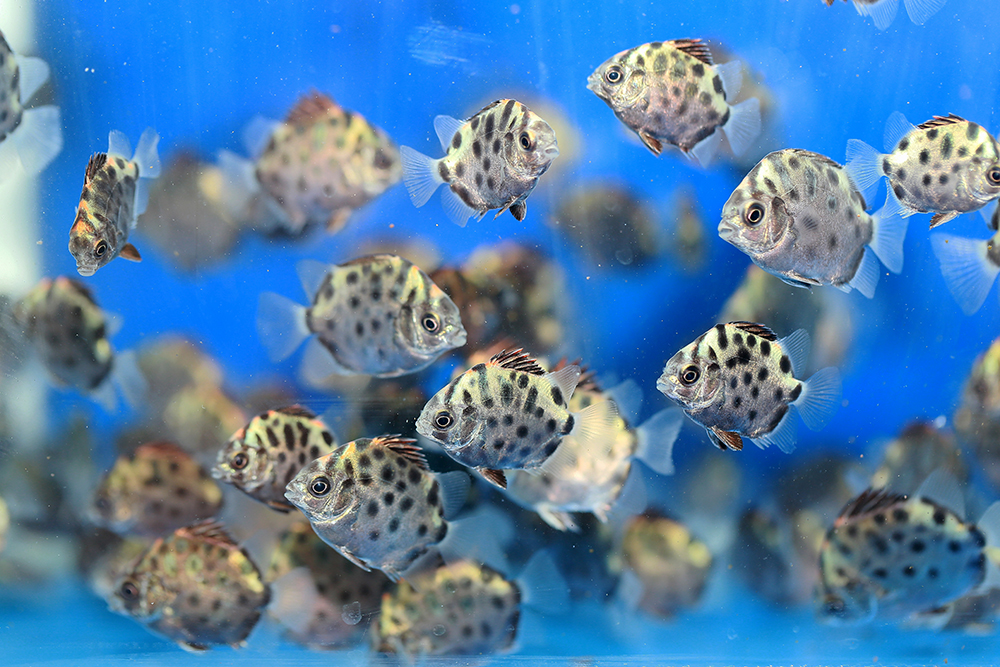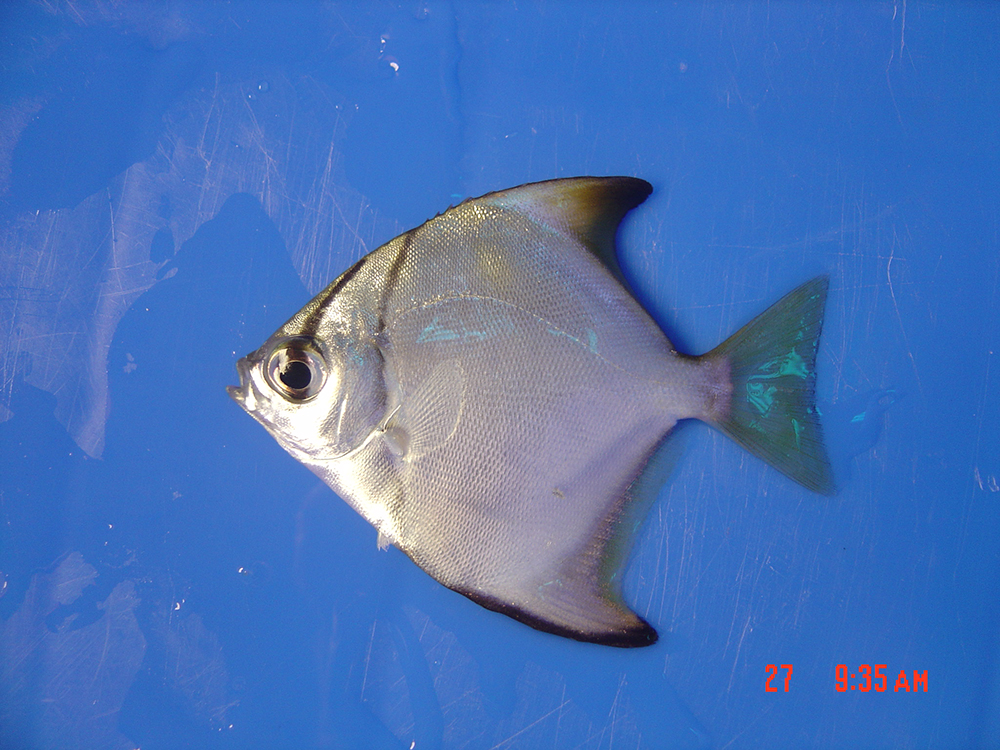 TECHNOLOGIES DEVELOPED
Asian seabass:
Domesticated (3+ year age) Asian Seabass (Lates calcarifer) in land-based RCC tanks.

Low salinity (15 - 18 ppt) spawning of domesticated stock of Asian Seabass.

Year-round spawning of Asian Seabass under captive conditions.

Tailored techniques of Asian seabass nursery rearing for entrepreneurs and Self Help Groups.

Asian Seabass farming with formulated feed under pond culture systems.

Low volume cage culture technique for grow out culture operation in backwaters.
Grey Mullet:
Domesticated Grey Mullet (2+ year age) in land-based captive systems (RCC tanks and ponds).

Induced maturation of captive male and female broodstock through hormonal intervention.

Nursery rearing of juvenile grey mullet under low saline brackishwater pond systems.

Grow out culture of Grey mullet under IMTA systems.
Milkfish:
Domesticated land-based broodstock of Milk Fish (Chanos chanos).

Induced maturation of male and female in captive rearing systems (4+ year age).

Induced spawning and larvae production in hatchery conditions.

Optimized juvenile production under yellow tank based semi-indoor systems.

Growout culture operations under monoculture for 6 – 8 months.

Polyculture grow out operations with selected finfishes and shellfishes.

IMTA based grow out culture operations.
Pearlspot:
Pairing and larval production under RAS based systems.

Hapa based low-cost larval production technique for backwaters.

Low-cost modular systems with sustained optimized year-round juvenile production.
Long Whiskers Catfish:
Induced maturation and spawning protocols for optimized larval production.

Growout culture under IMTA systems.
Ornamental portfolio:
Induced spawning and larval rearing technique for Spotted Scat.

Induced maturation and spawning technique for Silver Moony fish.

Spawning and larval rearing technique for juvenile production of Orange chromidae.
Infrastructure facility in hatchery:
RAS (Recirculatory aquaculture system) for year-round seed production of seabass

100 tonne capacity RCC tanks (7 nos.)

Live Feed Culture Unit (Microalgae, Rotifer, and Artemia)

Tank based larval rearing facility for Asian seabass and Milkfish

Seawater pumping facility (Capacity)

Effluent Treatment Pond
HIGHLIGHTS
2018: Developed Cage based Asian Seabass grow-out culture models for Maharashtra and Gujarat.
2017: Achieved success in captive spawning and larval production of Mystus gulio in Sundarbans.
2016: Standardized the larval rearing and juvenile production of Milkfish in hatchery-based systems.
2015: Achieved breakthrough of Milkfish (Chanos chanos) spawning and larval production in captive systems in India for the first time. 
2014: Achieved optimized larval production of Pearlspot (Etroplus suratensis) through Modular seed production systems. 
2013: Achieved successful induced spawning of Brackishwater ornamental fish Silver Moony Fish Monodactylus argenteus in captivity. 
2012: Breakthrough of induced spawning and larval production of Cobia Rachycentron canadum from land-based broodstock in captivity. 
2011: Achieved induced spawning and juvenile production of Spotted Scat Scatophagus argus in captivity. 
2009-10: Demonstration of pond-based grow out culture of Asian seabass at farmer's pond in 6 states of the country - Tamil Nadu, Andhra Pradesh, West Bengal, Maharashtra, Gujarat Maharashtra, and Gujarat.
2007: Achieved year round induced maturation and juvenile production of Asian Seabass in hatchery systems. 
2006: Developed state of the art Re - circulatory system (RAS) hatchery facility for Brackishwater finfishes. 
2003: Breakthrough of induced maturation and larval production of Greasy Grouper Epinephelus tauvina in captive systems.
2000-01: Transfer of technology – Asian seabass induced maturation, spawning and juvenile production hatchery technology to RGCA (Rajiv Gandhi Centre for Aquaculture).
1999 - 1998: Standardized indoor larval rearing techniques for Asian Seabass hatchery. 
1997: Breakthrough in breeding of first Marine fish in India- Asian Seabass in land based captive systems. 
1996: Achieved induced maturation of Asian Seabass (Lates calcarifer) broodstock (Male and Female) in land based RCC tanks
EVENTS
1.National Workshop on 'Strategic Approach In Fisheries Sector on the Potential and Viability of Culturing Endemic and Exotic Species in India' at ICAR-CIBA, Chennai.
2.Dr E.G. Silas, Founder Director CIBA & Former Vice Chancellor, Kerala Agricultural University, visited the research facilities at Muttukadu Experimental Station of CIBA.
3.Brackishwater cage farming of seabass fish for enhancing fish production and alternate livelihood support of coastal population in Tamil Nadu: a Success story by ICAR-CIBA, Chennai.
4.ICAR-CIBA conducted Skill Development Programme on Crafting low volume cages and farming of brackishwater fishes in cages..
5.ICAR CIBA signed MOU with farmers from West Bengal to promote farming of milkfish and seabass in West Bengal towards augmenting the Blue economy.
6.Low Volume Cage Farming (LVCF) of Asian Seabass (Lates calcarifer) on Partnership farming mode (PFM) at Trissur, Kerala as a part of MoU signed with Farmer group and ICAR-CIBA on Finfish Satellite Seed Rearing (FSSR).
7.CIBA signed MOU with Aditya Fish hatcheries (AFH) for Knowledge partnership for milk fish breeding and culture