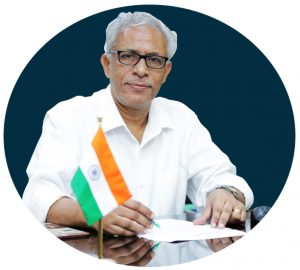 Warm greetings from ICAR-CIBA
According to the projections, the overall world food production has to increase by 70% to get a suitable alignment with the rapidly rising world population by 2050. Fish as 'nature's superfood', has a vital role to play in nutrition and food security for the future. While the world's average annual per capita fish consumption is 19 kg/year, it is only 8-9 kg/year among the Indian fish-eating population, just half of the global figure. On the other hand, the wild catch of many fish species is declining due to several factors. Therefore, aquaculture, which has already outpaced the capture fisheries, has been recognized as the most competitive option and looked up with a lot of expectations. This trend is predicted to continue, making aquaculture an essential part of future blue growth.

Aquaculture also has several challenges in the dynamic techno economic scenario. On top of this, the impacts of climate change pose threats to sustainable aquaculture development. Therefore, sustaining such growth in aquaculture needs long-term strategic planning with a sector-specific policy framework, having a broader vision of environmentally sustainable, economically viable, and socially acceptable farming models for judicious utilization of the natural water resources and the biopotential.

CIBA under the Indian Council of Agricultural Research (ICAR), New Delhi, has marked thirty years of substantial pragmatic research and development in the brackishwater aquaculture sector, focusing on crucial questions to develop strategies and technologies for sustainable aquaculture. We are proud to take the responsibility of steering the brackishwater aquaculture industry towards sustainability and contributing towards food security and livelihood. CIBA stresses the species diversification in brackishwater aquaculture to have multiple choices of shellfish and finfish species to judiciously and responsibly utilize the resources with broad stakeholder participation. Our ultimate goal is achieving sustainable brackishwater aquaculture for food, employment, and prosperity.
As I take charge as the Director of CIBA, I convey my heartiest greetings and best wishes to all of you working in this sector. It is encouraging to see the tremendous support from the farmers, industry people and government agencies for our efforts. Further, there is a long way to go to achieve the committed goals and changing needs. I expect your full support and co-operation in all our endeavors. I am sure that with your continued support, we need to strive and work extremely hard to take our institute to greater heights and bring more recognition, visibility and impact to the brackishwater aquaculture of our country.
Thanking you once again.
K.P. Jithendran
Director (Acting)