PROFILE
The Social Science Division in ICAR-Central Institute of Brackishwater Aquaculture was formed in 1992. It is the gateway of CIBA and the linkage-pin between the institute and other institutions and the stakeholders as a whole. SSD is a composite division having scientific expertise in extension, economics, computer applications and statistics subjects. SSD has both research and development programmes. The Division is inter disciplinary in nature which is the unique feature. The combination of the expertise of Aquaculture Extension, Aquaculture Economics, and Computer Application in Aquaculture, gives a cutting edge to the Division. The SSD scientists have undertaken many studies on a diverse set of socio economic problems, right from dynamics of inter personal relationships in the farming community, evaluation and impact studies and use of Information and Communication Technology for mass and rapid communication of research findings to the farming community. Coupled with multi-disciplinary expertise the faculty is also experienced in the conduct of the social, and economic evaluation of technologies focusing on Doubling of Farmers Income before 2022-23 and assisting the scientists of technology development divisions to refine their innovations. Scientists of this Division are undertaking research programmes involving aqua farmers and other stake holders as partners. Social Science Division team also undertake guiding Ph.D. student under university of Madras providing an opportunity for intensive academic learning.
Thrust areas of Research
Production and marketing value chain studies on candidate species of brackishwater aquaculture.

Techo-economic evaluation and impact studies on aqua culture technologies.

Front line aquaculture extension research.

ICTs in aquaculture.

Family farming Models.

E-Knowledge centres.

Mobile telephony and android application development.
Ongoing research projects
In-house research projects.

Research and Developmental Interventions for Sustainable Brackishwater Aquaculture

Externally funded projects

Cage Aquaculture in Brackishwater of Puducherry and Karaikal Regions of Puducherry Union Territory - A feasibility study
PUBLICATIONS
SCIENTISTS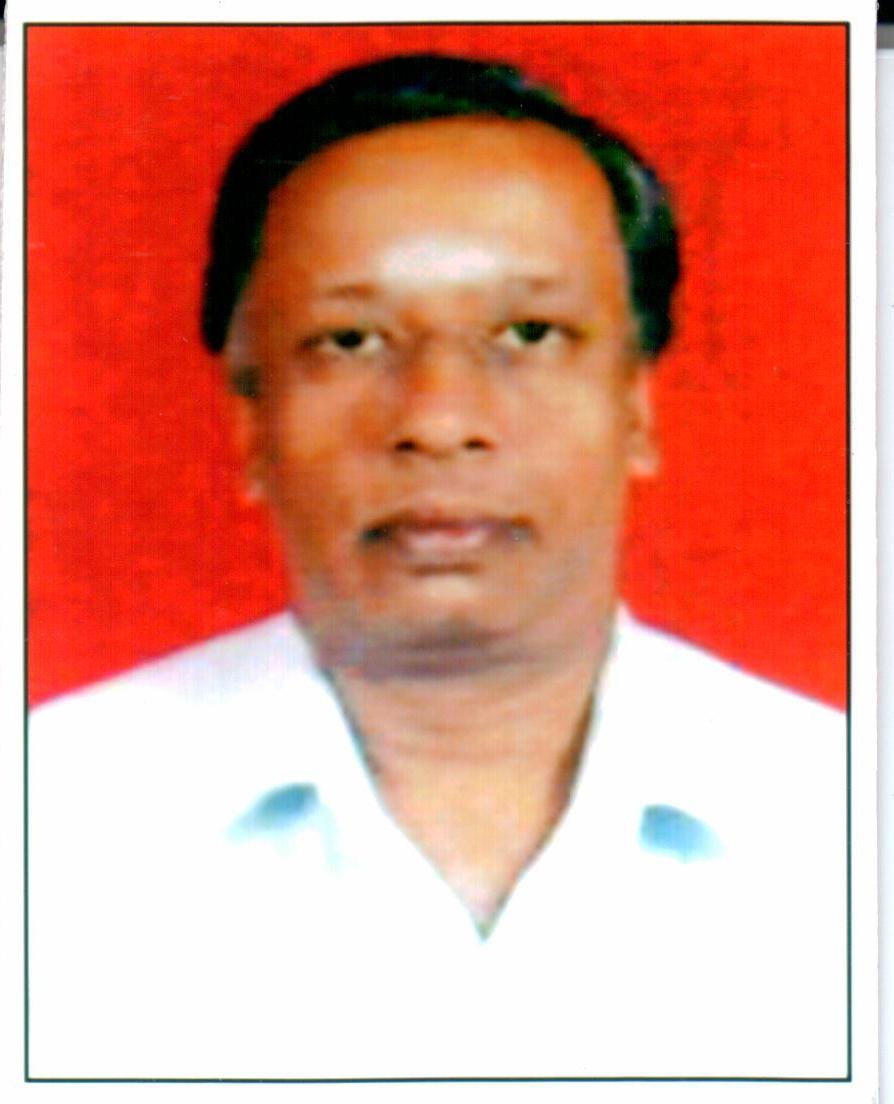 Dr.C.V. Sairam, Principal Scientist & SIC
Email: cvsairam@ciba.res.in
Phone:+91- 044 - 24618817, Ext-120
Dr.T.Ravisankar, Principal Scientist and SIC, ITMU & ABI
Dr. Ms. B.Shanthi, Principal Scientist
Dr. Ms. D.Deboral Vimala, Principal Scientist
Dr.M.Kumaran, Principal Scientist
Dr. Ms. P.Mahalakshmi, Principal Scientist & OIC AKM Unit
Dr. R. Geetha, Scientist
Smt. K.C. Neethu, Scientist
SUPPORTING STAFF
SALIENT ACHIEVEMENTS
Aquaculture Economics
Impact assessment of three major technology / policy interventions of ICAR-CIBA in the last two decades was conducted. The total economic impacts were assessed quantifying direct and indirect benefits using input output method. The estimated values were cumulated for the years of technology operation. The estimates were for WSSV kit 3340 crores (2002-2007), CIBASTIM 1290 crores (2014- 2017) and P. vannamei introduction 281752 crores (2009-2017).
Shrimp exporters of the world during 2016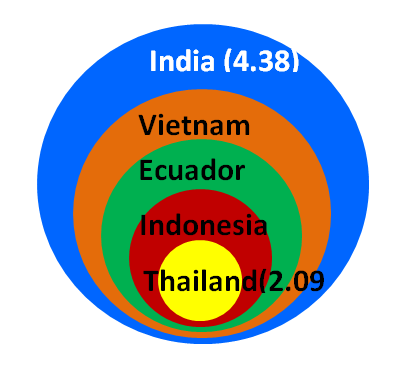 Secondary data analysis indicated that In India, vannamei production has shown steady increase and reached 4.06 lakh tonnes (81 %) in 59116 ha of total area with CGR of 130.9% from 2009-10, 2015 -16, increasing the overall shrimp production to about 5 lakh MT. Whereas monodon area and production was 68846 ha and 81452 tonnes in 2015-16 with negative CGR of -2.48%.
Brackishwater Aquaculture sector need to be given more emphasis under the Government of India's policy on "Doubling of Farmers Income". Scientific production and management of shrimp and finfishes yields high income to the farmers within a short span of time, which are four-fold increase than the traditional practices. Production of shrimp species like white shrimp (Penaeus Vannamei; net return of Rs.7 lak/ha), milk fish (Chanos chanos; 2.40 lakh/ha), Asian Sea Bass (Lates calcarife; 4.00 lakh/ha), and Pearl Spot (Etroplus suratensis; 2 lakh/ha) would fetch higher income within short to medium time span. In addition prepared a document to Division of Fisheries on Doubling of Farmers Income through Brackishwater Aquaculture.
The compendium Braquastat 2017 has been brought out with information in brief about the various technical aspects of the brackishwater aquaculture sector. This publication consists of information about various aspects of aquaculture, viz., global scenario of brackishwater aquaculture, production and trade statistics, per capita availability of fish, utilization pattern of fish and so on. It also includes various boxes viz., CIBA milestones, CIBA technologies & their benefits, success stories of CIBA technologies, impact analysis for major CIBA technologies, economic loss due to major diseases and doubling of farmers income.
Secondary data on export rejection of aquaculture products indicated that
Aquaculture Extension
The technology package of three tier model of cage farming comprises of nursery rearing, pre-grow out and grow out phases in the open brackishwater was validated in partnership with fisher youth group and the NIOT at Vennangupattu village cluster, Kancheepuram district, Tamil Nadu. The technology is economically viable even in each phase. Stocking density adopted was 12 kg per/m3. CIBA's Asian seabass seed and seebassplus feeds were used. A productivity of 460 kg was realised in one cycle. Two cycles of production can be taken in a year. The production cost was worked out to be Rs.190 per kg of fish and sale price was Rs.380 per kg with a B: C ratio of 2.0. A person spending 2 hrs per day in the nursery rearing, pre-grow out and grow out phases get a monthly income respectively Rs.6000, Rs.5000 and Rs.8500.
Vanami Shrimpapp is the first mobile app on shrimp farming and has been regularly followed by more than 7500 stakeholders (farmers and extension workers) across the globe (India, Indonesia, Vietnam, Brazil, Peru, Mexico, Ecuador, and USA). Recently the app has been updated with additional modules:
BMPs of shrimp farming

Input calculators module

Disease Diagnosis (Probabilistic)

Shrimp farm risk assessment module

Updates and advisories

Govt. regulations and formats

FAQ Module in vernacular languages

Post a query in vernacular languages
The content is applicable to vannamei farming in entire Southeast Asian countries and elsewhere in the tropical belts of the globe. The app has been appraised with a Google performance rating of 4.6 out of 5.0.



The need assessment for mobile connectivity regarding the day to day queries showed that the fish farmers approached CIBA regarding MGMG demonstration (39.08%), seabass fingerlings availability(6.03%),cage culture activities (2.01%),nursery rearing of seabass in hapas(2.87%),training details (9.48%),seabass seed rate (11.2%), milkfish seed availability(4.88%),seabass fry availability(16.37%) and Pearl spot larval rearing (8.04%). It is also noted that localization and native language of farmers are the concerns to be incorporated into the systems.
Frontline Extension Programme on seabass fingerlings 5000 numbers of < 2 cm size was provided to 5 Adidravida families in Keelar Kollai village of Kuvathur Panchayat, Tamil Nadu, for the rearing of the nursery in hapa as an alternative livelihood opportunity. The total duration of growth was 57 days and the fingerlings have grown up to 9.5 cm. The survival rate was 35.80%. The realized net income was Rs.27400. The results indicated that the technology is technically feasible and economically viable.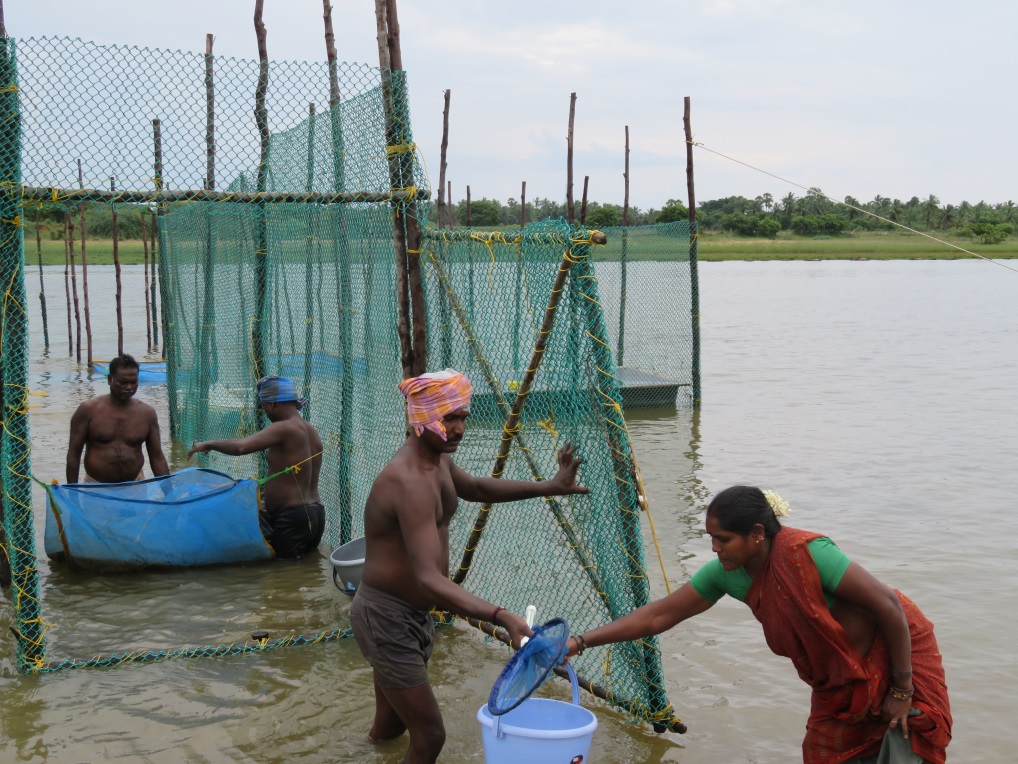 Frontline demonstration on Polyculture of milk fish, shrimp P.indicus and pearlspot farming and Orange chromide ornamental fish farming was conducted by CIBA during 2016-17. The beneficiaries were also trained to collect milk fish and other fishes from the wild and to stock them in this community pond with the water spread area of size of 1000 mt. sq. located in the backyard of 10 Irular community colony in Thiruvallur district in Tamil Nadu. was selected. On 4th July 2016, CIBA hatchery produced pearlspot fry (200 nos.), E. maculates fry (250 nos.), P.indicus seed (PL18) (2000 nos.) and milkfish collected from wild (2000 nos.) were stocked. Milkfish production was 92.5 kg and it was sold at Rs.120/kg in local market. From the total harvest an amount of Rs. 20,000/-was realized.
Polyculture farming by irular tribals


Computer Applications
Fuzzy decision support system was developed to assess the change in service quality in aquaculture marketing as a result of e-marketing system The results revealed that aquachoupal model, West Godavari and East Godavari district, Andhra Pradesh, receives the highest priority 71% and traditional system receives 29% of weights.
Empowerment assessment tool comprises of five factors viz., social, political, psychological, technical and economic was developed and tested for evaluating the ICT projects in aquaculture. The results revealed that except political and economic empowerment all other factors are visible among the users of ICT projects. The study also revealed that the tool is useful for analyzing the users of ICT project experiences in these forms of empowerment.
Web based Knowledge (e-Knowledge) Centre in brackishwater aquaculture was designed based on the ADDIE (Analysis, Design, Development, Implementation and Evaluation) model of Instructional System Design, for disseminating the need based brackishwater aquaculture information and knowledge to different stakeholders. It was developed using Drupal content management software with PHP and MySQL for the design of pages and database respectively. The evaluation results revealed that the items related to contents produced, visual design, accessibility and presentation style had good responses.
Home page of e-Knowledge centre in brackishwater aquaculture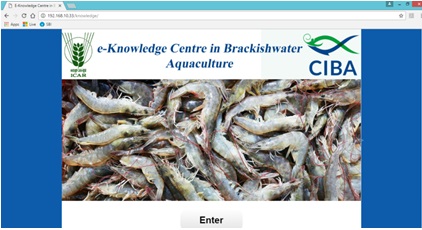 Web-based Adyar Creek and Estuary Information System (ACEIS-Aqua) was developed for the development of aquaculture in the adyar creek water bodies using MySQL database management system and PHP scripting language. This system describes the database/search modules that permit end users fast and easy access to large amounts of analysed data, in the form of season-wise, location-wise, month-wise, year-wise, salinity-wise, phytoplankton class/genies-wise and/or zooplankton group-wise, which are collected in six sample locations, and details of culture practices which are suitable for these water bodies for the development of brackishwater aquaculture.
Web-based Adyar Creek and Estuary Information System (ACEIS-Aqua)
With a view of developing brackishwater aquaculture as a family farming system for livelihood support of coastal communities at Adyar Creek and Estuary three villages, Srinivasapuram, Mullikuppam and Mullimanagar villages were adopted. Two pen (100 sq m) structures were erected and crabs and milkfish were cultured by the fisher folks in these adopted villages. After attaining, at 55 DOC, avg wt of 52.5 g and 168-627 g of fish and crab respectively, the beneficiaries realized Rs, 18,785/- of fish and crab through partial harvest as an interim profit.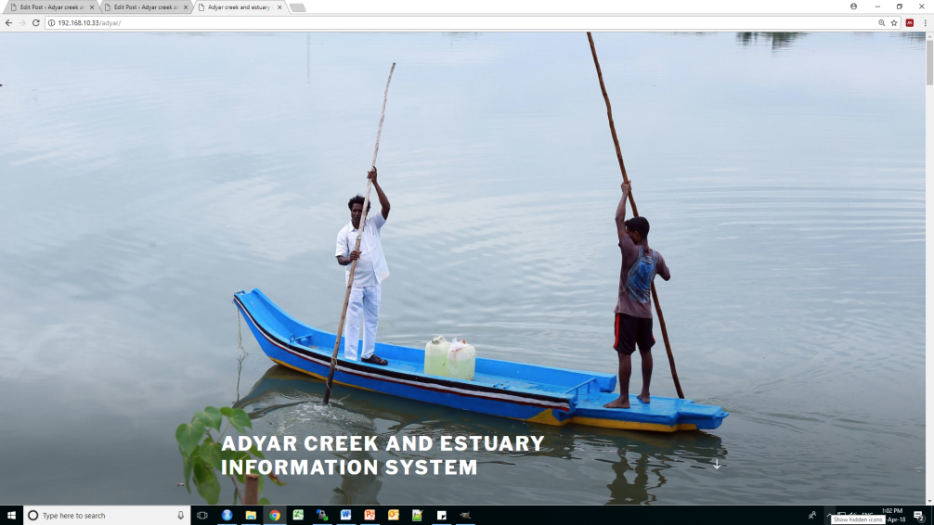 Harvest of Mud crab at Adyar creek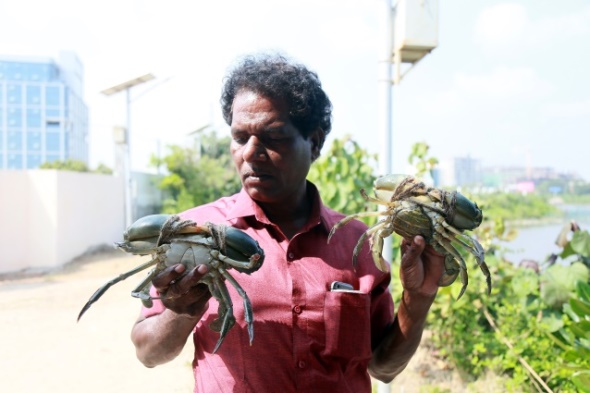 Milkfish culture at Adyar creek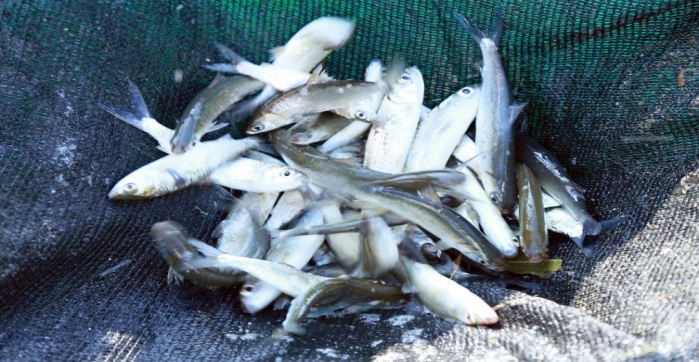 Decision support system module to check soil and water quality parameters for all the coastal areas has been developed. Institute website has been updated. Sophisticated Analytical Instrument Facility (SAIF) portal of CIBA has been created. Websites of Scafi, Braqcon have been created.
HIGHLIGHTS
Database on product export and trade issue is compiled as combined for the use of stakeholders.

Video films on institute activities and capsule films on different aqua culture technologies.

Methodologies for impact assessment and evaluation.

Information kiosk at the village level.

E-Resources for aqua culture planning and management.