Brief profile:
Dr. Alavandi is currently heading the Aquatic Animal Health and Environment Division (AAHED) and leading the research programme on surveillance of diseases with special reference to emerging issues in brackishwater aquaculture. He has been providing expert technical services for aquatic animal quarantine and on several technical aspects to the Department of Animal Husbandry Dairying and Fisheries, Ministry of Agriculture. He was associated with import risk analysis (IRA) prior to introduction of Pacific white shrimp in India. Four candidates have been awarded Ph.D under his guidance and currently he is guiding two research scholars for Ph.D in various areas of aquatic microbiology. So far he has handled five externally funded and three Institutional research projects as principal investigator (PI) and a number of other projects as co-investigator (Co-PI) in various areas of aquatic animal health management. He has generated financial resources to the tune of over Rs.170 lakhs as PI and over Rs.175 lakhs as Co-PI through external grants/schemes. He came to CIBA Chennai in March 1990 upon transfer from CMFRI on public interest, and initiated systematic research on the management of diseases in brackishwater aquaculture. He joined Agricultural Research Service at Central Marine Fisheries Research Institute (CMFRI), Cochin in April 1984 and carried out research on the occurrence of heterotrophic micro organisms and mercury contamination in the coastal and marine waters. Prior to joining ICAR, he worked for a brief period in the Microbiology Department of St. Johns Medical College, Bangalore and Vector Control Research Centre, Indian Council of Medical Research, Pondicherry.
Research areas:
Dr.

Alavandi has an interest in understanding the causes of diseases currently plaguing shrimp aquaculture such as running mortality syndrome (RMS), white gut / white faeces syndrome, growth retardation/variation and white muscle syndrome using conventional tools, culture-independent tools, metagenomics and next-gen-sequencing (NGS) approaches in addition to exploring involvement of known pathogens and the role of environment. 

He is also interested in developing rapid diagnostics for important pathogens affecting aquaculture

.

Hi

s quest also lies in demonstrating the virulence mechanism of certain strains of Vibrio parahaemolyticus and V. harveyi considered to be significant pathogens of penaeid shrimp. He is exploring the secretion systems, effector proteins and the role of bacteriophages in the virulence mechanism of these bacteria.
Biocontrol of diseases of shrimp is another important area of his work. Microbial, algal and plant biomolecules and antagonistic bacteria are being explored for antiviral potential targeting the most devastating shrimp white spot syndrome virus. His lab has a large collection of bacteriophages against V.harveyi, responsible for the luminescent

bacterial disease of larval shrimp in hatcheries and he is evaluating bacteriophage therapy for biocontrol of luminescent bacterial disease in shrimp hatcheries.
Current Research Projects:
| | | | |
| --- | --- | --- | --- |
| No | Title | Funded by | PI |
| 1 | National Surveillance Programme for Aquatic Animal Diseases (NSPAAD) | NFDB | SVA |
| 2 | All India Network project on Fish Health: aqua drugs | ICAR | PKP |
| 3 | Consortia Research Platform on Diagnostics and Vaccines | ICAR | MM |
| 4 | Prevention and management strategies for viral, microbial and parasitic diseases of candidate species in brackishwater aquaculture | ICAR | SVA |
He was awarded DBT overseas associateship in the year 2009 and visited Dr. Mya Breightbart's Marine Genomics Lab at University of South Florida, USA.

He served as an advisor as UGC Nominee to the Dept of Microbiology, University of Delhi for the ongoing Special Assistance Programme (2012-2017).

He was invited by Network of Aquaculture Centers in Asia Pacific (NACA) and Department of Agriculture, Forestry & Fisheries (DAFF), Australia for participation in Expert Consultation on shrimp early mortality syndrome (EMS) at Bangkok in August 2012.

He has been a reviewer of research project proposals for DBT, DST and research articles in Elsevier Journals like Aquaculture, Blackwell Journals like Journal of Applied Microbiology, Letters in Applied Microbiology etc.

He was a member of Technical Screening Committee and Project Monitoring Committee of DBT Small Business Innovative Research Initiative (SBIRI) during 2007-2009.

He was awarded Aquaculture Award for contributions to shrimp disease research, by (Marine Products Export Development Agency) Ministry of Commerce, Govt of India in 1993.
Best 5 Publications during the Career
Published more than 60 papers in peer reviewed national and International journals https://scholar.google.co.in/citations?user=bvmIgugAAAAJ&hl=en&oi=sra and contributed a book chapter: Elsevier journals such as Aquaculture, International Biodeterioration& Biodegradation, Systematic and Applied Microbiology, Fish & Shellfish Immunology, Inter Research journals such as Diseases of Aquatic Organisms, The Society for Applied Microbiology journals such as Letters in Applied Microbiology, Springer journals such as Archives of Virology, Fish Physiology & Biochemistry, Indian Journal of Virology, Federation of European Microbiological Societies such as FEMS Microbiology Letters, Blackwell Publishing such as Aquaculture Research and several Indian Journals. Besides these, published a book chapter, a number of popular articles, Institutional publications and proceedings in workshops/seminars/ symposia.
Best 3 Publications during last 3 years
Sathish Kumar T, Navaneeth Krishnan A, Joseph Sahaya Rajan J, Makesh M, Jithendran K. P, Alavandi S. V., Vijayan K. K. (2018). Visual loop-mediated isothermal amplification (LAMP) for the rapid diagnosis of Enterocytozoon hepatopenaei (EHP) infection. Parasitology Research. 117:1485–1493.
Sathish Kumar T., Vidya R., Sujeet Kumar, Alavandi S.V., Vijayan K.K., Zoea-2 syndrome of Penaeus vannamei in shrimp hatcheries, Aquaculture, 479: 759-767.
Kumar S, Jangam A K, Akhil V,Rajendran V, Katneni V K, Sahaya Rajan J J,Grover M, Nagaleekar V K, Alavandi S V, Vijayan K K. 2017. Draft genome sequence of the luminescent strain Vibrio campbellii LB102, isolated from a black tiger shrimp (Penaeus monodon) broodstock rearing system. Genome Announc 5:e00342-17.​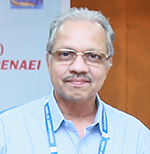 Alavandi. S. V. Dr
Designation

:

Principal Scientist & Head, AAHED
Discipline:

Microbiology (Animal Sciences)
Division:

 

Aquatic Animal Health and Environment Division
Specialization

:

Microbiology (Animal Sciences)
Contact Me




Phone:

+91- 044 - 24618817 Ext:208




Fax:

+91- 044 - 24610311




Email:

alavandi@ciba.res.in