Kakdwip Research Centre (KRC)
GENESIS
The Kakdwip Research Centre (KRC) came into existence in the year 1968 as a brackishwater experimental fish farm under the Central Inland Fisheries Research Institute (CIFRI), Barrackpore. In 1987, the Centre was brought under the aegis of ICAR-Central Institute of Brackishwater Aquaculture (CIBA), Chennai to facilitate research and provide technological support to the growing brackishwater aquaculture sector in the country. KRC has completed 53 glorious years in serving the brackishwater sector of the nation. The Centre has scientific, administrative and technical manpower, well-developed farm facilities and well-equipped laboratories to cater the needs of brackishwater aquaculture research, training (HRD), outreach and demonstration.
INFRASTRUCTURE
KRC campus is stationed in a total area of approximately 17.99 acres. The farm facility consists of 42 experimental ponds and 9 nursery ponds with combined water spread area of 10 ha. The office infrastructure comprises of office buildings, laboratories, live feed culture unit, feed mill, challenge shed, experimental wet labs, recirculatory aquaculture system (RAS), power sub-station and staff quarters (type IV – 2 nos; type III – 8 nos; type II – 4 nos; type I – 12 nos.).
Research Farm:
The farm facility at the Centre is divided in to three sectors viz., Sectors A, B, and C.
Sector A: Sector A covers a total area of 7.13 ha. The sector comprises of 22 ponds with sizes ranging from 0.06 to 0.15 ha and total water spread area of 1.95 ha. Another bhery with an area of 2.9 ha has been recently renovated for integrating pen and cages culture in to the pond system.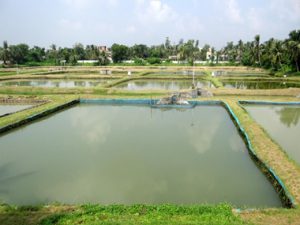 Sector B: Total area of this sector is 4.85 ha. It consists of 8 ponds with area ranging from 0.11 to 0.41 ha encompassing a total water spread area of 1.95 ha.
Sector C: This sector has a total area of 4.72 ha and has been developed in to a model integrated brackishwater farm with 11 ponds covering a water spread area of 3.2 ha. Size of the ponds in this sector ranges from 0.15 to 0.65 ha. The sector also consists of nine nursery ponds.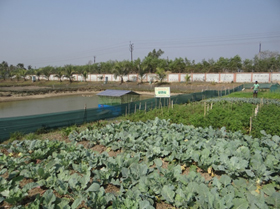 Library facility: The library at Kakdwip Research Centre of ICAR-CIBA is an important referral center for Fisheries and allied sciences. It has a rich collection of referral books, periodicals, and scientific magazines on various subjects of fish and fisheries sciences viz. Aquaculture, fish biology, fish nutrition, fish physiology, fish pathology, oceanography, taxonomy, soil and water chemistry and fisheries extension. Apart from these scientific books and magazines, the library is enriched with Hindi books and magazines.
Around 450 books on different aspects have been purchased, classified, cataloged and kept in a different sections of the library. There are national and international journals, magazines and periodicals that are being subscribed to the library. Library provides physical access to knowledge-building materials of referral books, periodicals, scientific magazines, CIBA news, CIBA annual reports and newspapers to scientists, research scholars, college faculties, stakeholders and farmers. The library is accessible on working days from 10:00 AM to 5:00 PM.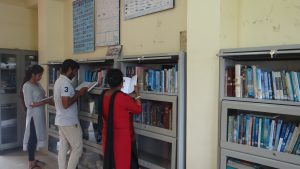 Trainees Hostel: KRC has a well-furnished trainee's hostel named 'Hilsa Trainees Hostel' with an attached cafeteria. The guest house has one executive room and a dormitory, both of which are fully air conditioned.
Laboratory facilities: KRC houses three state of art well-equipped research laboratories viz. Aquaculture laboratory, Health & Reproductive biology Laboratory and Nutrition laboratory with all modern sophisticated equipment and research facilities.
Feed mill: The Centre is also equipped with a modern feed mill that is capable of manufacturing both compressed and extruded pellets for fish and shrimp. Production capacity of pellet mill is 1.0 tonne feed per hour.
Live feed culture unit: The Centre also has a Live-feed culture unit for maintenance of stock cultures of different algal species, to be used as live food for early larval stages of fish and shrimp.
Other facilities: The centre is also equipped with a seminar hall for hosting seminars, meetings, etc. The farm and office infrastructure also consist of two high capacity generators, and a dedicated electrical sub-station with a sophisticated transformer. The centre also has a well-equipped recirculatory aquaculture system (RAS) for captive maturation of finfish.
Human Resource Development (HRD): The centre regularly hosts training programs for brackishwater farmers, farm technicians, aquaculture students and other stakeholders on various aspects of brackishwater aquaculture. In the past, the centre has also organized training programs sponsored by different funding agencies like NFDB. During the COIVD-19 pandemic, the centre hosted several online training programs under the Pradhan Mantri Matsya Sampada Yojana (PMSSY). The centre also undertakes livelihood enhancement programs for coastal tribal and scheduled communities. Recently a self-help group called Budhakhali Sundari Fish Farmers' Welfare Society has been formed involving SC women from Sundarban region for their livelihood enhancement.
For further details please contact
The Officer-in-Charge,
ICAR – CIBA Kakdwip Research Centre,
South 24 Parganas District
Kakdwip, West Bengal 743 347
Phone: +91-03210-255072
Fax: +91-03210-255072
E-mail: krckakdwip@yahoo.co.in