Kakdwip Research Centre of CIBA conducted Skill Development Training on feed formulation and feed management in brackishwater aquaculture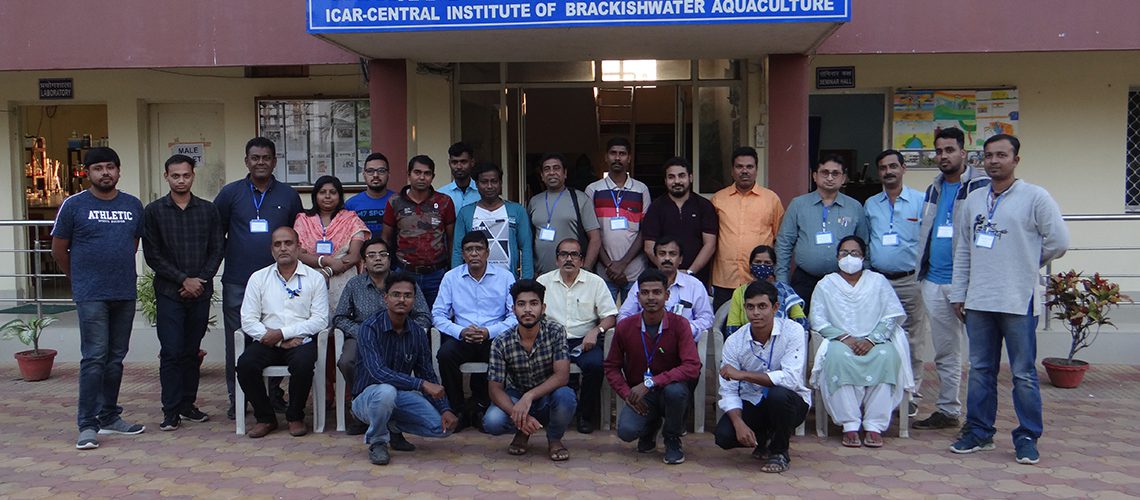 The Kakdwip Research Centre (KRC) of ICAR-Central Institute of Brackishwater Aquaculture, Kakdwip (West Bengal) conducted skill development training on 'Feed formulation and management in brackishwater aquaculture of shellfishes and finfishes' during 15-20 November, 2021. Twenty participants comprised of farmers, entrepreneurs and potential entrepreneurs from different parts of West Bengal, attended the training. Skills on assessing the nutrient requirement of different brackishwater species at different stages, feed formulation and processing technology including low cost farm made feed, sinking pellet and extruded feed preparation for different brackishwater species and feed management in culture pond were imparted to the trainees.
As a part of the training, the trainees were exposed to the farming practices of Hilsa and different brackishwater fish species and live feed culture at KRC farm facility. They were taken to crab farming practiced by progressive farmers in Namkhana and composite aquaculture farm in Henry Island, operated by West Bengal State Fisheries Development Corporation. The participants also benefitted from the guest lecture on nutrition and feed management in freshwater aquaculture delivered by Dr. G.H. Pailan, Officer-in-Charge, Kolkata Centre of CIFE, Kolkata. The certificates were issued to all trainees for successful completion of the training programme. The training was coordinated by Dr. Debasis De, Principal Scientist & Officer-in-Charge and Dr. T.K. Ghoshal, Principal Scientist, KRC of CIBA.