Shri. Jatindra Nath Swain, I.A.S., Secretary, Department of Fisheries visits ICAR-CIBA, Chennai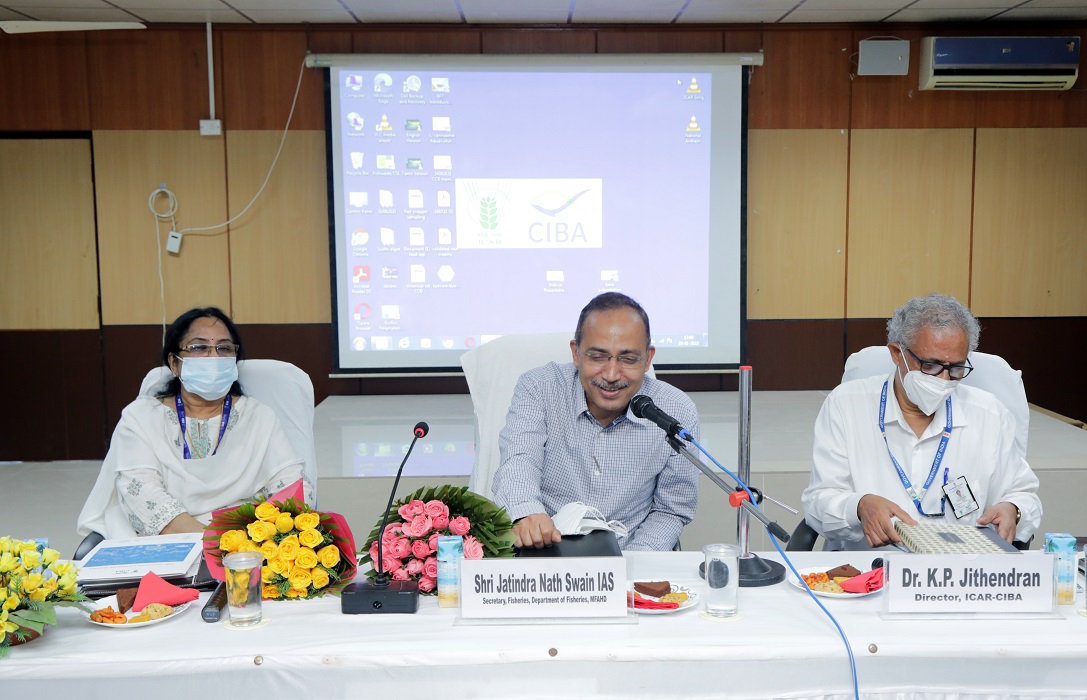 Shri Jatindra Nath Swain, I.A.S., Secretary, Department of Fisheries, Ministry of Fisheries, Animal Husbandry and Dairying visited the ICAR-Central Institute of Brackishwater Aquaculture, Chennai on 10th January, 2022. The Secretary visited state-of-the-art shrimp and finfish hatcheries and the pilot-scale feed mill at Muttukadu Experimental Station of ICAR-CIBA. During the interaction meeting with scientists, Shri. Swain stressed on developing innovative and efficient technology options for the farming community. He also urged the researchers to focus on the reduction of the farm input cost, creation of new market for diversified fish and fishery products and development of responsive extension systems to disseminate the technologies to end-users. He stressed on transformative changes required for realizing the goals and the critical roles of researchers could play in it. Further, Secretary had also appreciated the progress in eco-based farming such as biofloc farming technology for shrimp nursery and grow-out technology. He had also interacted with engineers associated with the institute through start-up program regarding aerator efficiency and automation in biofloc and intensive farming systems. He suggested economizing the aeration by improving efficiency.
Dr. K.P. Jithendran, Director, ICAR-CIBA welcomed and apprised the Secretary about strength of the brackishwater sector and the accomplishments made by the institute in diversification of species/culture system and technological innovations in feed, disease diagnostics, prophylactics etc. Dr. V. Kripa, Member Secretary, Coastal Aquaculture Authority made her remarks on amending/refining the guidelines for coastal aquaculture and requested assistance from CIBA scientists. The Senior Officials of Coastal Aquaculture Authority, Chennai and National Fisheries Development Board, Hyderabad were also accompanied the maiden visit to ICAR-CIBA by the Secretary.