Secretary, Department of Fisheries, Animal Husbandry and Dairying, Government of India visited ICAR-CIBA and Madras Research Centre of CMFRI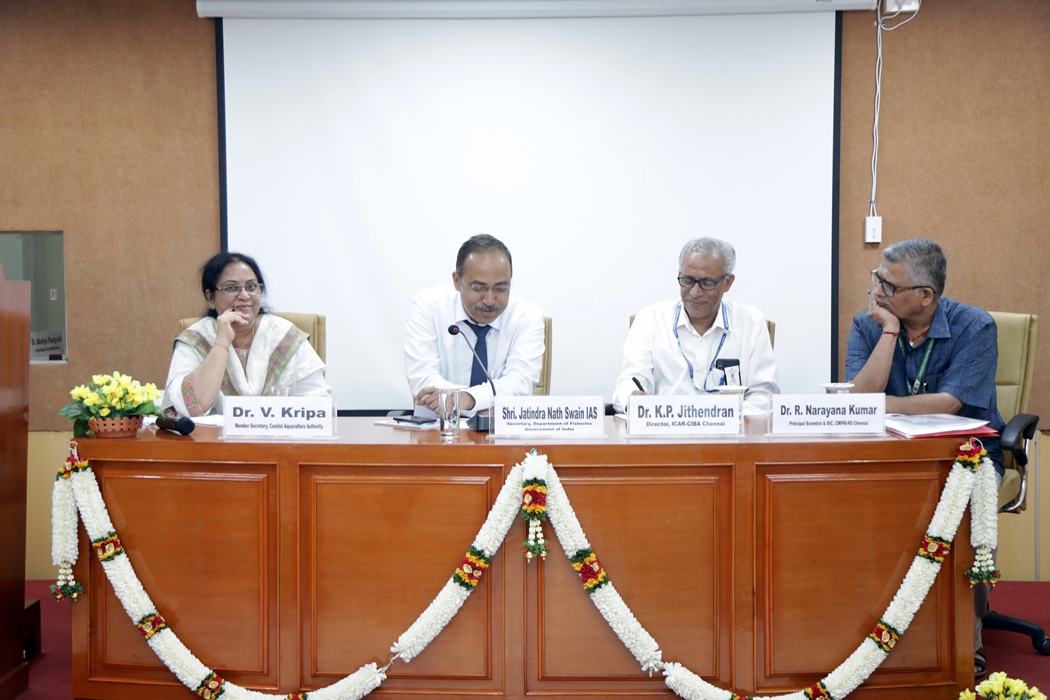 Shri. Jatindra Nath Swain, IAS, Secretary, Department of Fisheries, Ministry of Fisheries, Animal Husbandry and Dairying visited ICAR-CIBA and Madras Research Centre of CMFRI on 18th June 2022 to interact with scientists on the research efforts need for sustainable fisheries and aquaculture in the country.
Dr. K.P. Jithendran, Director, ICAR-CIBA in his briefing outlined the R&D programmes of the institute and the achievements made in the last five years. He sincerely thanked the Secretary for his confidence on CIBA scientific team and sanctioning the flagship project on Indian White shrimp (Penaeus indicus) selective breeding for CIBA with a budget of Rs. 25.44 crores. Dr. R. Narayanakumar, Principal Scientist and Scientist-in-Charge, Madras Research Centre of ICAR-CMFRI highlighted the major research achievements of CMFRI towards fishery resource conservation, responsible fisheries, marine cage-culture, capacity development and livelihood development of marine fishers. Later, Dr. V. Kripa, Member Secretary, the Coastal Aquaculture Authority, Govt. of India, Chennai in her address stressed the importance of minimizing the adoption gaps in aquaculture technology through technology refinement and efficient extension.
The Secretary in his speech appreciated the research outputs of both CIBA and CMFRI aimed towards enhancing the productivity of aquaculture and sustainability of marine fisheries, respectively. He also informed that we should learn from Japanese fishermen especially on management of coastal resources through effectively implementing various regulation measures.  He emphasized that future research programmes should focus on harvesting the hitherto un-harvested resources in marine fisheries, enriching the natural stock through sea-ranching and reducing the production cost in brackishwater aquaculture especially through efficient utilization of local ingredients, fish meal replacement in feed preparation and minimizing the energy usage in aquaculture. Further, he underlined that the Government of India is planning a major scheme for establishment of finfish hatcheries and cage aquaculture units through public-private partnership (PPP) mode. Dr. Akshaya Panigrahi, Principal Scientist & Principal Investigator, P. indicus breeding project briefed about the progress made in the project and proposed the vote of thanks.