ICAR-CIBA conducted customised training programme on "Shrimp pond water and soil analytical techniques and interpretation of results"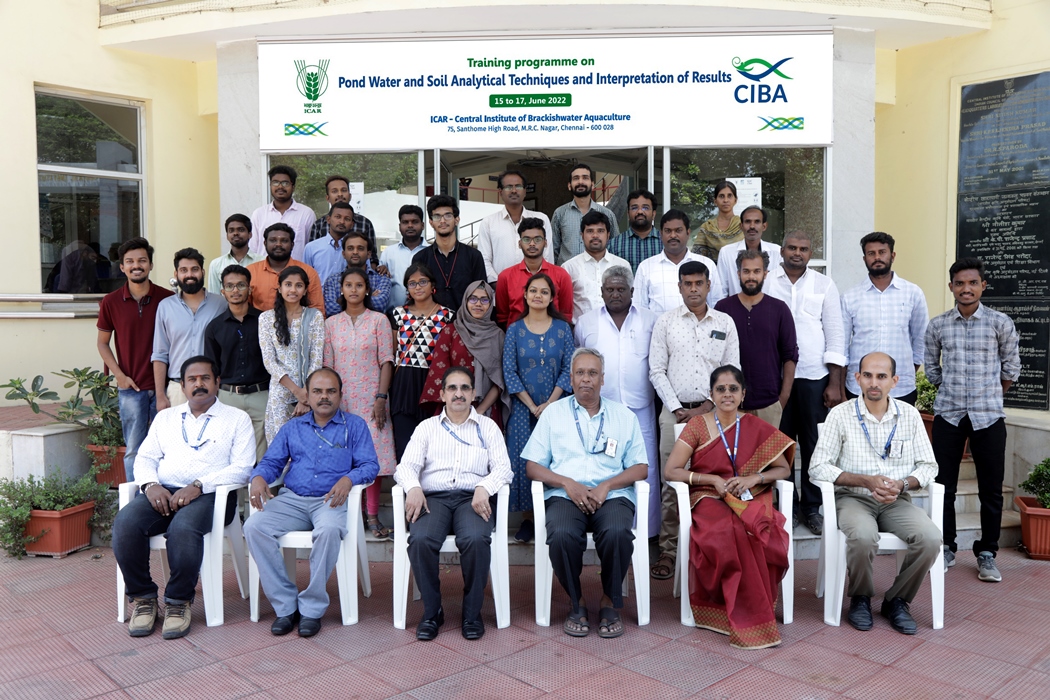 Pond water and soil parameters play a crucial role in the success of aquaculture. In this regard, Environment Section of Aquatic Animal Health and Environment Division, CIBA conducted a customised three-day training programme on "Pond water and soil analytical techniques and interpretation of results" from 15-17 June 2022 at the ICAR-CIBA campus. About 21 participants comprised of farmers, students, researchers, industry personnel and field technicians attended the training. More than 75% of the time was spent on practical sessions, where the participants had hands-on experience in analysing physico-chemical and microbial parameters in water and soil. The trainees were taught on interpretation of analysis results in terms of soil and water quality requirements, their management and microbial amendments for an improved environment and animal health.
The training programme was inaugurated on 15th June and concluded on 17th June.  During valediction, Dr K.P. Jithendran, Director, ICAR-CIBA, emphasised the need for comprehensive environmental management for sustainable farming. Dr Muralidhar, Principal Scientist & SIC, Environment Section stressed regular monitoring of water and soil parameters for better management of farming. During the inauguration, Dr C.V.Sairam, Director (I/c) released the training manual. Trainees conveyed their happiness in the conduct of the field-friendly training programme in their feedback response. The certificates were distributed to participants on successful completion of the programme. The scientific team comprised of Dr P. Kumararaja, Dr R. Saraswathy, Dr Satheesha Avunje and Dr A. Nagavel coordinated the programme.