"Fish Waste Processing Unit" inaugurated by ICAR-CIBA, Chennai at Nambikkai Nagar, Pattinapakkam, as an initiative under Circular economy in Aquaculture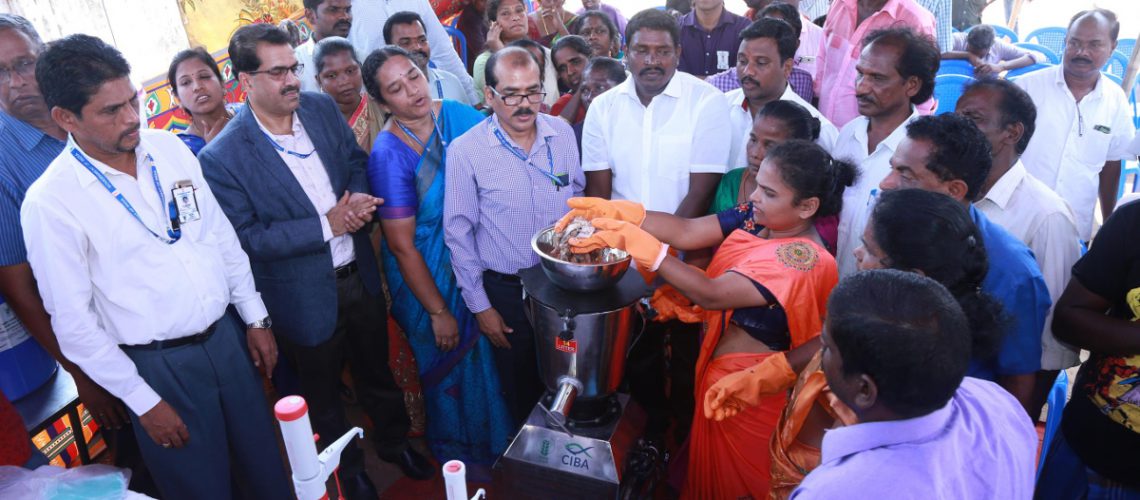 Under Mera Gaon Mera Gaurav programme, ICAR –CIBA, Chennai has adopted fishermen villages viz., Srinivasapuram, Nambikkai Nagar, Mullikuppam and Mullimanagar located near CIBA headquarters in Chennai. These three villages are located on the creek, where Adyar River finally discharges water inflow into the Bay of Bengal. This village cluster has 2000 households with population of about 4500. Their main occupation is fishing and selling of fish in the nearby fish market. Fish waste generated from fish market is not properly disposed or recycled. Mostly fish wastes are dumped nearby seashore and the environment is getting polluted. The villagers were also affected by fish waste pileup around the locality. In view of the above aspects, ICAR-CIBA has developed technology for transforming fish waste to high value produces for use in commercial aquaculture and agriculture. ICAR-CIBA also conducted sequences of awareness and interaction meetings, and training cum demonstration programmes to Self Help Groups, coastal and tribal communities in and round these villages on the theme of 'Waste to Wealth: Recycling of fish waste" under Swachh Bharat Mission since 2016.
On 18th February,2019 ICAR-CIBA inaugurated a "Fish Waste Processing Unit" at Nambikkai Nagar, Pattinapakkam, Chennai, Tamil Nadu established by the institute which will be operated by a Self Help Group (SHG) of Nambikkai Nagar for recycling of fish waste to high value added products as an initiative towards Circular economy in Aquaculture while celebrating National productivity week. Dr. K. Ambasankar, Principal Scientist, welcome the gathering and highlighted the initiative taken by ICAR-CIBA during National productivity week.
In the function the technology developed by ICAR-CIBA on transforming fish waste to high value produces was explained to the villagers by the scientists of CIBA. Dr. P. Mahalakshmi, Principal Scientist, highlighted the importance of cleanliness in the villages and recycling of fish waste to avoid infections and diseases. Dr. Debasis De, Principal Scientist, demonstrated the protocol for recycling of fish wastes to value added products and explained their usage in commercial aquaculture and agriculture and their marketing potential. Dr K K Vijayan, Director CIBA highlighted the importance of this initiative. He expressed his hopefulness that this model will be a successful and sustainable model for converting the fish waste to value added products, which can provide ancillary income to the fisher folk and will also help for making the fish market of the country clean. Mr. Kenitraj representative of Nambikkai Nagar SHG and other representatives of coastal communities etc have also praised the efforts of ICAR-CIBA, in promoting of waste to wealth concept as an alternative livelihood activity for the fishers in their village.
Mr. K.P. Sandeep sensitized fisherfolk about the importance of seashore area and also backwater resources and its maintenance for enhancing the livelihood security and resilience of fishers in the region. During function, participants from Mullimanagar and Narayanaswamythottam showed their willingness to establish "Fish waste processing unit" as start-up. Around 100 fisher folk including Chennai River Restoration Trust (CRRT), Chennai officials participated in the function.
This initiative is not only cleaning and hygienic disposal of fish market waste which is abundantly available in the village cluster but also will help to produce wealth from waste as a concept of circular economy. This user-friendly technology will help in improving the environment in addition to enhancing their livelihood.