ICAR-CIBA signed MoU with farmer entrepreneur of Pulicat, Tamil Nadu for marketing of PlanktonPlus on non-exclusive basis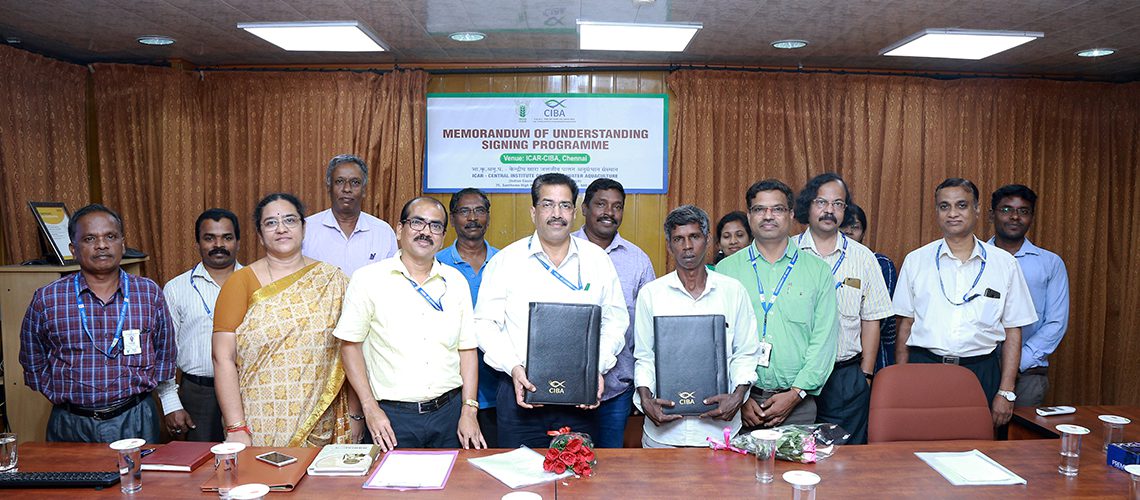 ICAR-Central Institute of Brackishwater Aquaculture (ICAR-CIBA), Chennai has developed plankton production technology, an organic product produced from 'Fish Waste' to promote plankton and growth of shrimp/fish in aquafarms, branded as 'ICAR-CIBA Plankton plus'. This product is being produced by a fisher Self Help Group named ' Nambikkai fish farmers group' with a technical support of CIBA and tested extensively in the shrimp farms of  Andhra Pradesh and Tamilandu. Knowing about the positives results of planktonplus from the shrimp farmers in the region, a farmer entrepreneur Shri. A. John Britto, Pulicat, Thiruvallur district, Tamil Nadu came forward to take up the marketing rights of the product. A  Memorandum of Understanding (MOU) was signed in this regard on 4th November, 2019 at CIBA. Under this agreement, Nambikkai Fish Farmers Group, Nambikkai Nagar, Chennai will produce PlanktonPlus using the start-up Fish Waste Processing Unit established by ICAR-CIBA, Chennai and supply the product to Shri John Britto for marketing the product among the aquaculturists in the region.
Dr.P.K.Patil, Principal Scientist & OIC, ITMU, CIBA welcomed the gathering. Dr K K .Vijayan, Director, ICAR-CIBA, who executed the MOU for ICAR-CIBA, highlighted the importance of this initiative. He expressed his confidence that this model provide unique opportunity in converting the fish wastes in to value added product for aquaculture, with dual benefits of converting waste to wealth   and helping to clean the environment as Swatch Bharat mission. Dr. Debasis De, Principal Scientist and team leader for the PlanktonPlus development program of CIBA briefed about the significance of this MoU and outlined the genesis and advantages of the technology in aquaculture. He expressed that the farmers from Andhra Pradesh, Gujarat, West Bengal and Tamil Nadu are showing increasing interest in the use of this product during the field trials, both in freshwater aquaculture of Indian major carps (IMC)  and shrimp farms. Shri.T. Kennit Raj, representative of Nambikkai Fish Farmers Group has acknowledged the efforts of ICAR-CIBA, in promoting of waste to wealth concept as an alternative livelihood activity for the fishers in their village, Srinivasapuram. This technology has the potential in cleaning the fish markets and providing alternative livelihood to produce wealth from waste as a concept of the circular economy.