National training programme on 'Aquaculture Nutrition and Feed Bio-Technology' concluded at CIBA, Chennai, March 7th 2020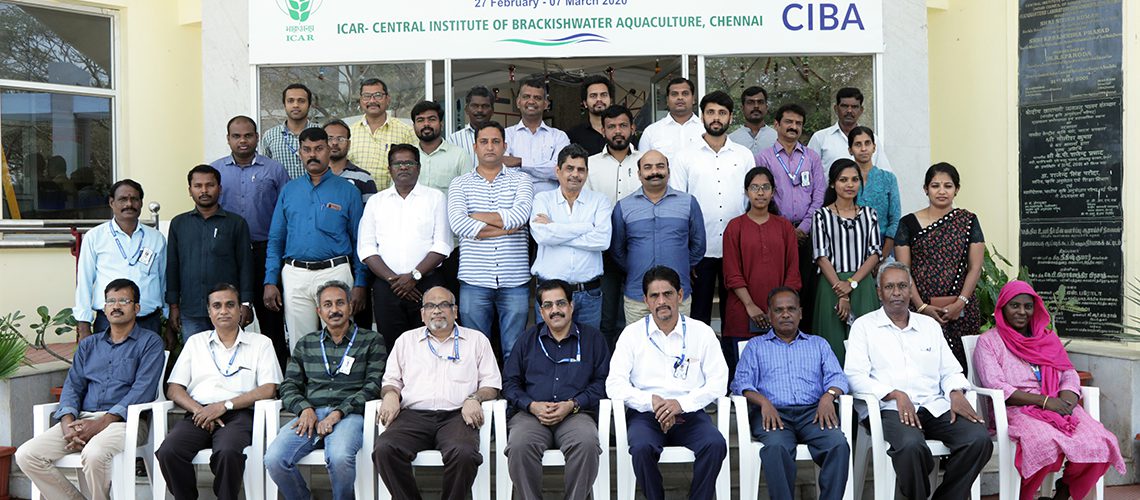 A ten-day, national hands-on training programme on "Aquaculture Nutrition and Feed Technology" was conducted by ICAR – Central Institute of Brackishwater Aquaculture (CIBA), Chennai during 27th February to 7th March 2020. The specialised programme offers skill development in indigenous aqua feed processing, related feed bio-technologies and feed management for sustainable brackishwater aquaculture. 
Twenty participants from different fields of aquaculture such as farm managers, farm owners, feed mill technicians, academicians, students and other entrepreneurs, from different parts of India who wanted to take up  aquaculture in  states such as Punjab, Haryana, Rajasthan, U.P, Gujarat, West Bengal, Odisha, Kerala  and  Tamil Nadu were participated.   Participants were practically trained in aspects such as feed formulation, feed manufacturing pelleting and extrusion  technologies, in hands on mode.    Importance of functional feeds  for the farming of species cultured in India along with   making of broodstock feeds and larval feeds developed at  CIBA were dealt in  dedicated sessions, with practical on proximate composition, fatty acids, amino acids and mineral composition using modern analytical instruments. Trainees learnt the fundamentals of aqua nutrition, feed formulations, feed management in relation to the biology of shrimps, crabs and fishes. The participants also had interaction with scientists of aquatic animal health, soil & water quality and genetics subjects, which helped them to understand the synergy between these  subjects.   
Dr K. K. Vijayan, Director, ICAR-CIBA interacted with the trainees during the training program and stressed the need for Public Private Partnership (PPP)  involving the private players and institutions such as CIBA in scaling up of the desi  technologies,  for sustainable development of the sector, and also to increase the profitability of farmers. In the valedictory function held on 7th March 2020 Dr. S.V. Alavandi, Director in- charge, ICAR- CIBA, addressed trainees and issued the certificates.  Some of the trainees,   expressed their willingness to partner with CIBA through  MoU for taking up the feed technologies. Earlier, Dr K. Ambasankar, Head, Nutrition section of CIBA briefed on the training highlights and thanked all the participants for showing an overwhelming interest in the training, and further translating these skills to field.