Fisheries graduates from Karnataka joins hands with ICAR-CIBA for hatchery technology of Asian seabass under Startup India Initiative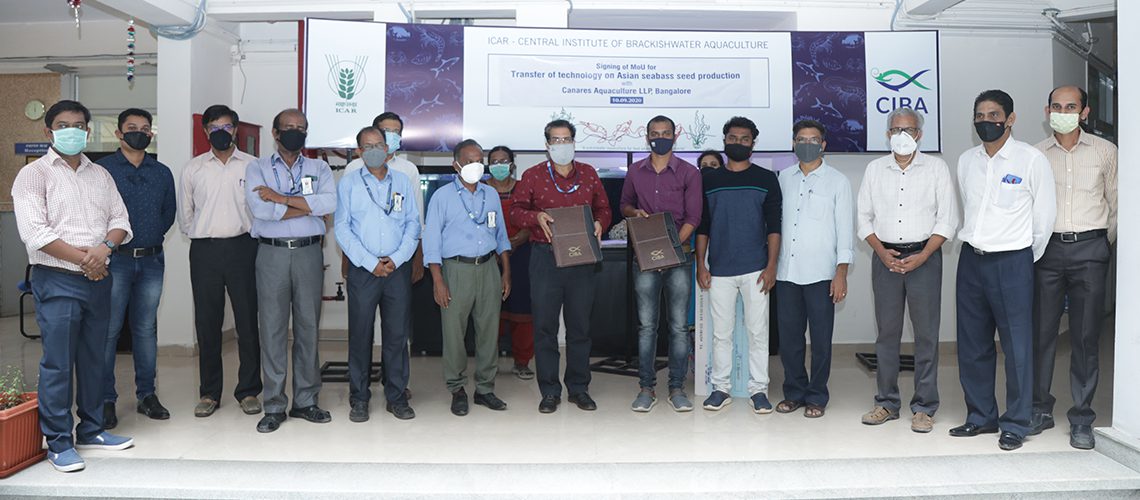 Start-up India is a flagship initiative of the Government of India, intended to build a strong eco-system for nurturing innovations and transform them into technology useful to society. 
Under this programme, brackishwater aquaculture start-up initiatives  were launched by CIBA during 2016.  Subsequently Start entrpreneurs were incubated through  Agri-Business Incubation centre (ABI) of ICAR, at CIBA-Chennai.   The objective has been to make use of all the useful innovations available at one place, and  to facilitate the Startups to get instant access, facilitating funding support and to have a industry-academia partnership. Under this programme a MoU was signed on 10th September 2020, between CIBA and Canares Aquaculture, where three young fisheries sciences graduates to take up Asian seabass hatchery technology as a first of its kind in the country. The event coincided with the launching of Pradhan Mantri Matsya Sampada Yojana (PMMSY) by the Prime Minister, Narendra Modi.
In recent years state and central governments are promoting the farming of Asian seabass to diversify the aquaculture with an objective of doubling the fish production, in another five years. After success with captive breeding and seed production of seabass in the late 1990s by CIBA, seabass has become the mainstay of finfish in brackishwater aquaculture, mainly due to the consumer choice and ready market demand for seabass. Hatchery production of quality seeds and the supply of stockable size fingerling to the grow-out farming is the critical requirement for scaling up of seabass production. Considering the limitations in government infrastructure, though  CIBA promotes public-private participation (PPP) in this area, private players did not enter into finfish hatchery.
In this backdrop, three young entrepreneurs, Mr. V.S. Karthik Gowda, Mr. Kaushik Alike and Mr. Sachin V. Savan, fresh graduates from Mangalore Fisheries College, who visited CIBA hatchery complex at Muttukkadu during field visit as part of their academics, got interested in brackishwater hatcheriy and farming. Upon completing their professional degree, they decided to take up a carrier on seabass seed production, a decison needed appreciation. They started ther venture using the seabass larvae from CIBA and got success in rearing with good growth and survival up to 70% at the nursery stage. They sold the fingerlings to the farmers of Mangalore, Karnataka with a impressive profit. Their plans to start a seabass hatchery of their own in the west coast  with technology from    CIBA have attracted the generous funding support from angel investors, M/S Canares Engineering Company, Bangalore Mr. Gajanan H.S. and Mr Ramji Pandey.
An MoU in this regard for the technology transfer from CIBA-Chennai has been signed between CIBA and and Startup company (Canares Aquaculture). During the MoU signing event, Dr. K.K. Vijayan, Director, CIBA appreciated the enthusiasm and courage of youth turning into entrepreneurs and also creating livelihood opportunities for the rural populations in the coastal region of Karnataka. Institute has initiated the promotion of Startup enterprises in brackishwater aquaculture since 2016, since then many young professionals have been incubated under this program at CIBA with the technological interventions in various areas of brackishwater aquaculture.  Dr. M. Kailasam, Head, Fish Culture Division & team leader of the finsfish hatchery technology development assured hand holding to the upcoming entrepreneurs. The Business Planning and Development unit of CIBA organized the event with the participation of CIBA scientists & staff members, strictly adhering to the guidelines issued by the MoHFW to contain the spread of COVID19.