ICAR-CIBA-Agribusiness incubation center promoted two clienteles bags national fisheries awards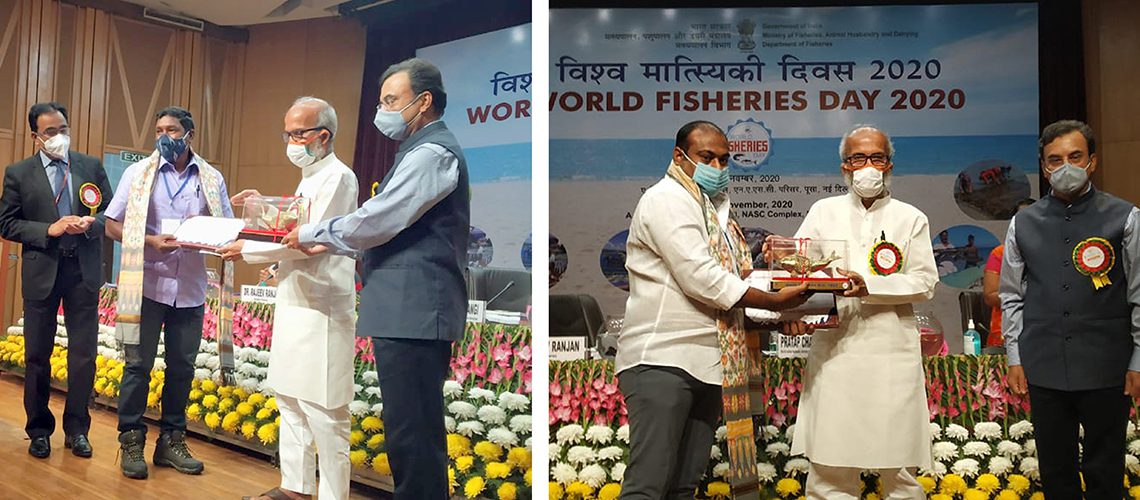 World Fisheries Day is celebrated every year on 21st November to highlight the importance of healthy oceans ecosystems and to ensure sustainable stocks of fisheries in the world. National Fisheries Development Board (NFDB, Hyderabad) and Department of Fisheries (DoF), Govt., of India organized a meeting on eve of the world fisheries day celebrations in Delhi on 21st Nov, 2020, and presented the awards to the best stakeholders in the fisheries sector.
Nambikkai Fish Farmers Group, Tamil Nadu and Sai Aqua Feeds, Andhra Pradesh, , who have adopted the technology of by ICAR-CIBA supported by CIBA's-Agribusiness incubation centre (ABI),  has been awarded with "Best Fisheries Self Help Group" and "Best Fisheries Enterprise Award" 2020" respectively by National Fisheries Development Board (NFDB), DoF, Ministry of Fisheries, Animal Husbandry and Dairying, Government of India. Shri. Pratap Chandra Sarangi, Hon'ble Minister of State for Fisheries, Animal Husbandry and Dairying presented the awards to Shri. T. Kennit Raj, leader of Nambikkai Fish Farmers Group and Shri. Vijay, Sai Aqua Feeds in the presence of Dr. Rajeev Ranjan, IAS, Secretary (Fisheries), Ministry of Fisheries, Animal Husbandry and Dairying, Government of India and Dr. Suvarna C., Chief Executive, NFDB on the World Fisheries Day on 21st November 2020.
Nambikkai fish farmers group from Pattinapakkam in Chennai bagged this award for successfully adopting the technology—conversion of fish wastes into value added products—developed by the ICAR-Central Institute of Brackishwater Aquaculture (ICAR-CIBA). In yet another recognition for the research initiatives of Chennai-based institute, a start-up company from Andhra Pradesh Sai Aqua Feeds who adopted the technology of CIBA in formulating desi shrimp feeds won the Best Fisheries Enterprises award. Both the awards included a financial incentive of Rs. 2 lakh cash prize and a shield.
'Waste to Wealth' initiative wins recognition
Nambikkai fish farmers group started functioning during 2017-18 under the aegis of CIBA to commercialised the latter's ambitious technology of recycling fish wastes to develop value-added products named Plankton plus and Horti plus. While the product Plankton plus is used in aquaculture system to boost and maintain the healthy plankton blooms, the Horti plus is used as an organic manure in horticulture. The products are developed under the concept of 'Waste to Wealth' initiative of CIBA in line with the Swachh Bharat mission of the central government.
Constituted by the CIBA under the Scheduled Cast Sub Plan Scheme (SCSPS) of the government of India, the start-up processing unit of Nambikkai self-help group produced 16, 345 kg of value added products and attained an annual turnover of Rs. 1.68 million. The group has seven fishermen members, all from the Scheduled Cast community, being four of them are women. Even at the tough time of COVID-19 pandemic, the group managed to earn Rs. 2 lakh as livelihood support. The group is collecting fish wastes from markets and fish trimming from fish processing companies persistently and producing the value addition.
Low-cost Desi Feed recognized
Sai Aqua Feeds received the Best Fisheries Enterprises award for commercializing the indigenous shrimp feed Vannamei plus developed by the CIBA. Formulation of this feed on a commercial scale by the Andhra-based company helped reducing the production cost in shrimp aquaculture in the country and effectively contributing towards doubling of farmers' income.
The company started operation in 2017 and had an overall production of 7633 tonnes of shrimp feeds in the brand "Vasanthi Premium" with an average annual production of 2585 tonnes. An overall turnover of nearly Rs. 5 cr. was earned by the Sai Aqua Feeds by producing desi shrimp feeds. Hundreds of shrimp farmers are still getting the benefits of this feed in their aquaculture ventures. It is estimated that the production cost could be reduced by 20 per cent with the commercialization of CIBA's desi feed technology.