ICAR-CIBA partners with farmer-entrepreneur for establishing a multispecies integrated feed mill to facilitate diversification of brackishwater aquaculture in Andhra Pradesh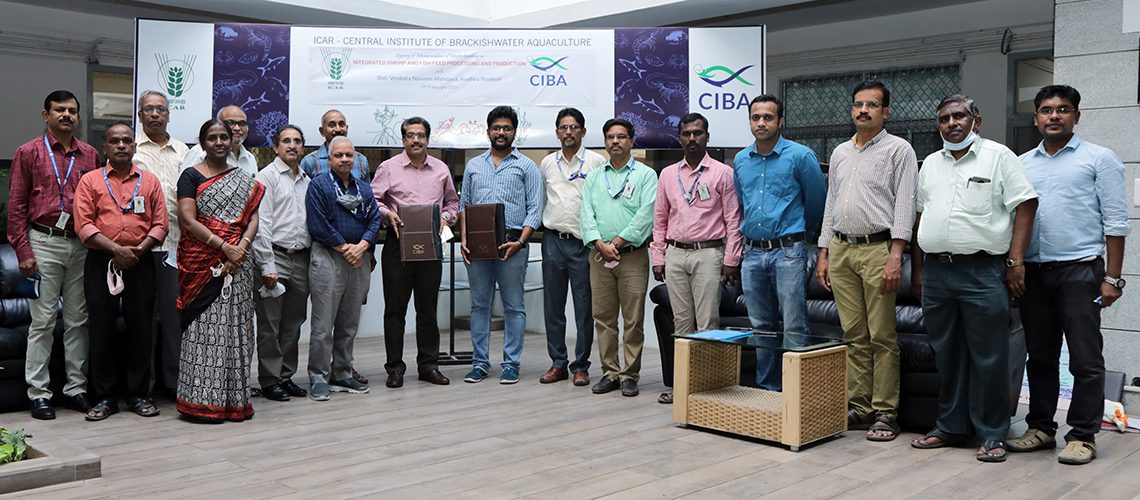 Technology support for diversification of brackishwater aquaculture by having species choices of different feeding habits and farming requirements to utilize the resources sustainably is one of the mandates of ICAR-CIBA. In any aquafarming, to be successful, quality seed and feed are critical inputs, which directly determine the economic returns and Profitability. CIBA has successfully contributed to the critical nodes of this farming value chain of candidate shellfish and finfish used in brackishwater with seed, feed, health care and region-specific farming technologies. In this setting, CIBA formed a strategic alliance with an enterprising brackishwater farmer, Mr Mandava Venkata Naveen from Nagayalanka region of Andhra Pradesh, for an integrated feed mill to process indigenous formulated grow-out feeds used for farmed species by signing a MoU on 17th Feb, 2021, a first of its kind in multispecies finfish farming. CIBA has developed cost-effective and quality 'desi feeds' using indigenous feed ingredients for all the candidates species farmed in brackishwater. Most of these technologies are being transferred to entrepreneurs for upscaling and commercial production on non-exclusive basis. The integrated feed mill envisaged to produce species-specific formulations with the technical collaboration of CIBA, which will meet their own demands in the beginning and sold to the nearby farmers in the future.
During the event, Dr. K.K. Vijayan, Director, ICAR-CIBA, impressed upon the quality of feed vis-a-vis the cost of production. Further, he emphasized that this integrated feed mill initiative is the first of its kind in this region and would be a boon for aqua farmers in the future. He added, not only in feed, but CIBA also has avenues such as hatchery technology for diversified species and disease and health management packages to have more interaction in the future. Dr. K. Ambasankar, Principal Scientist and team leader for Nutrition and Feed biotechnology programs of CIBA briefed about the significance of this initiative and opined that the success of this integrated feed mill would pave the way for diversification and growth of the sector in a faster trajectory. The Institute Technology Management (ITMU)-ABI Unit of CIBA coordinated the event, and SIC-ITMU, highlighted the success of the CIBA technologies taken up by the entrepreneurs, and proposed the vote of thanks.