ICAR-CIBA partners with 'Wellgrow Feeds' under the start-up initiative for establishing a small scale integrated feed mill at Kannur, Kerala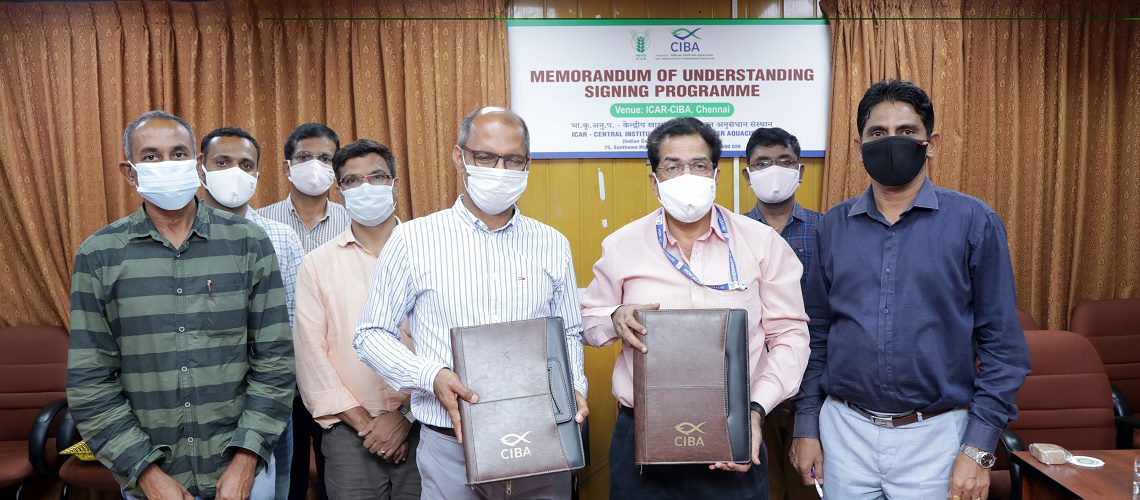 Diversification of brackishwater aquaculture is gaining considerable momentum in India in general and Kerala in particular. Various species of finfish are farmed in brackishwaters in Kerala. However, the major bottleneck for the large scale propagation of brackishwater aquaculture is the availability of cost effective & quality feeds, as the formulated feeds are totally transported from the East coast. In an effort to promote the brackishwater aquaculture in the country, CIBA has entered into series of MOUs with state government/ private entrepreneur for the production of indigenously developed formulated feeds for various species. In this context, ICAR-CIBA partners with Wellgrow Feeds', Kannur, Kerala by signing a MoU on 24th March , 2021, at CIBA, HQ, Chennai to establish an integrated feed mill to process indigenous formulated, functional and grow-out feeds used for farmed species in the West coast.
During the event, Dr. K.K. Vijayan, Director, CIBA, articulated that quality feed should give optimum productivity with cost effectiveness and CIBA feeds provide the both. Further, he emphasized that this integrated feed mill initiative is the first of its kind in west coast and would be a boon for aqua farmers in the region. Mr.Augusthy Varghese, who represented the Wellgrow feeds, opined that there is a considerable demand for quality feeds in aquaculture farming in the West coast and this initiative will be helping the small and medium farmers. Dr. K. Ambasankar, Principal Scientist and team leader for Nutrition and Feed biotechnology programs of CIBA briefed about the significance of this initiative and opined that the success of this integrated feed mill would pave the way for diversification and growth of the sector in a faster trajectory. The Institute Technology Management (ITMU)-ABI Unit of CIBA coordinated the event, and SIC-ITMU, highlighted the success of the CIBA technologies taken up by the entrepreneurs, and proposed the vote of thanks.