Director, ICAR-CIBA reviewed the on-going research activities of Kakdwip Research Centre (KRC) of CIBA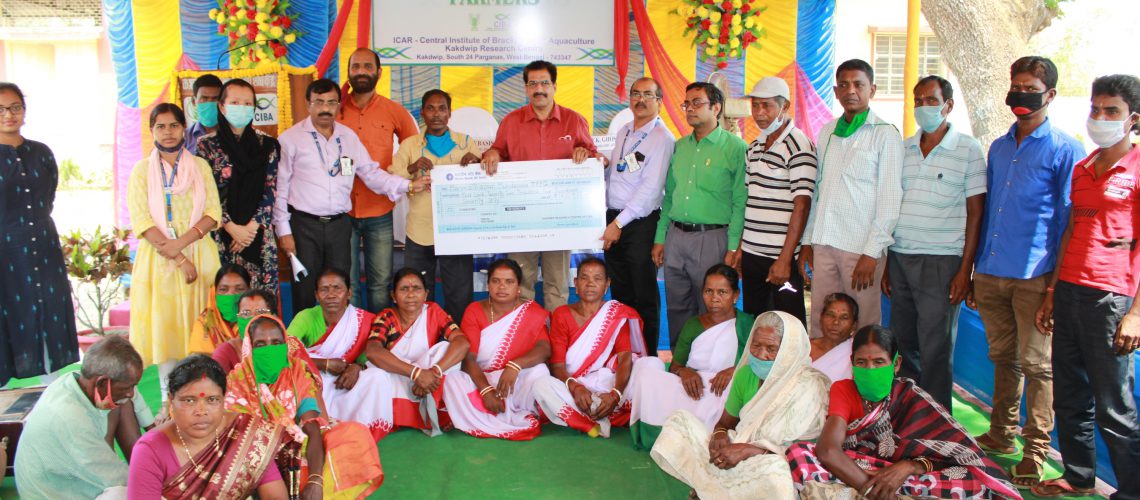 Dr. K. K.Vijayan, Director of ICAR-CIBA, visited the Kakdwip Research Centre of CIBA to review the ongoing research and extension activities during 2-4 April 2021. During his visit, the following events were undertaken.
MoU signing for CIBA-Plankton Plus technology transfer
During his visit, the Director, CIBA, signed a Memorandum of Understanding (MoU) with M/s T. K. Enterprise, Kakdwip, West Bengal for technology transfer of CIBA-Plankton Plus developed by CIBA.  He highlighted the importance of this technology by converting the fish trimmings/waste to value-added products, on a 'waste to wealth' platform. He articulated that the CIBA-Plankton Plus is capable of enhancing aquaculture production in various salinity regimes. He complimented M/s T. K. Enterprise for recognizing the potential of CIBA in R&D backstopping in brackishwater aquaculture and coming forward to sign the MoU. He also stressed the requirement of continued research in refining and fine-tuning the products from fish waste.
Inauguration of the ornamental fish breeding unit developed by CIBA at Budhakhali village, Kakdwip
ICAR-CIBA has been working for the livelihood improvement of poor and backward farmers, particularly schedule caste (SC) and scheduled tribe (ST) farmers of Sundarban, South 24 paragans under NAIP, TSP, and SCSP programmes. As a part of the CIBA initiative, a Women Self Help Group (SHG) has been formed as part of the SCSP programme with 21 members named "Budhakhali Sundari SC Fish Farmers Welfare Society" and mentored by KRC CIBA through hands-on training on fish keeping and breeding of ornamental fishes. Dr. K. K.Vijayan, Director, CIBA inaugurated the "Sundari Ornamental Fish Breeding Unit" established by CIBA on 3rd April 2021. During their inauguration, he requested the members of the group to play an active role in running the ornamental fish breeding unit to make it a model brackishwater ornamental fish hatchery at the village level. He directed the scientists to help the farmers group in establishing a marketing channel for the ornamental fish to be produced from the hatchery.
Inauguration of trainees' hostel and live feed culture unit at KRC
CIBA has established a new trainees hostel in its KRC campus named it as "Hilsa Trainees Hostel" for the accommodation of the trainees who come from different parts of the country for getting trained on different aspects of brackishwater aquaculture. During his visit, Dr. K. K.Vijayan inaugurated the "Hilsa Trainees Hostel" and "Live feed culture unit" at KRC on 3rd April 2021
Interaction programme with farmers of Sundarban
An interaction programme with farmer beneficiaries was organized at KRC where in Director, CIBA handed over the cheques for the profit amount realised by farmers in different demonstration programmes implemented under TSP and SCSP. He also distributed critical inputs viz., Milkfish seed, PolyPlus feed and PlanktonPlus to the farmers as part of the programme. Apart from that he also distributed chicks to women farmers of Sundarban to have an additional income to improve their livelihood status. During the interaction he advised the farmers to make use of the cost effective technology developed by CIBA to make the aquaculture profitable and sustainable.