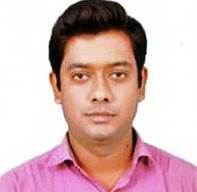 Scientists
Aritra Bera, Shri
Scientist
Discipline: Aquaculture
Division: Finfish Culture Division
Specialization: Fish Breeding, larval rearing, reproductive endocrinology and stress physiology
Brief profile:
After taking M.F.Sc in Aquaculture in 2010, PhD in Aquaculture in 2016 from ICAR-CIFE and qualifying Agricultural Research Service in 2013, I am working in CIBA since 2014 on development of brackishwater aquaculture. I currently work at Finfish Culture Division (FCD) in CIBA. As a sub-project leader I, with my team achieved a breakthrough in the closing life cycle of Milkfish (Chanos chanos) first time in India during June 2015. As a technology, we also achieved extended breeding and mass scale seed production of milkfish in consecutive years. I have also interests in application of assisted reproductive techniques (ARTs) in finfish breeding, improved larval rearing system of marine finfishes, stress-induced reproductive physiology in the context of climate change and innovative of re-circulatory aquaculture systems for early maturation of finfishes having long life.
Research areas:
Marine finfish breeding and seed production

Reproductive endocrinology and stress physiology

Application of assisted reproductive techniques (ARTs)
Current Research Projects (3 important ones):
| | | |
| --- | --- | --- |
| No | Title | Funded By |
| 1 | Application of improved techniques for captive maturation, assessment of reproductive biology, system development of induced breeding, larval rearing and seed production of brackishwater candidate finfish species | Institute |
| 2 | Development and refinement of finfish culture technologies for sustainable brackishwater aquaculture development | Institute |
| 3 | National initiative on climate resilient agriculture (NICRA) – Impact of climate change on aquaculture and mitigation options for minimizing greenhouse gases from an aquaculture sector | Institute |
Recognitions (National & International)
Nominated & attended international training courses on 'Fish Culture Development' at Egyptian International Centre for Agriculture (EICA) & World Fish at Arab Republic of Egypt during 01.10.18 to 15.12.18 with full funding support from EICA.
Team Member for Best Poster Award: Krishna Sukumaran, Dani Thomas, Rekha M. U., Aritra Bera et al.,(2019). Growth and reproductive parameters of two geographical groups of grey mullet Mugil cephalus Linnaeus, 1758 in captivity during BRAQCON: (CIBA)- (SCAFi), January 23-25, 2019.
Award for best publication of the year (Highest Impact factor): ICAR-CIFE, Mumbai. 2015.
Awarded NIBB international internship for carrying out advanced research in fish germline stem cell at Laboratory of Molecular Genetics for Reproduction in National Institute for Basic Biology (NIBB), Okazaki, Japan, during 2012 in the topic 'Effect of hypoxia on germline stem cells and sex differentiation in medaka (Oryzias latipes) [fully sponsored].
Awarded ICAR, Junior Research Fellowship for post -graduation study in Aquaculture during 2008-2010.
Outstanding performance (B.F.Sc) award and medal of recognition by teachers association (WBUAFS).
1st Class First. (Gold Medallist) in Bachelor Degree (B.F.Sc) in the year 2008.
Certificate of Achievement from Alltech for the paper on 'Alternatives to antibiotic growth promotants in aquaculture' during Alltech's Yong Animal Scientist Award, USA, 2008.
Best 5 Publications during the Career
Marappan, M., Rengarajan, A., Nallala, V.S., Sukumaran, K., Bera, A., Sivaramakrishnan, T., Thiagarajan, G., Kailasam, M. and Koyadan Kizhakedath, V.,(2019). Resistance of pearlspot larvae, Etroplus suratensis, to redspotted grouper nervous necrosis virus by immersion challenge. Journal of fish diseases, 42(2), pp.249-256.
Bera, A., Sawant, P.B., Dasgupta, S., Chadha, N.K., Sawant, B.T. and Pal, A.K., (2017). Diel cyclic hypoxia alters plasma lipid dynamics and impairs reproduction in goldfish (Carassius auratus). Fish physiology and biochemistry, 43(6), pp.1677-1688
Sawant PB, Bera A*, Dasgupta S, Sawant BT, Chadha NK, Pal AK.(2014). p53 Dependent Apoptotic Cell Death Induces Embryonic Malformation in Carassius auratus under Chronic Hypoxia. PLoS ONE 9(7): e102650. doi:10.1371/journal.pone.0102650     * is corresponding author 
Mandal, B., Sawant, P.B., Dasgupta, S., Chadha, N.K., Sundaray, J.K., Sawant, B.T. and Bera, A., (2017). Deviation of habitat salinity during seasonal gonad recrudescence affects plasma sex steroid levels and suppresses gonadal maturation in an euryhaline fish Etroplus suratensis. Aquaculture Research, 48(12), pp.5973-5983
Biswas, G., Sundaray, J.K., Bhattacharyya, S.B., Anand, P.S., Ghoshal, T.K., De, D., Kumar, P., Sukumaran, K., Bera A., Mandal, B. and Kailasam, M., (2017). Influence of feeding, periphyton and compost application on the performances of striped grey mullet (Mugil cephalus L.) fingerlings in fertilized brackishwater ponds. Aquaculture, 481, pp.64-71. 
Bera, A., Chadha, N.K., Dasgupta, S., Sawant, P.B. and Lakra, W.S., (2016). In vivo ovarian and testicular stress responses in Adult Koi carp (Cyprinus carpio) under chronic hypoxia. Eco. Env. & Cons. 22 (3): 2016; pp. 1425-1433
Best 3 Publications during last 3 years
Aritra Bera, M. Kailasam, G. Biswas, Babita Mandal, Prem Kumar, T. Sivaramakishnan, G. Thiagarajan. Dissemination of milkfish (Chanos chanos) farming technology among the farmers in West Bengal – ICAR-CIBA initiatives. In: Book of Abstracts, ICAR-Central Institute of Brackishwater Aquaculture (CIBA) & Society of Coastal Aquaculture and Fisheries (SCAFi), January 23-25, 2019, Chennai, p. 102.
Mandal B., Bera A., Kailasam M., Padiyar A., Ambasankar K., Alavandi, S.V., Vijayan, K.K., 2018. A Guide to Milkfish (Chanos chanos) Aquaculture. ISBN: 978-81-932937-5-1. pp 1- 19
P.Mahalakshmi, C.P.Balasubramanian, M.Kailasam, R.Saraswathy, K.Ambasankar, R.Aravind, Aritra Bera, T.Ravisankar,  C.V.Sairam, S. Sivagnanam and K.K.Vijayan. Family farming model in brackishwater aquaculture for livelihood support of communities living around Adyar Creek and Estuary. 2019. ICAR-CIBA, Chennai, ISBN 978 - 81 - 932937 -9- 9. pp 1-20.