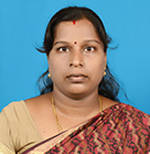 Scientists
Bhuvaneswari .T. Ms. Dr
Scientist
Discipline: Veterinary Microbiology
Division: Aquatic Animal Health and Environment Division
Specialization: Molecular Microbiology
Contact Me
Phone: +91- 044 – 24618817 Ext:118
Fax: +91- 044 – 24610311
Email:bhuvana@ciba.res.in
Brief profile:
I have interest in the area of bacterial pathogenesis hence I concentrated on the Vibrios associated with L. vannamei shrimp and aquaculture environment and identified the pattern of different vibrio sp involved in WSSV and IHHNV infected shrimp. The monitoring of diseases and screening for exotic viruses in L.vannamei hatcheries and culture ponds was done in AP and TN with frequent sampling from uninfected normal and diseased cases. I have worked on defense mechanism of shrimps. I have contributed to the disease monitoring brood stock of crustacean and fin fish hatchery. I worked in cell culture adaptation and propagation of betanoda virus from field samples of fish.
Research areas:
Disease diagnosis for fin fish and shellfish
Molecular pathogenesis of bacterial pathogens
Identification of bacterial virulence factors
Current Research Projects:
| | | |
| --- | --- | --- |
| No | Title | Funded By |
| 1 | Aquatic animal diseases and intervention tools for their management | Institute |
| 2 | National surveillance programme for Aquatic animal Diseases | ICAR-NBFGR |
| 3 | Defense genes of tiger shrimp (Penaeus monodon) with respect to bacteria (Vibrio harveyi) and white spot virus (WSSV) infection | National Agricultural Science fund (NASF), ICAR |
Recognitions (National & International)
International training program in the area of "MOLECULAR BREEDING" (FISHERIES SCIENCE) under National Agricultural Innovation Project (NAIP), ICAR at Laboratory of Aquaculture & Artemia Reference center, Gent University, Gent, Belgium.
Best 5 Publications during the Career
Bhuvaneswari, T. and Singh, S. D. 2009. Pathogenicity study of Indian isolates of infectious bronchitis virus in chickens. Indian J. Vet. Pathol., 33(2): 143-147.
Bhuvaneswari, T., Singh, S. D., B.B. Dash and K. Dhama, 2009. Biological characterization of Indian Isolates of Infectious Bronchitis virus. Indian J. Comp. Microbiol. Immunol. Infec. Dis., 30(1): 11-14
S. Basu, Singh, S. D., K. Dhama and T. Bhuvaneswari (2009). Immune response of broiler chicks to different Ranikhet disease vaccines using live RDF and killed R2B strain in oil adjuvant. J. Immunol. immunopathol., 11(2): 33-38.
Best 3 Publications during last 3 years
Otta SK, Arulraj R, Praveena EP, Manivel R, Panigrahi A, Bhuvaneswari T, Ravichandran P, Jithendran KP, Ponniah AG. Association of dual viral infection with mortality of Pacific white shrimp (Litopenaeus vannamei) in culture ponds in India . Virus diseases 2014, 25(1):63-8.
Sindhupriya M, Saravanan P, Otta SK, Amarnath CB, Arulraj R, Bhuvaneswari T, Praveena PE, Jithendran KP, Ponniah AG. White spot syndrome virus (WSSV) genome stability maintained over six passages through three different penaeid shrimp species. Diseases of Aquatic Organisms 2014, 111(1): 23-29
Joe K. Kizhakudan, P. Ezhil Praveena, B.A. Venmathi Maran, S.K. Otta, T. Bhuvaneswari, J. J. S. Rajan, S. Krishnamoorthi and K.P. Jithendran (2015). Investigation on the mortality of juveniles in captive stock of the Indian halibut Psettodes erumei. Indian Journal of Geomarine Sciences, (In press)