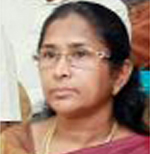 Scientists
Deboral Vimala. D. Ms. Dr
Principal Scientist
Brief profile:
After taking masters degree in Agricultural Extension, joined in Agricultural Research Service at CIBA in 1991 and completed PhD in 2003. I currently work in Social Sciences Division in CIBA.I have worked on various issues of brackishwater aquaculture pertaining to the Information needs assessment studies, e-Models in Fisheries, e- Extension strategies Domestic fish marketing, usage of Chemical and Biological products in the culture of P. monodon, Horizontal Transmission pattern of WSSV in shrimp farms,Knowledge level of the shrimp farmers towards farm biosecurity protocols and Perception of shrimp farmers towards farm biosecurity protocols,women in coastal aquaculture, training needs of farmers, Extension strategies and models for sustainable brackishwater, farmers perceptions on extension services. Written pictorial hand books on shrimp and fish culture for the easy communication of the farmers, organized and conducted training and extension on farm & off –farm programmes. Published 72 research papers in reputed national and International journals, conference proceedings and in magazines, book chapters and CIBA publications. I am in the peer review group for some national refreed journals. Organized and conducted nearly 112 On farm extension programmes including national workshops, training programmes, Farmers – Scientists interaction meet, method demonstrations, group discussions, awareness programmes, campaigns, exhibitions and radio talks.
Research areas:
Mobile phony for Fisheries Extension
E-Extension Strategies for knowledge led rural growth
ICT led knowledge Management, usage patterns and impact in Fisheries Extension
Current Research Projects:
| | | |
| --- | --- | --- |
| No | Title | Funded By |
| 1 | Transfer of Technology through ICT & Capacity Building. | Institute |
| 2 | Outreach activity on Extension Services | Institute |
| 3 | Technology up gradation and refinement for sustainable development of diversified systems and species of penaeid shrimp. | Institute |
Chidambaram Memorial Award by Fisheries Technocrafts Forum, Chennai
Presentation in international and national workshops on invitation for lead papers.
Served as a rapporteur in the National Conference/Workshop
Doctoral committee member for Sathabama University student.
External examiner for question Paper setting ,CIFE Mumbai & TNFU,Nagapattinam
Reviewer for national journals
External Examiner for paper evaluation, CIFE,Mumbai.
Served as a member for committee s in NAcSA at MPEDA, Kochi.
Tamil Nadu Agricultural University Merit Scholarship
Best 5 Publications during the Career
D. Deboral Vimala, T. Ravisankar, C. Gopal, P. Ravichandran, 2015. Use of chemical and biological products in modern shrimp farming in Northern Tamil Nadu, India, IJF Vol 62, No 2
Vimala D.D., Ravisankar T. 2012 Fisher Friend Mobile Application – An Innovative and Promising ICT Tool in Fisheries e-Extension, Fishery Technology , Vol 49, No 2 p
D.Deboral Vimala, S.Ramachandran, P.S.Swathilekshmi and M.Kumaran, 2006 Shrimp Seed – A critical Problem Faced by Shrimp Farmers – A Cross Sectional Analysis, J.Indian.Soc.Coastal agric.Res., 24 (2),338-340.
D.Deboral Vimala,M.Kumaran and M.Krishnan, 2006. Communication Behaviour of Shrimp Farmers, J.Indian.Soc.Coastal agric.Res.,, 24 (2),334-337
D.Deboral Vimala.C.Sarada and M.Krishnan, 2006. Aqua Farmers Perceptions on Extension Services – A Paired Comparison Approach, Fishery Technology, Vol 41, (2) 224-229 pp.J.Indian.Soc.Coastal agric.Res., 24 (2),338-340.
Best 3 Publications during last 3 years
D. Deboral Vimala, T. Ravisankar, C. Gopal, P. Ravichandran, 2015. Use of chemical and biological products in modern shrimp farming in Northern Tamil Nadu, India, IJF Vol 62, No 2.
D. Deboral Vimala, K. Ramkumar, M. Kumaran, T. Ravisankar, P. Mahalakshmi, P. Ravichandran and A.G. Ponniah. 2014. Mobile telephony – ICT enabled fisheries extension service for sustainable shrimp farming, Aquaculture Asia, Volume XIX No. 1, p 24-26
Vimala D.D., Ravisankar T. 2012. Fisher Friend Mobile Application – An Innovative and Promising ICT Tool in Fisheries e-Extension, Fishery Technology , Vol 49, No 2 :199-203