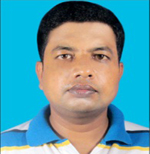 Scientists
Gouranga Biswas. Dr.
Discipline: Aquaculture
Division: Finfish Culture Division
Specialization: Fish breeding and culture
Brief profile:
After taking Masters in Freshwater Aquaculture from CIFE, Mumbai in 2003 I started career as Fishery Extension Officer, Govt. of West Bengal. I have been working in CIBA since May 2007 on finfish breeding and culture. Meanwhile, I obtained Ph.D. in Applied Biological Science in March 2015 from the University of Miyazaki, Japan. I currently work in Fish Culture Division in CIBA. I have worked on breeding, seed rearing and grow-out culture of brackishwater fishes. I have contributed to captive breeding and seed production of pearlspot, seed rearing techniques of Asian seabass, grey mullets and milkfish, cost-effective grow-out culture of Asian seabass and grey mullets, polyculture of shrimp and fishes, and organic shrimp farming. I have research interests in aquaculture diversification, fish breeding and fish molecular immunology.
Research areas:
Brackishwater fish breeding and culture
Aquaculture species diversification
Fish Immunology
Current Research Projects:
| | | |
| --- | --- | --- |
| No | Title | Funded By |
| 1 | Dissemination of technology on the seed production of Asian seabass (Lates calcarifer) and development and refinement of seed production technology for other commercially important brackishwater fishes | Institute |
| 2 | Improvement and validation of brackishwater fish culture technologies | Institute |
| 3 | Sustainable integrated brackishwater aquaculture production of shrimp and fishes with focus on livelihood options for Sundarban farmers | Institute |
Recognitions (National & International)
Dr. T.V.R. Pillay and Dr. M.V. Gupta Award for the Best Overseas Indian Fisheries Scientist for securing the second maximum cumulative impact factor for the research papers published during the year 2013 by the Professional Fisheries Graduates' Forum, Mumbai on 12th November 2014 at NBFGR, Lucknow.
Alltech Japan Young Scientist 2013 Award on 3rd October 2014 at Kagoshima, Japan.
Japanese Govt. (Monbukagakusho: MEXT) Scholarship 2011 for pursuing doctoral study during 2012-2015.
Felicitation by the Chandanpiri Vivekananda Farmers Club, Namkhana, South 24 Parganas, West Bengal with a citation on 11th April 2011 in recognition of a proactive role played in the development of brackishwater aquaculture in the Sunderbans region.
Dr. Hiralal Choudhuri Gold Medal Award from the Central Institute of Fisheries Education, Mumbai, India for securing the 1st Class 1st position in the Master's Course 2001-2003.
Best 5 Publications during the Career
Best 3 Publications during last 3 years
Gouranga Biswas, Shunsuke Kinoshita, Tomoya Kono, Jun-ichi Hikima and Masahiro Sakai, 2015. Evolutionary evidence of tumor necrosis factor super family members in the Japanese pufferfish (Takifugu rubripes): comprehensive genomic identification and expression analysis. Marine Genomics, 22: 25–36.(Thomson Reuters 2014 IF: 1.792; Equivalent NAAS Rating: 7.792)
Gouranga Biswas and Masahiro Sakai, 2014. Loop-mediated isothermal amplification (LAMP) assays for detection and identification of aquaculture pathogens: current state and perspectives. Applied Microbiology and Biotechnology, 98: 2881–2895. (Thomson Reuters 2014 IF: 3.337; NAAS 2015 Rating: 9.81).
Soner Bilen*, Gouranga Biswas*, Shohei Otsuyama, Tomoya Kono, Masahiro Sakai and Jun-ichi Hikima, 2014. Inflammatory responses in the Japanese pufferfish (Takifugu rubripes) head kidney cells stimulated with an inflammasome-inducing agent, nigericin. Developmental and Comparative Immunology, 46:222–230. (Thomson Reuters 2014 IF: 2.815; NAAS 2015 Rating: 9.71)