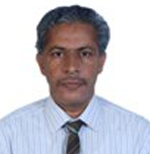 Scientists
Jithendran. K. P. Dr
Principal Scientist
Discipline: Fish Health Management / Fish Parasitology
Division: Aquatic Animal Health and Environment Division
Specialization: Fish/shrimp Health Management
Brief profile:
After taking masters in M.Sc. in 1984, M. Phil. in 1987 and Ph.D. in Parasitology in 1994, I am working in CIBA since 1999 on Fish and Shrimp Health Management. I currently work in division of Aquatic Animal Health and Environment Division in CIBA. I have worked on epidemiology of parasitic diseases in aquaculture system, molecular epidemiology and diagnostics of viral diseases of finfish and surveillance of aquatic animal diseases in brackishwater system; I have contributed to enhance the knowledge base on diseases in finfish and mud crab and their control; surveillance of fish and shellfish diseases and management, development of molecular diagnostics and genomic characterization of betanodavirus causing viral nervous necrosis in marine fishes of aquaculture importance in India. I have interests in viral genomics and molecular characterization with special reference of betanodavirus.
Research areas:
Epidemiology of animal diseases, pathophysiology, host-pathogen interactions and immune gene regulation during infection.
Development of molecular detection assays, immunodiagnostics and disease control through vaccines.
Genomic and molecular characterization of fish and shell fish viruses in aquaculture.
Current Research Projects:
| | | |
| --- | --- | --- |
| No | Title | Funded By |
| 1 | Aquatic animal diseases and intervention tools for their management | Institute |
| 2 | National Surveillance Programme for Aquatic animal Diseases (NSPAAD) | NFDB |
| 3 | Defense genes of tiger shrimp (Penaeus monodon) with respect to bacteria (Vibrio harveyi) and white spot virus (WSSV) infection | NFBSFARA- ICAR |
Recognitions (National & International)
CSIR fellowship for Ph.D. Programme(Parasitology) at IVRI Izatnagar, during 1992-1994.
V. S. Alwar memorial award for the year 2001 for the Best Research Article published in Journal of Veterinary Parasitology under the auspices of Indian Association for the Advancement of Veterinary Parasitology (IAAVP) during 13th National Congress of Veterinary Parasitology, 14-16 December, 2002 held at Kolkata.
DBT Overseas Associateship Award 2005-06 for 3 months, 10 Oct., 2006 to 9 Jan., 2007 at University of Hiroshima (Japan).
Best Paper Award for oral presentation of the paper 'Persistent betanodavirus infection in fishes: Concerns in Indian coastal aquaculture' by Binesh and Jithendran during Golden jubilee national seminar on 'Diversification of Aquaculture through Locally Available Fish species (DALAF-2010)' organized by Central institute of Fisheries Education, Kolkata Centre during 27-28 Aug., 2010, pp. 109-110.
Best Poster Award (second prize) for the poster presented on Molecular characterisation of Vibrio alginolyticus isolated from brackishwater environment using RAPD and ERIC-PCR by Ezhil Praveena, P., Thenmozhi, T., Joseph Sahaya Rajan, J., Otta, S. K., Bhuvaneswari, T. and Jithendran, K. P. (2014). XXI Annual convention of ISVIB and international symposium on Livestock diseases affecting livelihood options and global trade-strategies and solutions held at Chennai during 17-19 June 2014.
Best paper award (second prize) for oral presentation of the paper on Differential expression pattern of antimicrobial peptides in tiger shrimp, Penaeus monodon against white spot syndrome virus infection by Sindhu Priya, M., Saravanan, P., Otta, S.K., Bhuvaneswari, T., Ezhil Praveena, P. and Jithendran, K.P. in the National Conference on Bioactive peptides-Application in veterinary, medical and food sciences (NBAP-TANUVAS-2014) during 18-19 December 2014 at Dept. of Animal Biotechnology, Madras Veterinary College, Chennai.
Best 5 Publications during the Career
Jithendran, K.P. and Bhat, T.K. (1996). Prevalence of dicrocoeliosis in sheep and goats in Himachal Pradesh, India. Parasitol., 61: 265-271.
Jithendran, K.P., Vaid, J. and Krishna, L (1996). Comparative evaluation of Agar gel precipitation test, counter immuno electrophoresis and passive haemagglutination test for the diagnosis of Dicrocoelium dendriticum infection in sheep and goats. Parasitol., 61: 151-156.
Jithendran, K.P. and Bhat, T. K. (1996). Sub clinical coccidiosis in Angora rabbits –A field study in Himachal Pradesh, India. World Rabbit Sci., 4: 29-32.
Jithendran, K.P., Rao, J.R. and Mishra, A.K. (1997). Evaluation of antigenic preparations for the diagnosis of experimental Trypanosoma evansi infection in bovine calves. Vet Parasitol., 11: 17-21.
Jithendran, K.P. and Bhat, T.K. (1999). Epidemiology of parasitoses in dairy animals in North West Humid Himalayan Region with particular reference to nematodes. Trop. Anim. Hlth. Prod., 31: 205-214.
Best 3 Publications during last 3 years