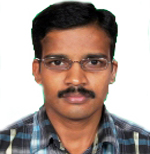 Scientists
Kumaraguru Vasagam.K.P. Dr
Principal Scientist
Discipline: Animal/Fish Nutrition
Division: Finfish Culture Division
Specialization: Aquaculture
Brief profile:
After obtaining MSc, MPhil and PhD in Marine Biology from the Center of Advanced Study in Marine Biology, Annamalai University in year 2001, 2002 and 2006 respectively, I have taken Nutrition R&D Manager in Integrated Aquaculture International, in 2006 at Brunei, and later in 2010, I moved back to India and served in UGC and CSIR's postdoctoral research programs in India. In 2012, I got selected as a Senior Scientist in ICAR and I am working in CIBA, in its nutrition section of NGBD, since March, 2012. My research interest mainly focus on, cost effective formulations for the specific life stages of aquatic organisms, maximizing the utilization of feed inputs by well executed feed management, rearing system and feeding automation, functional feeds and search for sustainable feed ingredients for use in farming of fish and shrimp.
Research areas:
Fish Nutrition: Ingredient evaluation, Nutrient requirement, Feed management
Design and development of new rearing system for better feed utilization
Brood stock and larval nutrition
Current Research Projects:
| | | |
| --- | --- | --- |
| No | Title | Funded By |
| 1 | Newer Feed resources and feed additives for development and improvement of shrimp and fish feeds | Institute |
| 2 | Assessment of productivity and variation in nutritional characteristics of BIOFLOC a sustainable feed for farmed aquatic animals | DST-SERB |
| 3 | Outreach Activity On Fish Feed | Institute |
Best 5 Publications during the Career
Best 3 Publications during last 3 years
Syama Dayal J., Ponniah A.G., Imran Khan H., Madhu Babu E.P., Ambasankar K. and Kumarguru vasagam K.P., 2013. Shrimps should be on man's regular platter-A nutritional perspective. Current Science, VOL. 104, NO. 11. 1487- 1491
Jebaraja, K.J., Sivakumar, V., Kumaraguru vasagam, K.P. , 2013. Vegetable products as dietary pigment sources for juvenile goldfish, Carassius auratus. Israeli Journal of Aquaculture - Bamidgeh 65 (1).