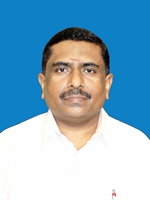 Scientists
Kumaran. M. Dr
Principal Scientist
Discipline: Agricultural Extension
Division: Social Sciences Division
Specialization: Agricultural Extension Management
Brief profile:
After taking masters in Agricultural Extension in 1994 and PhD in Agricultural Extension at IARI in 1998. I have been working in CIBA since 1998 on Aquaculture Extension Research and Technology Transfer. I am currently worked in division of Social Sciences in CIBA. I have worked on Extension approaches, information and communication, risk and vulnerability assessment, family farming and impact assessment, Better aquaculture practices for shrimp farming and technology transfer in brackishwater aquaculture.I have contributed to the shrimp aquaculture sector and its sustainability through research and development programmes and institution building.I have interests in techno-economic assessment of production systems, climate smart extension, aquaculture planning and policy development.
Research areas:
Aquaculture Extension-Pragmatic extension approaches and methodologies.
Risk, vulnerability and impact assessment of aquaculture systems.
Better Aquaculture Management Practices of Human Resource Development.
Current Research Projects:
| | | |
| --- | --- | --- |
| No | Title | Funded By |
| 1 | Appraisal of Penaeus vannamei production systems and associated production risks for the development of better management practices. | NFDB |
| 2 | National Innovations in Climate Resilient Agriculture | ICAR |
| 3 | Pragmatic extension approaches for sustainable brackishwater aquaculture | Institute |
Outstanding Extension Scientist Award by the Fisheries Technocrats Forum, Chennai in 2007.
Resource Person for small scale aquaculture in Asia by Network of Aquaculture Centres in Asia-Pacific.
Resource person for capacity development of fishery extension officers of maritime states of India.
Best 5 Publications during the Career
M.Kumaran, D.Deboral Vimala, Chandrasekaran.V.S, M.Alagappan and S.Raja. 2012. Extension approach for an effective fisheries and aquaculture extension service in India. Journal of Agricultural Education and Extension, 18(3):247-267pp.
Kumaran .M, M. Krishnan and P.Ravichandran. 2007.'Extension Services in Coastal Aquacultrure : Need For a Public and Private Partnership'. Indian J. Fish, 54(1):75-83.
Kumaran.M, Kalaimani.N, Ponnusamy.K, Chandrasekaran.V.S and D.D.Vimala. 2003. 'A case of informal shrimp farmers Association and its role in sustainable shrimp farming in Tamil Nadu, India'. Aquaculture Asia, VIII (2): 10-12.
M.Kumaran, P.Ravichandran, B.P.Gupta and A.Nagavel.2003. Shrimp farming practices and its Socio-economic consequences in East Godavari District of Andhra Pradesh, India – A case study. Aquaculture Asia,8(3): 48-52.
Kumaran M and K. Vijayaragavan.2000. Effectiveness of Agricultural Extension Services in an Irrigation Command Area. Ind.J.Extn.Edn, XXXVII(3&4): 125-132.
Best 3 Publications during last 3 years
M.Kumaran, P.Ravichandran, A.G.Ponniah, J.Asok kumar, D.Deboral Vimala and V.S.Chandrasekaran, 2015. Extension Methodology for Assessing the Effectiveness of Shrimp Farmer Groups, Indian J.Fish., 62(1): 116-123.
Alagappan and M. Kumaran.2015. Expert system for shrimp aquaculture – an ICT aided tool for knowledge management. Indian J. Fish., 62(2): 56-61, 2015.
M.Kumaran, P. Ravichandran, M.Muralidhar, K.Ambasankar, S.K.Otta, A.Panigrahi, D.Deboral Vimala, T.Ravisankar, J.Asok Kumar, PR.Anand and Johnson.2014. Frequently Asked Questions (FAQs) pertaining to Litopenaeus vannamei shrimp farming, CIBA special Publication Series No. 77, 34 p.