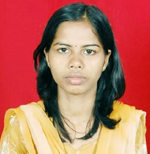 Scientists
Leesa Priyadarsani
Scientist
Discipline: Fish Health
Division: Nutrition, Genetics and Biotechnology Division
Specialization: Aquatic animal health
Brief profile:
After taking masters in Aquatic Animal Health in 2012 and PhD in Aquatic Animal Health, in I am working in CIBA since 2016 on feed additives in improving the health and growth of fish and shrimp. I currently work in the division of Nutrition, Genetics and Biotechnology in CIBA. I have worked on impact of traditional shrimp farming on the microbial population and Motile Aeromonas septicaemia (MAS) in cultured carps of West Bengal. I have contributed to Better Management Practices (BMP) for carp culture. I have interests in immuno-nutrition, feed additives and probiotics in improving the health of fish and shrimp.
Research areas:
Effect of Moringa leaves on health and growth of fish
Effect of brackishwater seaweed on health and growth of fish and shrimp
Recipient of INSPIRE Fellowship from DST
Best 3 Publications during last 3 years
Adikesavalu, H., Paul, P., Priyadarsani, L., Banerjee, S., Joardar, S.N., Abraham, T. J., 2016. Edwardsiella tarda induces dynamic changes in immune effector activities and endocrine network of Pangasius pangasius (Hamilton, 1822). Aquaculture 462 (2016) 24–29.
Priyadarsani, L., Abraham, T. J., 2013. Ecology of antibiotic resistant Vibrios in traditional shrimp farming system (bhery) of West Bengal, India. Journal of Coastal Life Medicine 1(4): 267-274.
Priyadarsani, L., Abraham, T. J., 2016. Water and sediment quality characteristics of medium saline traditional shrimp culture system (bheri). Journal of Fisheries 4(1): 309-318.