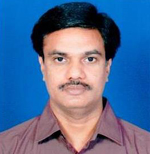 Scientists
Makesh, M. Dr.
Principal Scientist
Discipline: Veterinary Microbiology
Division: Finfish Culture Division
Specialization: Fish Immunology
Contact Me
Phone: +91- 044 – 24618817 Ext:431
Fax: +91- 044 – 24610311
Email:mmakesh@ciba.res.in
Brief profile:
After taking masters in Veterinary Microbiology in 1997 and PhD in Veterinary Microbiology in 2005 I am working in CIBA since April 2015 on fish breeding and larval rearing. I currently work in division of Fish Culture in CIBA. I have worked on fish immunology and have contributed to development of immunodiagnostics for fish and shellfish diseases. I have interests in mucosal immunity and application of probiotics for larval rearing.
Research areas:
Fish immunology
Fish disease diagnostics
Larval rearing
Current Research Projects:
| | | |
| --- | --- | --- |
| No | Title | Funded By |
| 1 | ICAR All India Network Project on Fish Health | ICAR |
| 2 | Biotechnological interventions and application of bioinformatic tools for improvement of brackishwater fish and shellfish | Institute |
Best 5 Publications during the Career
Best 3 Publications during last 3 years
Makesh M, Ponnerassery S. Sudheesh, Kenneth D. Cain. 2015. Systemic and mucosal immune response of rainbow trout to immunization with an attenuated Flavobacterium psychrophilum vaccine strain by different routes. Fish & Shellfish Immunology, 44; 156-163.
Parhi J, Mukherjee SC, Saxena G, Sahoo L, Makesh M. 2014. Molecular characterization and expression of type-I interferon gene in Labeo rohita. Molecular Biology Reports 41:2979-2987.
Sajad Ahanger, Supriyanka Sandaka, Deepika Ananad, Madhu K. Mani, Ravinder Kondadhasula, Chandra Sekhar Reddy, Makesh Marappan, Rajendran K. Valappil, Kshitish C. Majumdar and Rakesh K. Mishra. 2014. Protection of Shrimp Penaeus monodon from WSSV Infection Using Antisense Constructs. Mar. Biotechnol. 16:63–73