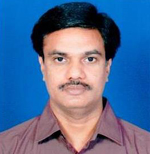 Scientists
Makesh, M. Dr.
Principal Scientist
Discipline: Veterinary Microbiology
Division: Finfish Culture Division
Specialization: Fish Immunology
Contact Me
Phone: +91- 044 – 24618817 Ext:406
Fax: +91- 044 – 24610311
Email:mmakesh@ciba.res.in
Brief profile:
After my master's degree in Veterinary Microbiology in 1997 and PhD in Veterinary Microbiology in 2005 and 15 years of service at Central Institute of Fisheries Education, Mumbai, I'm currently working in Fish Culture Division at CIBA Since 2015. I have worked on fish and crustacean immunology and virology and have contributed to development of molecular and immunodiagnostics for fish and shellfish diseases. I have interests in mucosal immunity of fish, development of vaccines and diagnostics for fish diseases.
Research areas:
Fish immunology
Fish disease diagnostics
Fish vaccines
Current Research Projects:
| | | |
| --- | --- | --- |
| No | Title | Funded By |
| 1 | Development of vaccine for betanoda virus infecting seabass, Lates calcarifer | ICAR |
| 2 | Development of improved diagnostics to existing and emerging pathogens of shrimp and fish | ICAR |
| 3 | Development of sensitive diagnostic assay for viral nervous necrosis and pathogen and parasite profiling of candidate finfish species |  Institute |
| 4 | Development of rapid farm level diagnostics and screening of field samples for viral nervous necrosis |  Institute |
DBT-CREST Award 2012
Best oral presentation award in Braqcon 2019
Best 5 Publications during the Career
Makesh, M., Koteeswaran, A., Chandran, N. Daniel Joy, Manohar, B. Murali, Ramasamy, V., 2006. Development of monoclonal antibodies against VP28 of WSSV and its application to detect WSSV using immunocomb. Aquaculture, 261:64-71.
Manas Ranjan Bag, M. Makesh, K.V. Rajendran, S.C. Mukherjee. 2009. Characterization of IgM of Indian major carps and their cross- reactivity with anti-fish IgM antibodies. Fish and shellfish Immunology. 26:275-278.
Pushpa K, P. Gireesh-Babu, K. V. Rajendran, C. S. Purushothaman, S. Dasgupta, M. Makesh. 2014. Molecular cloning, sequencing and tissue-level expression of complement C3 of Labeo rohita (Hamilton, 1822). Fish and Shellfish Immunology 40: 319-330.
Makesh M, Ponnerassery S. Sudheesh, Kenneth D. Cain. 2015. Systemic and mucosal immune response of rainbow trout to immunization with an attenuated Flavobacterium psychrophilum vaccine strain by different routes. Fish & Shellfish Immunology, 44; 156-163.
Husne Banu, Deepika Anand, Megha Bedekar, K V Rajendran & M. Makesh. 2017. Monoclonal antibodies against recombinant GAPDH of Edwardsiella tarda reveal the conserved nature of the protein. Food and Agricultural Immunology.28: 685–698.
Best 3 Publications during last 3 years
Sathish Kumar, T., Navaneeth Krishnan A., Joseph Sahaya Rajan J., Makesh M., Jithendran K. P., Alavandi S. V., Vijayan K. K. Visual loop-mediated isothermal amplification (LAMP) for the rapid diagnosis of Enterocytozoon hepatopenaei (EHP) infection. Parasitology Research 117:1485–1493.
Anutosh Paria, Makesh, Aparna Chaudhari, C.S. Purushothaman, K.V. Rajendran. 2018. Toll-like receptor (TLR) 22, a non-mammalian TLR in Asian seabass, Lates calcarifer: Characterisation, ontogeny and inductive expression upon exposure with bacteria and ligands. Developmental and Comparative Immunology 81;  180-186.
Makesh Marappan, Aathithya R., Venkata Satyanarayana Nallala, Krishna Sukumaran, Aritra Bera,  Sivaramakrishnan, G. Thiagarajan, M. Kailasam, Vijayan K. K. 2019. Resistance of pearlspot larvae, Etroplus suratensis, to redspotted grouper nervous necrosis virus by immersion challenge. J Fish Dis. 42:249–256.