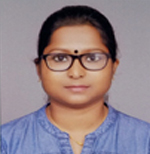 Scientists
Misha Soman, Ms.
Scientist
Discipline: Aquaculture
Division: Nutrition, Genetics and Biotechnology Division
Specialization: Marine ornamental fish breeding and embryology
Brief profile:
After taking masters in Aquaculture from CIFE in 2014, I am working in CIBA since 2016. I currently work under Nutrition Genetics and Biotechnology Division in CIBA. I have worked on embryonic development of Amphiprion ocellaris with regard to temperature effects during my masters' program. My interest is in the application of biotechnological tools for the growth improvement of aquaculture species.
Research areas:
CRISP-R Technology for growth improvement of finfishes
Population genetic studies of selected brackishwater fish species
Current Research Projects:
| | | |
| --- | --- | --- |
| No | Title | Funded By |
| 1 | Outreach Activity on Fish Genetic stocks | Institute |
| 2 | Biotechnological interventions and application of bioinformatics tools for improvement of brackishwater fish and shellfish | ICAR |
Recipient of Smt. Nirmala C. Kulkarni Best M.F.Sc. Girl Student Research Award for the year 2014-15.