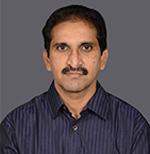 Scientists
Muralidhar. M. Dr
Principal Scientist & SIC – Environment Group
Discipline: Soil Chemistry/Fertility/Microbiology
Division: Aquatic Animal Health and Environment Division
Specialization: Soil Chemistry/Fertility/Microbiology
Brief profile:
After taking masters in in 1989and PhD in 1994, I am working in ICAR-CIBA since 1994on various topics related tobrackishwater aquaculture and environment related aspects. I currently work in Environment Section of Aquatic Animal Health and Environment Division in CIBA. I have contributed to development of carrying capacity based planning software for optimization of shrimp aquaculture development in the country, environment impact assessment protocols for shrimp aquaculture, hatchery wastewater treatment model, fabrication of floating chamber for collection of greenhouse gases flux, inventory from aquaculture systems, carbon sequestration potential of aquaculture ponds, vulnerability of aquaculture to climate change, fabrication of soil core sampler for collection of samples at sediment-water interface,advisories on the application of inputs such as lime materials, bleaching powders and mineral mixtures, and better management practices.
Research areas:
Environmental sustainability of brackishwater aquaculture -Environment impact assessment, environmental monitoring, shrimp farms wastewater characterization and treatment and carrying capacity estimation studies.
Climate change and brackishwater aquaculture – impacts, mitigations and adaptations; contribution of aquaculture to climate change; Greenhouse gases emission, Life cycle analysis, carbon sequestration and methanogenesis.
Addressing the soil and water quality management issues in shrimp culture ponds – Better management practices, Sediment-water interface studies, portable water analysis kits and products for the improvement of soil and water quality.
Current Research Projects:
| | | |
| --- | --- | --- |
| No | Title | Funded By |
| 1 | National Innovations in Climate Resilient Agriculture (NICRA) | ICAR |
| 2 | Environmental impact assessment of (EIA) of mangrove crab (Scylla serrata) farming in the coastal villages of Sindhudurg District, Maharastra and carrying capacity assessment of creeks for crab farming | UNDP-GEF |
| 3 | Development of water and soil health card for environmental management of brackishwater aquaculture systems | Institute |
Norman Borlaug Fellowship
NAIP Foreign training Fellowship
Best poster presentation awards (2 times)
Best 5 Publications during the Career
Best 3 Publications during last 3 years
M. Muralidhar, M. Kumaran, J. Ashok Kumar, J. SyamaDayal, M. Jayanthi, R.Saraswathy, N. Lalitha, A. Panigrahi, A. Sreenivasa Rao, B. Muniyandi and P.Murugan. 2013. Climate change and coastal aquaculture in West Godavari District, Andhra Pradesh: Impacts, vulnerability, adaptations and mitigations for resilience. Journal of Agrometeorology, 15 (Special Issue II): 116-122.
Kuldeep K. Vass, AshwaniWangeneo, Srikanta Samanta, Subhendu Adhikari and M. Muralidhar. 2015. Phosphorus dynamics, eutrophication and fisheries in the aquatic ecosystems in India. Current Science, 108 (7), 1306 -1314.
Prasanna Kumar Patil, M. Muralidhar, Haresh G Solanki, Pretesh P Patel, Krishna Patel and Chavali Gopal1. 2016. Effect of culture intensity and probiotics application on microbiological and environmental parameters in Litopenaeus vannamei culture ponds. Journal of Environmental Biology, 37 (1), 21-29.