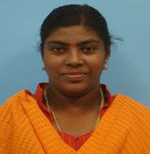 Scientists
Nila Rekha. P. Ms. Dr
Principal Scientist
Discipline: Soil and water conservation engineering
Division: Crustecean Culture Division
Specialization: Soil and water conservation engineering
Contact Me
Phone: +91- 044 – 24618817 Ext:433
Fax: +91- 044 – 24610311
Email:nila_71@yahoo.com
Brief profile:
After taking masters in Agricultural engineering in 1995, registered for my PhD in the topic Impact assessment of effluent irrigation using GIS and RS at Center for water resources, Anna university . Subsequently joined CIBA in 1997 and worked on various issues of brackishwater aquaculture pertaining to the environment and aquaculture engineering. In the mean time completed PhD in Civil engineering in 2004. I currently work in Crustacean Culture Division in CIBA. I have worked on seepage control in brackishwater ponds , soil and water quality management of shrimp ponds , Environmental impact assessment of shrimp farming, using GIS , RS and spatial modelling , salinity monitoring , mapping using hyperspectral remote sensing , discharge water treatment using mangroves ,and seaweed bioremediation , RAS , BMP and biosecurity aspects of both hatchery and shrimp farms , I have contributed to the sustainable aquaculture by designing an automatic feeder for L. vannamei farm . I have interests in shrimp farm mechanization , environmental management of shrimp farms, seaweed culture, GIS and hyperspectral mapping and renewable energy sources for aquaculture.
Research areas:
Environmental impact, salinity intrusion in coastal watershed using GIS and modelling.
Shrimp farm mechanization with renewable energy , design of automatic feeder and RAS.
Wastewater management ,Seaweed bioremediation for brackishwater aquaculture.
Current Research Projects:
| | | |
| --- | --- | --- |
| No | Title | Funded By |
| 1 | Seaweed bioremediation for RAS | DST |
| 2 | Outreach activity on shrimp feeds | ICAR |
| 3 | Technology upgradation and refinement for sustainable development of diversified systems and species of penaeid shrimp. | Institute |
Recognitions (National & International)
Norman Borlaug International training and fellowship – 2008 under Indo – US Agricultural Knowledge initiative and undergone training on non point source pollution modeling on watershed at IOWA, USA.
Travel fellowship-2009 by IOWA State University to attend International Conference SWAT-SEA at Bangkok during January 4-6 , 2009.
Jawaharlal Nehru Award (National Award)for best Ph.D thesis during 2005 in Natural Resource Management by ICAR .Govt of India.
Best Presentation award – 2015 for the paper entitled Design and development of automatic feeder for shrimp farming in National conference on scientific tamil held during June 23-14 2015.
Jawaharlal Nehru memorial fund for the Ph.D programme during 1996-1997, CSIR-SRF by Govt of India during 1995-1996, National merit scholarship by State Govt, 1988.
Best 5 Publications during the Career
Best 3 Publications during last 3 years
Rekha,P.N., R. Gangadharan, P. Ravichandran, P. Mahalakshmi, A. Panigrahi, S.M. Pillai 2015. Assessment of impact of shrimp farming on coastal groundwater using Geographical Information System based, Analytical Hierarchy Process. Aquaculture 448 (2015) 491–506.
Rekha,P.N.,P.Ravichandran,R. Gangadharan, J.H. Bhatt A. Panigrahi, S.M.Pillai and M. Jayanthi. (2013) Assessment of hydrogeochemical characteristics of groundwater in shrimp farming area in coastal Tamilnadu. Aquaculture International, DOI 10.1007/s10499-012-9618-1 ( NAAS rating -7.6).
Rekha,P.N. R. S. Kanwar, A. K. Nayak C. K. Hoang and C. H. Pederson,(2011).Nitrate leaching to shallow groundwater systems from agricultural fields with different management practices. J. Environ. Monit.,2011, 13, 2550 (NAAS rating 7.8).