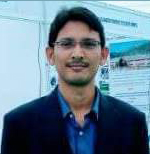 Scientists
Pankaj Amrut Patil Mr.
Scientist & OIC, NGRC
Discipline: Aquaculture
Division: Finfish Culture Division
Specialization: Culture Models of brackishwater finfishes; Brackishwater Multi-Trophic cage farming, Nursery Culture
Contact Me
Address:
Navsari Gujarat Research Centre
ICAR-Central Institute of Brackishwater Aquaculture
(Indian Council of Agricultural Research)
1st Floor, Animal Husbandry Polytechnic Building
Navsari Agricultural University Campus,
Eru Char Rasta, Dandi Road,
Navsari – 396 450 (Gujarat) INDIA
Phone: 02637-283509
Mobile: 7977078509
Email: pankaj090178@gmail.com
Brief profile:
After taking masters in Aquaculture in 2011 and entered into the ARS stream 2016. I am working in CIBA since 2017 on Brackishwater Aquaculture different livelihood models for coastal fisher folk communities. I currently work at Navsari Gujarat Research Centre (NGRC) Navsari, under the Finfish Culture Division of CIBA. Presently I am working on nursery culture, cage culture, Integrated Multitrophic Cage culture, Brackishwater Integrated Fish Farming system in pond of Brackishwater different Candidate species (Seabass, Pearl spot, Tiger Shrimp, Red Snapper, Scat, Mullet) in ponds and creeks as an alternative income generation for coastal communities of Maharashtra and Gujarat. I have contributed to the revenue generation and employment to more than 300 coastal farmers of Maharashtra.  I have interests in breeding and larval rearing of grey mullet and development bracksihwater aquaculture livelihood models for coastal fisher folks.
Research areas:
Development of different brackishwater aquaculture  candidate species livelihood models
Cage Culture of different brackishwater aquaculture  candidate species as an alternate livelihood option for coastal fisher folks
Finfish Breeding, Nursery Rearing,
Development & Participation of Self Help Group in Brackishwater Aquaculture, etc
Current Research Projects:
| | | |
| --- | --- | --- |
| No | Title | Funded By |
| 1 | Brackishwater cage culture with multi-trophic candidate species in diverse rearing systems for alternate livelihood and societal development in Maharashtra | Mangrove cell & Mangrove Foundation, Mumbai entitled Govt. of Maharashtra |
| 2 | Technological backstopping and promotion of sustainable aquaculture in west coast with particular reference to the state Gujarat | Institute |
| 3 | Development of Inland saline aquaculture in Punjab, Haryana, Rajasthan, Gujarat and Maharashtra | Institute |
| 4 | Development and refinement of finfish culture technologies for sustainable brackishwater aquaculture development | Institute |
| 5 | Development and evaluation of novel culture technologies for candidate brackishwater finfishes for sustainable aquaculture. | Institute |
| 6 | Evaluation of reproductive biology, breeding, larval biology and seed production of candidate finfish species for brackishwater aquaculture development | Institute |
Publications/ presentations/ documentation
A. Patil*, K. Dube , A. K. Verma , N. K. Chadha , J. K. Sundaray and P. Jayasankar. Growth performance of goldfish, Carassius auratus and basil, Ocimum basilicum in media bed aquaponics, 2019. Indian Journal of Fisheries, 66(1): 112-118. DOI: 10.21077/ijf.2019.66.1.78353-15.
Patil, P.A*., Tibile, R., Ghode, G.S., Pawase, A. 2017. Growth Performance of Angelfish, Pterophyllum scalare (Schultze, 1823) Fry Reared at Different Stocking Densities with Under-Gravel Filtration System. Journal of Experimental Zoology, India, 20(2): 1001-1007. ISBN Number: 0972-0030
Patil, P.A*., Tibile, R., Pawase, A. Ghode, G.S., 2015. Growth and survival of Angel fish, Pterophyllum scalare (Schultze, 1823) fry reared at different stocking densities. J. Env. Bio-Sci., 2015: Vol. 29 (1):167-172