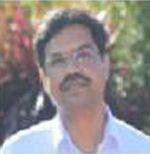 Scientists
Prasanna Kumar Patil. Dr
Principal Scientist
Discipline: Veterinary Microbiology
Division: Aquatic Animal Health and Environment Division
Specialization: Veterinary Microbiology
Contact Me
Phone: +91- 044 – 24618817 Ext:130
Fax: +91- 044 – 24610311
Email:pkpatil@ciba.res.in
Brief profile:
After taking masters in Veterinary Virology in 1993 and PhD in Veterinary Virology in 2000 [year] I am working in CIBA since 2009 [year] on Shrimp Health. I currently work in division of Aquatic Animal Health and Environment in CIBA. I have worked on development of immune stimulants from microbial and plant origin at commercial scale . I have contributed to commercialize the vibrio bacterin based immunostimulant for applications in shrimp grow out cultures. I have interests in development of safe and effective therapeutics and development of medicines for hatchery and grow out shrimp culture. I am working as technical consultant for number of projects like, development of aquaculture diagnostic laboratory, development of probiotics, establishment shrimp hatchery and biodynamic preparations, antibiotic residue monitoring in aquatic environments etc. In Agri business Incubators project I am helping technology commercialization and entrepreneurship development.
Research areas:
Invertebrate Immunology
Environmental Microbiology
Therapeutics and prophylactics
Current Research Projects:
| | | |
| --- | --- | --- |
| No | Title | Funded By |
| 1 | All India Network Project on Fish Health | ICAR |
| 2 | Consortia Platform on Diagnostics and Vaccines | ICAR |
| 3 | Aquatic animal diseases and intervention tools for their management | ICAR |
Best 5 Publications during the Career
Best 3 Publications during the last 3 years
Patil, P.K., Gopal, C., Panigrahi, A., Rajababu, D., Pillai, S.M., 2014. Oral administration of formalin killed Vibrio anguillarum cells improves growth and protection against challenge with Vibrio harveyi in banana shrimp. Lett. Appl. Microbiol. 58, 213-218.
Patil, P.K., Muralidhar, M., Solanki, H.G., Patel, P.P., Patel, K., Gopal, C., 2016. Effect of culture intensity and probiotics application on microbiological and environmental parameters in Litopenaeus vannamei culture ponds. J Environ. Biol. 37, 21-29.
Garg, R., Patil, P.K., Singh, S.V., Sharma, S., Gandham, R.K., Singh, A.V., Filia, G., Singh, P.K., Jayaraman, S., Gupta, S., Chaubey, K.K., Tiwari, R., Saminathan, M., Dhama, K., Sohal, J.S., 2015. Comparative Evaluation of Different Test Combinations for Diagnosis of Mycobacterium aviumSubspecies paratuberculosis Infecting Dairy Herds in India. Biomed. Res. Int. 983978.