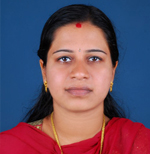 Scientists
Rekha, M.U.
Scientist
Discipline: Fish genetics and breeding
Division: Finfish Culture Division
Specialization: Fish genetics and biotechnology
Brief profile:
After taking masters in FISH GENETICS AND BIOTECHNOLOGY FROM CIFE, MUMBAI in 2009-2011, I am working in CIBA since 9th April 2015. I currently work in division of FISH CULTURE DIVISION in CIBA. I have worked on PROMOTER SEQUENCING OF SODIUM POTASSIUM ATPASE OF PENAEUS MONODON USING GENOME WALKING. I have interests in FISH BREEDING AND TRANSGENICS.
Research areas:
Fish genetics and breeding