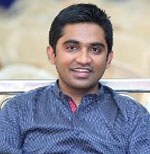 Scientists
Vinay, T.N. Dr
Discipline: Fish Genetics and Breeding
Division: Crustacean Culture Division
Specialization: Fish Genetics, Biotechnology, Fish Vaccines
Publications
Brief profile:
After taking masters in Fish Genetics and Biotechnology in 2008 at ICAR-Central Institute of Fisheries Education, Mumbai and PhD in Aqualife Medicine in 2013 at Chonnam National University, South Korea, I started working in ICAR-Indian Institute of Agricultural Biotechnology from 2015 and I am working in ICAR-Central Institute of Brackishwater Aquaculture since 2017. I currently work in Crustacean Culture Division in CIBA. For my doctoral research project, I have worked on adjuvanted viral vaccines and immune responses. During post-doctoral research, for a brief period I worked on "The study of regulation of head & neck cancer: Novel therapeutical approach and role of Pin1". My research interests are diverse and curious to study new things. At present I am working on molecular identification of crustacean species and population genetics of penaeid shrimps. My areas of research interests are selective breeding, molecular physiology and Genomics to support aquaculture.
Research areas:
Breeding of shellfish (Crustaceans)
Molecular physiology of shellfish
Population genetics, Molecular taxonomy
Genomics
Current Research Projects:
| | | |
| --- | --- | --- |
| No | Title | Funded By |
| 1 | Issues in Biology, reproduction and larval rearing of candidate crustacean species for brackishwater Aquaculture | Institute |
| 2 | Outreach activity on fish genetic stocks | ICAR |
| 3 | Technology upgradation and refinement for sustainable development of diversified systems and species of penaeid shrimp | Institute |
Recognitions (National & international level)
Global-scholarship to pursue doctoral programme in Chonnam National University, South Korea.
Early Career Research Award (DST-SERB), India
Best 5 Publications during the career
Best 3 Publications during last 3 years
Vinay TN, Shreelatha B, Tanmoy GC, Anutosh P, Jung MH, Girisha SK, Jung SJ, 2018. Recent advances in application of nanoparticle based fish vaccine delivery. Reviews in Fisheries Science & Aquaculture. 26:29-41.
Jung MH, Nikapitiya C, Vinay TN, Lee JH, Jung SJ, 2017. Rock bream iridovirus (RBIV) replication in rock bream (Oplegnathus fasciatus) exposed for different time periods to susceptible water temperatures. Fish and Shellfish Immunology. 70: 731-735.
Jung MH, Jung SJ, Vinay TN, Nikapitiya C, Kim JO, Lee JH, Lee J and Oh MJ, 2015. Effects of water temperature on mortality rate in Megalocytivirus-infected rock bream Oplegnathus fasciatus (Temminck et Schlegel) and development of protective immunity. Journal of Fish Diseases 38:729-738.