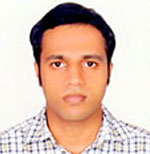 Scientists
Sandeep, K. P., Shri
Scientist
Discipline: Aquaculture
Division: Nutrition, Genetics and Biotechnology Division
Specialization: Aquatic Environment Management (AEM)
Brief profile:
After taking masters in Aquatic Environmental Management (AEM) from Central Institute of Fisheries Education (CIFE) [2011] I am working in CIBA since April, 2014 on live feed research. I currently work in division of Nutrition Genetics and Biotechnology in CIBA. I have worked on microalgal culture, nutrient profiling and mudcrab larval nutrition. I have interests in finfish and shellfish larval nutrition, microalgal isolation and microalgal nutrient profiling.
Research areas:
Livefeed culture and its applications in finfish and shellfish larval rearing
Isolation, characterization and nutritional profiling of microalgae from different ecosystems
Mudcrab larval nutrition
Current Research Projects:
| | | |
| --- | --- | --- |
| No | Title | Funded By |
| 1 | Newer feed resources and feed additives for development and improvement of shrimp and fish feeds. | ICAR |
| 2 | Scaling up of production system of mud crabs | ICAR |
| 3 | Dissemination of technology on the seed production of Asian seabass (Lates calcarifer) and development and refinement of seed production technology for other commercially important Brackishwater fishes. | ICAR |
Recognitions (National & International)
Awarded Best poster (second) in the international conference on urban lakes by IAAB, MSAA, NASS on Ecology, Rejuvenation, Technology and Economics held in Mumbai on 7th and 8th of September 2012 (Comparison of Powai and Vihar lakes using factor analysis).
Awarded Best paper in national seminar of university of Kerala on Emerging Trends in Indian Aquaculture held in 21st to 23rd of March, 2013. (Water quality Index, A single digit to judge water fitness a case study with two urban lakes of Mumbai, India).
Awarded CIFE Institutional Fellowship for post -graduation study in Aquatic Environment Management during 2009-2011.
Awarded ICAR, Doctoral Fellowship for doing PhD in Aquaculture during 2011-2014
Qualified ICAR, National Eligibility Test (NET) in Fishery Sciences and aquaculture 2011 and 2012
Best 5 Publications during the Career
Best 3 Publications during last 3 years
Sandeep, K. P., Shukla, S. P., Harikrishna, V., Muralidhar, A. P., Vennila, A., Purushothaman, C. S., and Ratheesh Kumar, R., 2013. Utilization of inland saline water for Spirulina cultivation. Journal of Water Reuse and Desalination, IWA Publishing. 3 (4): 346-356.
Satapathy, S., Shukla, S. P., Sandeep, K. P., Singh, A. R. and Sharma, N., 2014. Evaluation of the performance of an algal bioreactor for silver nanoparticle production. J Appl Phycol.,26(2): 285-291
Sandeep K. P., Shukla S. P., Vennila, A., Purushothaman, C. S., Manjulekshmi, N., 2015. Cultivation of Spirulina (Arthrospira) platensis in low cost seawater based medium for extraction of value added pigments. Indian Journal of Geo-Marine Sciences, 44 (3).