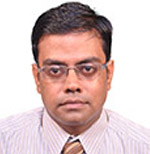 Scientists
Sanjoy Das Dr.
Principal Scientist
Discipline: Fish Health
Division: Aquatic Animal Health & Environment
Specialization: Veterinary Microbiology
Brief profile:
After taking both Masters (2001) and PhD (2007) in Veterinary Bacteriology, I am working at CIBA since November, 2013 on disease surveillance at brackishwater aquaculture systems and molecular detection and characterization of pathogens. I currently work in the division of Aquatic Animal Health and Environment. I conducted disease surveillance study in three districts of West Bengal and one district of Odisha. My study reiterated the fact that Early Mortality Syndrome (EMS) is not present in West Bengal and Odisha. Before joining CIBA, I worked on Seafood Microbiology in CIFT with special reference toListeria monocytogenes and Bacillus cereus. I have interests in Bioinformatics study fish and shrimp pathogens.
Research areas:
Surveillance of diseases in brackishwater aquaculture systems of West Bengal and Odisha
Molecular characterization and detection of brackishwater finfish and shrimp pathogens
Study of shrimp culture in biofloc based system with special reference to disease resistance
Current Research Projects:
| | | |
| --- | --- | --- |
| No | Title | Funded By |
| 1 | National surveillance programme for aquatic animal diseases | NFDB |
| 2 | Aquatic animal diseases and intervention tools for their management | Institute |
| 3 | Sustainable brackishwater aquaculture production of shrimp and fishes through innovative and integrated approach | Institute |
Recognitions (National & International)
Bagged award for poster presentation at National conference on Official languages held at CIFT during 17-18 August, 2012
Selected for International training on Bioinformatics by NAIP in 2011
Recognized as a member of Assessment panel of Experts (APE) / Inter-departmental panel (IDP) for approval of seafood exporting farms for European Union (EU) and their technologists.
Recognized as reviewer of different peer-reviewed journals
Best 5 Publications during the Career
Das, S., Lalitha, K.V., Ginson, J. , Kamalakanth, C.K. and Bindu, J. (2015). High pressure destruction kinetics along with combined effect of potassium sorbate and high pressure against Listeria monocytogenes in Indian white prawn muscle. Annals of Microbiology. Published online DOI 10.1007/s13213-015-1100-7
Das, S., Lalitha, K.V., Thampuran, N. and Surendran, P.K. (2013). Isolation and characterization ofListeria monocytogenes from tropical seafood of Kerala, India. Annals of Microbiology, 63: 1093-1098.
Kamalakanth, C.K., Ginson, J., Bindu, J., Venkateswarlu, R., Das, S., Chauhan, O.P. and Gopal, T.K.S. (2011). Effect of high pressure on K-value, microbial and sensory characteristics of yellow fin tuna (Thunnus albacares) chunks in EVOH films during chill storage. Innovative Food Science and Emerging Technologies, 12: 451-55.
Das, S., Surendran, P.K. and Thampuran, N. (2009). PCR-based detection of enterotoxigenic isolates of Bacillus cereusfrom tropical seafood. Indian Journal of Medical Research, 129: 316-320.
Das, S. and Singh, V.P. (2003). Multiplex PCR for differentiation of Mycoplasma mycoides cluster from other Mycoplasma. Journal of Applied Animal Research, 24: 95-100.]
Best 3 Publications during last 3 years
Das, S., Lalitha, K.V., Ginson, J. , Kamalakanth, C.K. and Bindu, J. (2015). High pressure destruction kinetics along with combined effect of potassium sorbate and high pressure against Listeria monocytogenes in Indian white prawn muscle. Annals of Microbiology. Published online DOI 10.1007/s13213-015-1100-7
Das, S., Lalitha, K.V., Thampuran, N. and Surendran, P.K. (2013). Isolation and characterization of Listeria monocytogenes from tropical seafood of Kerala, India. Annals of Microbiology, 63: 1093-1098.
Ginson, J., Kamalakanth, K., Bindu, J., Venkateswarelu, R., Das, S., Chauhan, O.P. and Gopal, T.K.S. (2013). Changes in K value, microbiological and sensory acceptability of high pressure processed Indian white prawn (Fenneropenaeus indicus). Food and Bioprocess Technology, 6: 1175-1180