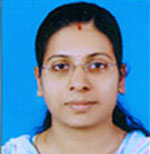 Scientists
Vidya Rajendran, Smt. Dr.
Discipline: Fish Health
Division: Aquatic Animal Health and Environment Division
Specialization: Fish pathology and microbiology
Brief profile:
With graduation of Fisheries science (B.F.Sc) from Kerala Agriculture University in 2007 and specialisation in fish pathology and microbiology for the masters (2007-2009) and Doctor of Philosophy (2009-2016) at ICAR-CIFE, Mumbai, I begin the research career by understanding host-pathogen interactions and immune responses against animal virus and bacteria in aquatic animals. After receiving Agriculture research Service in 2014, I joined the lab of Aquatic Animal Health and Environment Division of ICAR-CIBA, Chennai. I am currently working on microbial ecosystems associated with aquatic seed production and farming systems, more specifically on the negative and positive microbial interactions in various developmental stages. My passion for the microbes begins while studying the microbial association in Milkfish which is known for its inherent resistance to diseases. Apart from the conventional practices of classical microbiology, I use the molecular and protein based techniques for profiling, understanding and proving the biological hypothesis. I have explored and experienced the prophylactic and therapeutic control of bacterial disease using biocontrol agents' viz., bacteriophages against luminescent Vibrio in shrimp hatcheries as well as growth and survival improvement in shrimps through probiotic formulations. I look forward for the productivity and sustainability of the fish production systems through brackish water aquaculture interventions and brings down the hunger and unemployment and to uphold the support for national prosperity and wealth.
Research areas:
Microbial profiling of brackish water seed production systems
Bacteriophages
Prophylaxis and therapeutics for microbial diseases
Current Research Projects:
| | | |
| --- | --- | --- |
| No | Title | Funded By |
| 1 | Invertebrate and finfish diseases in brackishwater aquaculture in India and development of prophylactic and therapeutic strategies | Institute |
| 2 | National Surveillance Programme for Aquatic Animal Diseases | ICAR-NBFGR |
| 3 | CRP on vaccines and diagnostics | ICAR |
Recognitions (National & international level)
Kerala agriculture university merit scholarship- 2004
Junior research fellowship,ICAR, (M.F.Sc)- 2007-2009
Hiralal Choudhary gold Medal-M.F.Sc (FPM)-2007-2009
ICAR- National Eligibility Test (Fish Health)-2013
Best 5 Publications during the career
Best 3 Publications during last 3 years