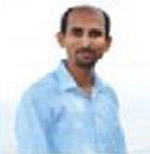 Scientists
Satheesha Avunje, Dr.
Scientist
Discipline: Aquaculture
Division: Aquatic Animal Health and Environment Division
Specialization: Aquaculture, Anti-viral immunology, Drug development
Brief profile:
After taking masters in aquaculture in 2008 and PhD in Aqualife Medicine in 2012 I am working in CIBA since 2014 on fish health management. I currently work in division of Aquatic Animal Health and Environment Division in CIBA. For my doctoral research project, I have worked on influence of temperature on fish immune response against viral infection and escape of virus from host immune system. During post-doctoral research, I worked on development of anti-viral therapeutics from seaweeds. At present I am working on bio-control of vibriosis and development of therapeutic measures to control viral diseases in aquaculture. My research interests are studying host-pathogen interaction and development of treatment measures to control diseases in aquaculture.
Research areas:
Development of therapeutics to control diseases in aquaculture
Host-pathogen interaction and anti-immune display by viruses
Bioinformatics approach for studying pathogenic factors of bacteria and viruses
Current Research Projects:
| | | |
| --- | --- | --- |
| No | Title | Funded By |
| 1 | Aquatic animal diseases and intervention tools for their management | Institute |
| 2 | All India Network Project on Fish Health | ICAR |
| 3 | Comparative genomics of candidate species of brackishwater aquaculture | ICAR |
Recognitions (National & International)
Young scientist travel award for oral presentation in Diseases of Asian Aquaculture Symposium – VIII (2011).
Global-scholarship to pursue doctoral programme in Chonnam National University, South Korea.
Sixth rank in Best Fisheries Graduate of India-2006 competition conducted by Professional Fisheries Graduates Forum.
Best 5 Publications during the Career
Best 3 Publications during last 3 years
Avunje S, Oh MJ, Jung SJ. Impaired toll-like receptors and delayed host immune responses in olive flounder infected with VHSV at susceptible temperature, 15°C but high and quick response at non-susceptible temperature, 20°C. Fish Shellfish Immunol, 34: 1236-43.
Avunje S, Kim WS, Oh MJ, Choi I, Jung SJ. Temperature-dependent viral replication and antiviral apoptotic response in viral haemorrhagic septicaemia virus (VHSV)-infected olive flounder (Paralichthys olivaceus). Fish Shellfish Immunol 2012; 32: 1162-70.
Avunje S, Kim WS, Park CS, Oh MJ, Jung SJ. Toll-like receptors and interferon associated immune factors in viral haemorrhagic septicaemia virus-infected olive flounder (Paralichthys olivaceus). Fish Shellfish Immunol, 2011; 31: 407-14