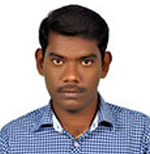 Scientists
Sathish Kumar, T., Shri
Scientist
Discipline: Fish Health
Division: Aquatic Animal Health and Environment Division
Specialization: Fish Pathology and Microbiology
Brief profile:
After completion of master degree in Central Institute of Fisheries Education in 2010, I am working in Central institute of Brackish water Aquaculture, Chennai since 2014.I currently work in Aquatic Animal Health & Environment division in CIBA. Presently I am working on investigation of uncertain mortalities in shrimp hatcheries Penaeus (Litopenaeus) vannamei due to zoea-2 syndrome and in shrimp grow out system such as Running mortality syndrome (RMS), White feces syndrome (WFS) and Enterocytozoon hepatopenaei (EHP). My present research interest is on, shrimp larval pathology, disease epidemiology and disease diagnostics.
Research areas:
Fish/Shrimp Pathology.
Shrimp disease epidemiology
Current Research Projects (3 important ones)
| | | |
| --- | --- | --- |
| No | Title | Funded By |
| 1 | Invertebrate and finfish diseases in brackishwater aquaculture and development of prophylactic and therapeutic strategies | ICAR |
| 2 | National Surveillance Programme for Aquatic Animal Diseases | NFDB |
| 3 | Issues in Biology, reproduction and larval rearing of candidate crustacean species for brackishwater Aquaculture | ICAR |
Recognitions (National & International)
Awarded ICAR, Junior Research Fellowship for post -graduation study in Fish Pathology & Microbiology during 2008-2010
Awarded eighth Place in the selection of Best Fisheries Graduate of India (BFGI) - by Professional Fisheries Graduates Forum (PFGF) in 2008
Qualified ICAR, National Eligibility Test (NET) in Fishery Sciences, 2010
Awarded with best poster presentation in the International Symposium on "Aquatic Animal Health and Epidemiology for Sustainable Asian Aquaculture" April 20-21, 2017 at NBFGR Lucknow
Best 5 Publications during the Career
Best 3 Publications during last 3 years
Sathish kumar, T., Vidya, R., Kumar, S., Alavandi, S. V., & Vijayan, K. K. (2017). Zoea-2 syndrome of Penaeus vannamei in shrimp hatcheries (2017). Aquaculture, 479, 759-767.
Sathish kumar, T., Navaneetha Krishnan, Joseph sahaya rajan, M Makesh, K P Jithendran, S. V. Alavandi, & K.K Vijayan (2018). Visual loop-mediated isothermal amplification (LAMP) for the rapid diagnosis of Enterocytozoon hepatopenaei (EHP) infection. Parasitology Research, 117(5), 1485–1493.
Rajendran, K. V., Shivam, S., Praveena, P. E., Rajan, J. J. S., Sathish kumar, T., Avunje, S., & Alavandi, S. V. (2016). Emergence of Enterocytozoon hepatopenaei (EHP) in farmed Penaeus (Litopenaeus) vannamei in India. Aquaculture, 454, 272-280.