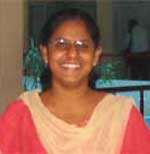 Scientists
Sherly Tomy. Ms. Dr
Principal Scientist
Discipline: Animal / Fish Genetics And Breeding
Division: Nutrition, Genetics and Biotechnology Division
Specialization: Molecular Endocrinology
Contact Me
Phone: +91- 044 – 24618817 Ext:431
Fax: +91- 044 – 24610311
Email:sherly@ciba.res.in
Brief profile:
After taking masters in Fish & Fishery Science (Mariculture) in 1997, Ph.D. in Fish & Fishery Science in 2002 and a post-doctoral experience in Taiwan (2004 to 2009), I have been working in CIBA since September 20009 on molecular endocrinology of penaeid shrimps and finfish. I have worked on the molecular reproductive endocrinology of finfish and crustacean. I have contributed to the understanding of the molecular pathway regulation vitellogenesis and development of induce maturation protocols alternative to eyestalk ablation in penaeid shrimps. I have interest in understanding the neuroendocrine pathways regulating reproduction and its application to fish culture.
Research areas:
Molecular Endocrinology regulating reproduction of crustacean and finfish.
Development of strategies to induce maturation of captive stocks.
Current Research Projects:
| | | |
| --- | --- | --- |
| No | Title | Funded By |
| 1 | Molecular mechanisms of Gonad-Inhibiting Hormone action on the control of egg maturation in the penaeid shrimp, Penaeus monodon | DBT |
| 2 | Biotechnological interventions and application of bioinformatic tools for improvement of brackishwater fish and shellfish | Institute |
Recognitions (National & International)
Member of the Institute Management Committee of National Bureau of Fish Genetic Resources
Postdoctoral Fellowship from National Science Council, Taiwan (2004-2009)
SRF (ICAR) for Ph.D. Fish & Fishery Science (1997-2001)
1994-1997 JRF (ICAR) for M.Sc. Fish & Fishery Science (Mariculture)
Best 5 Publications during the Career
Best 3 Publications during last 3 years
Merlin, D.L. Mohanlal, C.P. Balasubramanian, Tomy Sherly, T. Subramoniam, J. Syamadayal, P. Ravichandran, A.G. Ponniah, C. Gopal & K.K. Vijayan (2015): Induction of vitellogenesis and reproductive maturation in tiger shrimp, Penaeus monodon by 17ß-estradiol and 17α-hydroxyprogesterone: in vivo and in vitro studies. Invertebrate Reproduction & Development, DOI:10.1080/07924259.2015.1051192
Sherly Tomy, Subhendu Kumar Otta, K. Vinaya Kumar, A. G. Ponniah. Possible effect of white spot syndrome virus (WSSV) infection on reproduction associated genes in the Indian white shrimp, Fenneropenaeus indicus (H. Milne-Edwards, 1837). Indian Journal of Geo-Marine Sciences (IJMS)-Accepted
Sherly Tomy, A. G. Ponniah. Sterility and its implication in tilapia aquaculture: a review. CIBA e-publication Series No. 28