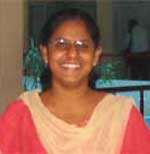 Scientists
Sherly Tomy. Ms. Dr
Principal Scientist
Discipline: Fish Genetics And Breeding
Division: Nutrition, Genetics and Biotechnology Division
Specialization: Molecular Endocrinology
Contact Me
Phone: +91- 044 – 24618817 Ext:431
Fax: +91- 044 – 24610311
Email:sherly@ciba.res.in
Brief profile:
After taking masters in Fish & Fishery Science (Mariculture) in 1997, PhD in Fish & Fishery Science in 2002 and post-doctoral experience in Taiwan (2004 to 2009), I have been working in CIBA since September 20009 on molecular endocrinology of penaeid shrimps and finfish. I have worked on the molecular reproductive endocrinology of finfish and crustacean. My research involves the development of induce maturation protocols alternative to eyestalk ablation in penaeid shrimps and understanding the neuroendocrine pathways regulating reproduction and its application to fish culture.
Research areas:
Molecular Endocrinology regulating the reproduction of crustacean and finfish.

Development of strategies to induce maturation of captive stocks.
Current Research Projects:
| | | |
| --- | --- | --- |
| No | Title | Funded By |
| 1 | Molecular mechanisms of Gonad-Inhibiting Hormone action on the control of egg maturation in the penaeid shrimp, Penaeus monodon | DBT |
| 2 | Biotechnological interventions and application of bioinformatic tools for improvement of brackishwater fish and shellfish | Institute |
Recognitions (National & International)
Postdoctoral Fellowship from National Science Council, Taiwan (2004-2009)
Best 5 Publications during the Career
Saikrithi P., Balasubramanian CP, Otta SK, Tomy S. Characterization and expression profile of farnesoic acid O-methyltransferase gene from Indian white shrimp, Penaeus indicus. Comparative Biochemistry and Physiology, Part B (2019) 232: 79–86.
Merlin JR, Mohanlal DL, Balasubramanian CP, Vijayan KK, Subramoniam T, Tomy S, Syama Dayal J, Gopal C. Vertebrate-type steroid profile in different tissues of wild and endocrinologically manipulated female broodstocks of Penaeus monodon. Current Science (2016) 111(7) : 1194-1200.
Tomy S, Saikrithi P, James N, Balasubramanian CP, Panigrahi A, Otta SK, Subramoniam T, Ponniah AG. Serotonin induced changes in the expression of the ovarian gene network in the Indian white shrimp, Penaeus indicus. Aquaculture (2016) 452: 239-246
Wu GC, Tomy S, Lee MF, Lee YH, Yueh WS, Lin CJ, Lau EL, Chang CF. Sex differentiation and sex change in the protandrous black porgy, Acanthopagrus schlegeli. General and Comparative Endocrinology (2010) 167(3):417-21.
Tomy S, Wu GC, Huang HR, Chang CF Age-dependent differential expression of genes involved in steroid signalling pathway in the brain of protandrous black porgy, Acanthopagrus schlegeli. Developmental Neurobiology (2009) 69(5):299-313.
Best 3 Publications during last 3 years
Saikrithi P., Balasubramanian CP, Otta SK, Tomy S. Characterization and expression profile of farnesoic acid O-methyltransferase gene from Indian white shrimp, Penaeus indicus. Comparative Biochemistry and Physiology, Part B (2019) 232: 79–86.
Merlin JR, Mohanlal DL, Balasubramanian CP, Vijayan KK, Subramoniam T, Tomy S, Syama Dayal J, Gopal C. Vertebrate-type steroid profile in different tissues of wild and endocrinologically manipulated female broodstocks of Penaeus monodon. Current Science (2016) 111(7) : 1194-1200.
Tomy S, Saikrithi P, James N, Balasubramanian CP, Panigrahi A,  Otta SK, Subramoniam T, Ponniah AG. Serotonin induced changes in the expression of the ovarian gene network in the Indian white shrimp, Penaeus indicus. Aquaculture (2016) 452: 239-246