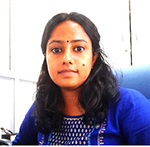 Scientists
Shyne Anand. Ms
Scientist
Discipline: Fish and Fisheries Science
Division: Crustecean Culture Division
Specialization: Fish and Fisheries Science
Brief profile:
After taking masters in mariculture in 2006 and PhD (Aquaculture ) in 2013 ,I am working in CIBA since 2008 on shrimp and crab farming, polyculture, seed production of crabs and shrimps, Artemia biomass production etc. I currently work in crustacean culture division, CIBA. I have worked on biosecurity management in shrimp culture, evolving techniques like periphyton and biofloc based shrimp farming, polyculture of mudcrabs with finfishes in West Bengal. I have interests in shrimp farming, polyculture, and artemia biomass production, seed production of shrimp and crab, study the physiological changes in larval cycle of shrimps and crabs etc.
Research areas:
Farming of Shrimp , Mud Crabs, Polyculture, Artemia biomass production
Seed production of shrimps and crabs
Periphyton and Biofloc technology based shrimp farming
Current Research Projects:
| | | |
| --- | --- | --- |
| No | Title | Funded By |
| 1 | Technology upgradation and refinement for sustainable development of diversified systems and species of penaeid shrimp | Institute |
| 2 | Issues in Biology, reproduction and larval rearing of candidate crustacean species for brackishwater Aquaculture | ICAR |
| 3 | Upgradation of breeding and culture technology of Indian white shrimp Fenneropenaeus indicus through stock evaluation and culture demonstrations" | NFDB |
Recognitions (National & International)
Received P. Kameswara Rao Award for best oral presentation at Central Rice Research Institute , Cuttack during16-18 February, 2014.
Received first prize in poster presentation award in National science conferences conducted at NDRI, Karnal during 3-6 Feb 2015.
Certificate of appreciation for professional competency and excellence in academics, Central Institute of Fisheries Education Mumbai in the year 2008.
Awarded ICAR Junior Research Fellowship and Hiralal Chaudhuri Gold Medal for securing the first position in M.F.Sc -Mariculture programme (2004-06), C.I.F.E, Mumbai.
Best fisheries graduate of India for the year 2004 and received Dr.E.G.Silas award for having secured the third rank in the All India Ranking of Professional Fisheries Graduate Forum
Best 5 Publications during the Career
Best 3 Publications during last 3 years
P. S Shyne Anand, M. P. S Kohli, S. Dam Roy,.J. K Sundaray, Sujeet Kumar, Archana Sinha, G. H Pailan & Munil kumar Sukham. 2014. Effect of dietary supplementation of periphyton on growth, immune response and metabolic enzyme activities in Penaeus monodon. Aquaculture Research, 2014, 1–12.
P. S. Shyne Anand , M. P. S. Kohli , Sujeet Kumar , J. K. Sundaray , S. Dam Roy , G. Venkateshwarlu , Archana Sinha , G. H. Pailan 2014. Effect of dietary supplementation of biofloc on growth performance and digestive enzyme activities in Penaeus monodon. Aquaculture 418–419, 108–115.
S. Shyne Anand, Sujeet Kumar, A. Panigrahi, T. K. Ghoshal, J. Syama Dayal, G. Biswas, J. K. Sundaray, D. De, R. Ananda Raja, A. D. Deo, S. M. Pillai and P. Ravichandran. 2013. Effects of C: N ratio and substrate integration on periphyton biomass, microbial dynamics and growth of Penaeus monodon juveniles. Aquaculture International, 21:511–524.