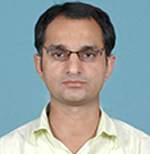 Scientists
Sujeet Kumar. Dr
Scientist
Discipline: Veterinary Microbiology
Division: Aquatic Animal Health and Environment Division
Specialization: Veterinary Microbiology
Brief profile:
I have completed MVSc and PhD in Veterinary Microbiology from ICAR-Indian Veterinary Research Institute. I joined ARS service in 2008 and since then working in ICAR-Central Institute of Brackishwater Aquaculture in Aquatic Animal Health & Environment Division. I have worked on virulence mechanism of bacterial pathogens, phage therapy, vaccines, pond microbiology, biofloc and periphyton system and disease epidemiology. I have more than 30 publications in peer reviewed journals. I have interests in therapeutics & prophylactics, microbial ecology, microbial bioprospecting and understanding the virulence of bacterial pathogens.
Research areas:
Virulence of bacterial pathogens
Therapeutics
Vaccine and Immunoprophylactics
Current Research Projects:
| | | |
| --- | --- | --- |
| No | Title | Funded By |
| 1 | Invertebrate and finfish diseases in brackishwater aquaculture and development of prophylactic and therapeutic strategies | ICAR |
| 2 | Development of diagnostics and vaccines for sustainable aquaculture | ICAR |
| 3 | National Surveillance Programme for Aquatic Animal Diseases | ICAR |
Recognitions (National & International)
Received best paper presentation award for the paper Sujeet Kumar, Das, S., Ghoshal, T. K., De, D., Deo, A. D., Sundaray, J. K., Anand, P. S. S., Chakraborty, J., Pradhan, J. K., Raja, R. A., Panigrahi, A., Kumaran, M., 2012. A comparative study of environmental parameters in different aqua-farming system in coastal degraded area of West Bengal. In National Hindi Seminar on Traditional Aqua farming system: Prospects and challenges, Kakdwip Research Centre of CIBA, Kakdwip, 11-12 December 2012.
Received best poster presentation award for the poster periphyton based shrimp culture – An ecofriendly shrimp farming in Sunderban by Shyne Anand PS, Sujeet Kumar, Ghoshal TK, Gopal C, Debasis De and AD Deo in 12th Agricultural Science Congress 2015 held at NDRI, Karnal during 3-6 February, 2015.
Reviewer for journals such as Aquaculture, Aquaculture Research, Aquaculture international
Research Articles in international Journals – 18
Research articles in national Journals – 14
Book – 1
Book chapters – 4
Training manual - 5
Technology series - 2
Best 5 Publications during the Career
Sujeet Kumar, J. Ashok Kumar, Akhil V., Vidya Rajendran, Katneni V.K., Rajan J.J.S., Grover M., Viswas K,N., Alavandi S.V., and Vijayan K.K. 2017. Draft Genome sequence of the luminescent strain Vibrio campbellii LB102, isolated from black tiger shrimp (Penaeus monodon) broodstock rearing system. Genome Announcements, 5(20) e00342-17.
Satheesh Kumar T., Vidya R., Sujeet Kumar, Alavandi, S.V. and Vijayan K. K.. 2017. Zoea syndrome of Penaeus vannamei in Indian shrimp hatchery. Aquaculture 479, 759-767.
Shyne Anand PS, Kohli MPS, Sujeet Kumar, Sundaray JK, Dam Roy S, Venkateshwarlu G, Sinha A and Pailan GH. 2014. Effect of dietary supplementation of biofloc on growth performance and digestive enzyme activities in Penaeus monodon. Aquaculture 418 (2014): 108-115.
Sujeet Kumar, and Singh, B. R. 2013. An overview of mechanisms and emergence of antimicrobials drug resistance. Advances in Animal & Veterinary Sciences, 2013, 10-24.
Jithendran KP, Sujeet Kumar. 2013. Diseases in Brackishwater Aquaculture. Marine Products Export Development Authority (MPEDA), Kochi pp. 128.
Best 3 Publications during last 3 years
Sujeet Kumar, Mashooq, M., Gandham, R.K., Alavandi S.V., and Viswas K.N. 2018 Characterization of quorum sensing system in Clostridium chauvoei Anaerobe (In Press).
Sujeet Kumar, Shyne Anand PS, De D, Deo AD, Ghoshal TK, Sundaray JK, Ponniah AG, Jithendran KP, Ananda Raja R, Biswas G, Lalitha N. 2017. Effects of biofloc under different carbon sources and protein levels on water quality, growth performance and immune responses in black tiger shrimp Penaeus monodon (Fabricius, 1978). Aquaculture Research. (DOI: 10.1111/are.12958).
Sujeet Kumar, Shyne Anand PS, De D, Sundaray JK, Raja RA, Biswas G, Ponniah AG, Ghoshal TK, Deo AD, Panigrahi A, Muralidhar M. 2014. Effects of carbohydrate supplementation on water quality, microbial dynamics and growth performance of giant tiger prawn (Penaeus monodon). Aquaculture International 22 (2) 901-912. (DOI 10.1007/s10499-013-9715-9).