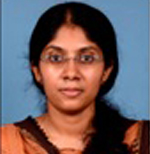 Scientists
Suvana Sukumaran Ms.
Scientist
Discipline:
Division: Aquatic Animal Health and Environment Division
Specialization: Soil Quality, Carbon Saturation, Carbon Stability
Brief profile:
After taking PhD in Soil Science and Agricultural Chemistry from IARI in 2015, I am working in CIBA since 2016 .I currently work in division of Aquatic Animal Health and Environmental Division, Environmental Science Department in CIBA. I have interests in low saline aquaculture, carbon and nitrogen fractions in soil and soil and water quality.
Best 3 Publications during last 3 years
Suvana, S., Purakayastha, T.J., Datta, S.C., Thulasi, V., Rout, V. and Muneswar Singh., 2016. Impact of Long-Term Manuring and Fertilization on Silt and Clay Protected Carbon in two Alfisols with Varying Texture. Clay Res. 35, 25-32.