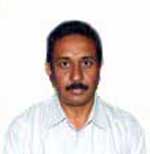 Principal scientist
Syama Dayal. J. Dr
Principal Scientist
Discipline: Animal Nutrition
Division: Nutrition, Genetics and Biotechnology Division
Specialization: Animal Nutrition
Contact Me
Phone: +91- 044 – 24610565
Cell : +91 9444234450
Email:Syama.Dayal@icar.gov.in
Brief profile:
After taking masters in 1994 and PhD in 1998 I am working in CIBA since 1998 on 03-02-1998. I currently work in the division of Nutrition, Genetics and Biotechnology Division in CIBA. I have worked on the development of indigenous shrimp feed technology and development of feeds for brackishwater fin fishes, I have contributed to commercialization of shrimp and fish feeds. I have interests in the development of sustainable use of fish meal and fish oil in brackishwater feeds.
Research areas:
Animal/Fish Nutrition

Nutrient Profiling

Abiotic stress amelioration
Current Research Projects:
| | | |
| --- | --- | --- |
| No | Title | Funded By |
| 1 | Novel approaches for development and improvement of sustainable shrimp and fish feeds | ICAR |
| 2 | ICAR Outreach Activity on Fish feeds and Nutrient Profiling of Brackishwater fish and shrimp | ICAR |
| 3 | National Innovative on Climate Resilient Agriculture | ICAR |
Recognitions (National & International)
Received Appreciation for successful commercialization of shrimp feed technology
Received Appreciation for successful development of organic aquaculture
Received as an associate "NANAJI DESHMUKH ICAR AWARD FOR OUTSTANDING INTERDISCIPLINARY TEAM RESEARCH IN AGRICULTURAL AND ALLIED SCIENCES 2015-16 (For Animal and Fisheries Sciences)".
Best 5 Publications during the Career
Syama Dayal, J., Ahamad Ali, S., A. R. Thirunavakkarasu., M. Kailasam and R. Subburaj 2003. Nutrient and amino acid composition of Asian seabass, Lates calcarifer (Bloch). Fish Physiology and Biochemistry 29: 141-147.
Jannathulla, R. Syama Dayal, J., Ambasankar, K and M. Muralidhar Effect of Aspergillus niger fermented soybean meal and sunflower oil cake on growth, carcass composition and haemolymph indices in Penaeus vannamei Boone, 1931. Aquaculture 486: 1-8,doi.org/10.1016/j.aquaculture.2017.12.005
Azad I.S., Syama Dayal, J., Poornima, M. and Ali, S.A. 2007. Supra dietary levels of Vitamins C and E enhance antibody production and immune memory in juvenile milk fish, Chanos chanos (Forsskal) to formalin-killed Vibrio vulnificus. Fish and shellfish Immunology 23: 154-163
Syama Dayal, J., G. Ponniah, Imran Khan H., Madhu Babu E.P., K. Ambasankar and Kumarguru vasagam K.P. (2013). Shrimps - A nutritional perspective. Current Science 104 (11): 1487-1491.
Bimal Prasanna Mohanty, Satabdi Ganguly, Arabinda Mahanty, T. V. Sankar, R. Anandan, Kajal Chakraborty, B. N. Paul, Debajit Sarma, Syama Dayal, G. Venkatewarlu, Suseela Mathew, K. K. Asha, D. Karunakaran, Tandrima Mitra, Soumen Chanda, Neetu Shahi, Puspita Das, Partha Das, Md Shahbaz Akhtar P. Vijayagopal and N. Sridhar 2016. DHA and EPA Content and Fatty acid Profile of 39 food fishes from India. BioMed Research International. dx.doi.org/10.1155/2016/4027437
Best 3 Publications during the last 3 years
Syama Dayal, J., C.P. Balasubramanian, Ambasankar K, Jannathulla R, and Amala Claret E Effect of dietary protein level on fattening and mineral profiles of mud crab, Scylla serrata, in individual cages under mangrove ecosystem. Aquaculture Research https://doi.org/10.1111/are.14094 .
Alavandi, S. V., Muralidhar, M., Dayal, J. S., Rajan, J. S., Praveena, P. E., Bhuvaneswari, T., Saraswathy, R. Vijayan K.K. and Otta, S. K. (2019). Investigation on the infectious nature of Running Mortality Syndrome (RMS) of farmed Pacific white leg shrimp, Penaeus vannamei in shrimp farms of India.  Aquaculture. 500: 279-289 org/10.1016/j.aquaculture.2018.10.027
Panigrahi, A., Sundaram, M., Saranya, C., Swain, S., Dash, R. R., and Syama Dayal, J. (2019). Carbohydrate sources deferentially influence growth performances, microbial dynamics and immunomodulation in Pacific white shrimp (Litopenaeus vannamei) under biofloc system. Fish & shellfish immunology, 86, 1207-1216 org/10.1016/j.fsi.2018.12.040